What Is the Correct Use for Your Fingers in the Golf Swing
(Video)
- by Natalie Adams
---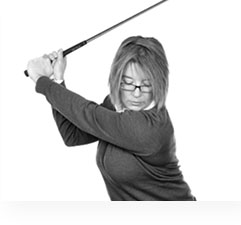 Natalie Adams – PGA Teaching Pro
The part that the fingers play in the golf swing is really important and it's very overlooked by many club golfers. But it's really important that the fingers are used correctly in the grip and how you hold the club. One thing you're going to look for here is, how do you position the club into your hand. The easiest way to explain that really is to look at how you would throw a ball. If you pick a ball up, and you want to throw the ball long and as far as possible, you're going to hold the ball in your fingers, it gives you a feeling of power and of control.
If you hold the ball more in the palm of your hand, you've not got as much power; you've not got as much control for releasing that ball out. So look how you would throw that ball, it comes from the fingers, not from the palm. So we're going to apply the same principle here into the grip on the golf club. We want to position your hands, so that you're holding the club in your fingers, rather than holding the club in your palm. So if you place your fingers at the back of the handle, and wrap your hand over the top, that's going to allow the club to be held in your fingers rather than in your hand.
The same with your right hand – if you're a right handed golfer here, we're going to place the fingers at the back of the handle so that the palm isn't holding the club. We've got the fingers holding the club there. We're looking here for the pressure on the left hand – if you're a right handed golfer, to be in the three fingers – the other little finger, the ring finger and the middle finger. The index finger overlaps with the little finger on the right hand, and again it's the two middle fingers here, that have the pressure for the right hand.
Your index finger on your right hand is just like a trigger, helping you to control the direction a little bit more. So you want to fill the pressure in the three fingers on the left hand which are on the club and the two central fingers in the right hand. And if you look at your hands and you're getting excessive blisters or soreness in your hands that can be an indication that your grip pressures are incorrect in the fingers. Take that onto the golf course, and you should get much longer hits.