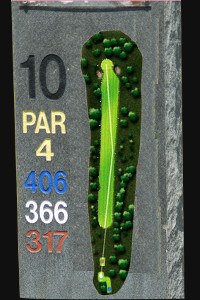 To say golf gives beginners a lot to think about is an understatement. One relatively easy task is deciding where to tee off from.
Practically every golf course – be it full-length (maximum of at least 5,800 yards, par 69 or higher), executive-length (shorter, total par around 60) or par-3 (most or all holes are par 3s) – has at least three sets of tee markers on every hole. The tees that are farthest back are intended for experienced, skilled players; the next set up is generally for average or above-average golfers; closer tees are for less-skilled men, seniors, juniors and women.
Since most novice golfers don't hit the ball very far, it's best to start off from a shorter set of tees. As an example, let's say you're playing a regulation, par-72 course with four sets of tees. The back tees total 7,000 yards for 18 holes; the next set totals 6,500 yards, then 5,500 and 5,000.
For the typical beginner, either the 5,000 or 5,500-yard tees are best. Not only will the holes be shorter, the tees will usually be placed where there's little or no trouble directly between you and the fairway or green. If you hit a poor tee shot, odds are it will come to rest in a playable spot rather than a water hazard, bunker or deep rough.
If you're playing with more experienced golfers, it's not necessary to tee off from the same spot as they do. Just be sure to let them hit before walking onto your tee.
Once you can consistently get the ball airborne and hit it 200 yards or more with your driver, feel free to graduate to a lengthier tee box. Most men play from a set in the 6,000 – 6,500-yard range, while women generally play from 5,000 – 5,800 yards.
Learning to play golf is hard enough – don't make it harder by playing the wrong tees.