What Is Golf Club Head Feel And Why Is It Important?
(Video)
- by Natalie Adams
---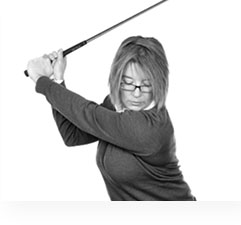 Natalie Adams – PGA Teaching Pro
During a golf swing better players will know exactly where the club head is. They can feel where the club is during the swing. And this allows them to make a much more controlled consistent swing and a much more accurate strike on the golf ball. But being new to golf it's often difficult concept to learn feel. One good thing I would suggest for you to do is to swing the club head and just swing with your eyes closed so that you can start to pick up on a focus on where you think the club head is as you swing the club around your body.
So just take a few swings, you don't need to strike at the ball, keep your eyes closed and just notice the club moving around you as you swing. So you know where – you start to focus on where that club head is at all times. Now obviously you can't do that when you're practicing at the rage. It's good it for a practice swing but you need to have your eyes open when you're hitting the ball although better players can hit with their eyes shut because they know where the club head is.
So once that I would give you to start to improve your feel would be to play something called back hit. The concept with this is that as you swing the club head back, once it reaches the point where it's no longer moving you would say the word back and then as you swing the club back down, you would say the word hit as you hit the ball. If you say this out loud or if there are people around and you don't want to draw attention to yourself, do this in your head and you'll be amazed with where you're actually saying the word hit compared to when you're hitting.
The idea is you're going to time when you say the word hit to when you actually strike the golf ball. If you tend to say the word hit too early and then you hit the golf ball, your shots will all tend to go over to the left. If you say the word hit after you've hit the golf ball, you're not in touch with where the club head is and again your shots will go out to the right. So try that and you can do that on the course as well. It's really good to have that in your mind when you're hitting your shots. Simply say the word back when you finish moving on the back swings. So back and then as you come down say the word hit. Back, hit. And you'll start to see a hit much longer, straighter and more accurate shots.