Tilt Shaft Toward the Target for Pure Iron Shots, Golf
(Video)
- by Pete Styles
---
In golf, there isn't much that feels quite as good as striking a pure iron shot.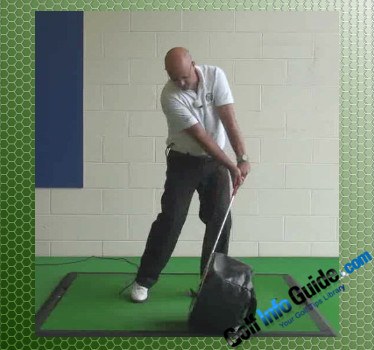 When the ball comes off the club just right, you know immediately that you have made a good swing. As you look up to find the ball and follow it as it flies, you'll be filled with confidence that the shot will end up near the target when all is said and done. This feeling doesn't happen often enough for most players, of course, but it is worth pursuing because of how satisfying it is when everything comes together.
One of the keys to striking pure iron shots is leaning the shaft slightly toward the target at impact. If you can find that 'forward lean' position when you strike the ball, you'll have one big piece of the puzzle in place. When the shaft is leaning toward the target at the bottom of the swing, you will know that you have swung down through impact – which is exactly the right idea on iron shots. Many golfers get in trouble here, thinking that they need to hit up in order to get the ball airborne. That's not how it works. Thanks to the loft that is built into the design of your irons, you can hit down and the ball will respond by heading skyward. Learn to trust the downward hit and your iron game will suddenly be able to move to a new level.
In this article, we are going to explain how you can put yourself in a position to play your irons with the shaft of the club tilted toward the target. As you might imagine, it's possible to go too far with this tip, as you don't want the club angled so dramatically toward the target that you wind up digging the club head deep down into the turf. What we are looking for here is a modest shaft lean, with the handle of the club only slightly in front of the ball. Hopefully, the content provided in this article will help you get into the right position time after time.
All of the content below is based on a right-handed golfer. If you happen to play left-handed, please take a moment to reverse the directions as necessary.
Addressing the Ball Correctly

So much of the outcome of each of your golf shots is determined before you even put the club in motion. Without a doubt, one of the biggest mistakes amateur golfers make is failing to understand the significance of the address position. The way you stand over the ball prior to the huge has a huge impact on how you are able to strike the ball when the moment of impact arrives. Fail to properly address the ball and you will be making the game harder than it needs to be.
As it relates to this article, there are a few things you can do at address which will make it more likely that you'll be able to lean the shaft forward at impact with your irons. The list below highlights some of the key points to keep in mind when building your stance.
At least shoulder width with your feet. If there is a pattern among amateur golfers regarding stance width, it is that many players stand with their feet too close together. You might think this feels comfortable and natural, but it is likely to cause balance problems in the long run. Most golfers will be better off moving their feet a little farther apart, placing them at least even with shoulder width, if not a little wider. That will let you make a full and aggressive turn during the swing without running too much risk of falling off balance. How does this relate to shaft lean at impact? Simple – if you are balanced, you'll have a good chance to lean the shaft toward the target and strike down through your irons. Without your balance in place, however, doing so is going to be quite a bit more difficult. Think of your balance as the foundation of your golf swing. Once you can reliably stay balanced, you can move on to other things.
Keep your chin up. As a new golfer, you were probably told to 'keep your head down' in the golf swing. Unfortunately, that's bad advice. Sure, you want to keep your eyes down on the ball during the swing, but that doesn't mean you need to keep your head pushed down toward the ground as the club moves back and through. By setting up with your chin up away from your chest, you'll be giving your shoulders room to turn in the swing. Many players keep their chin down at address, meaning the left shoulder will run into trouble shortly after the swing starts. Don't set yourself up for failure by making this address mistake. When your chin is up, you should be able to make a complete shoulder turn, which is going to help you find the right position at impact when all is said and done.
Set your hands just in front of the ball. This is a point that seems like it would be quite obvious, yet it is missed by plenty of players. If you want to be able to hit down through the ball at impact, one of the best things you can is to simply set your hands in front of the ball before the swing even starts. This adjustment doesn't guarantee that you'll wind up with the forward shaft lean you are looking for, but it's a great start. You'll know what it feels like to have your hands in the right position, and you'll just need to return them there when swinging down. It is important to remember, however, that you don't want to make this position too dramatic. You don't want to have your hands a foot in front of the ball, or anything like that. In fact, for long iron shots, you'll want to have your hands just barely in front of the ball, maybe an inch or two. The forward setup will be a little more dramatic with the shorter clubs, but you still can't let it go too far. Experiment on the range until you find a hand position that seems to work well for you.
Fine tune your ball position. Teaching ball position is a tricky thing. The right ball position for you might not be quite the same as for someone else, so it's tough to give advice that will apply across the board. What we can say is this – you need to make sure that your ball position doesn't stray too far forward, or too far back. For the average golfer, placing the ball perfectly in the middle of the stance will work nicely for short iron shots, and then you can gradually move up from there as the clubs get longer. Generally speaking, you don't want the ball to go behind the middle of your stance for a full swing, unless you are trying to hit some kind of specialty shot (like you are dealing with a bad lie, or strong winds). Just like with the previous point on hand position, ball position is something that you'll need to experiment with on the range. Try hitting a few shots in a row with the same club, each one from a different ball position. How did those shots feel? What did the trajectory look like when the ball left your club? If you are willing to put in the effort in practice to find the right spot for the ball with each of your irons, you'll have a nice advantage when on the course.
You can do yourself a huge favor if you spend the time to learn how to address the ball properly. This isn't about molding yourself into a position that is used by other players, but rather the key here is to find an address position that works for you – and then repeat that position over and over again. When you eliminate the address position as a potential problem from your game, it will be that much easier to achieve forward shaft lean at impact on your iron shots.
Avoid These Three Big Mistakes

Sometimes, the best way to think about your golf swing is to think about the things you don't want to do. That might seem negative, but you'd be surprised to find just how well it can work. If you take parts out of your golf swing that weren't serving a purpose – or worse, that were doing actual harm to your game, you'll naturally become a better player. Over time, removing one technical mistake after the next is going to keep you on the right path toward reaching your goals.
With that said, we'd like to cover three potential mistakes which could result in a failure to lean the shaft forward at impact. Avoid the three errors listed below and forward shaft lean will be well within your grasp.
Sliding away from the target during the takeaway. An extremely common mistake, this one is going to make it nearly impossible to get back into the right position when the time comes to strike the ball. A player who makes this mistake allows his or her body to move to the right along with the club during the early phase of the backswing. That means the majority of the player's body weight will be on their right foot, and as a result the player will need to slide back to the left in order to get over the ball once again. With so much side to side movement in the swing, it's almost impossible to arrive at the right impact position. To get back on track, wipe that side to side movement out of your swing and instead focus on rotation. That will allow you to stay balanced and over the ball as the swing develops. Stay away from the early swing lateral slide and suddenly a good impact position will be within grasp.
Trying to help the ball up into the air. This is another common mistake, and one that starts between the ears. At address, some golfers look down at the ball and think that there is no way they'll actually be able to get the shot off the ground. As a result, they decide that the best way to go is to try and help the ball off the ground by scooping it up at impact. That means they use their hands actively to add loft to the club as impact arrives. This is a big idea for a variety of reasons. For one thing, it's hard to make clean contact when you scoop. Also, even if you do hit the ball solidly, you will lose a lot of distance because you'll have wasted your release before impact even arrived. The solution? Trust your irons to do the job they were designed to do. There is loft on the club for a reason – use it. By establishing forward lean at impact and hitting down through the shot, you should be able to impart backspin and get the ball to leave the ground rather quickly. It's going to take some time to build the necessary trust in your swing to make this happen, so stick with it even if you struggle at first. Taking that scooping action out of your swing can unlock power and ball striking consistency that you didn't know what possible.
Failing to follow through. The follow through is an important piece of the golf swing. Some players have a hard time believing this to be true, since the follow through (obviously) takes place after the ball has been sent on its way. However, just because the ball is gone, doesn't mean what you do after impact doesn't matter. It's important to have a good follow through because it is proof that you have done things properly leading up to that point. In other words, a proper follow through is a sign that your technique is in good condition. If you become too focused on the position of your hands at impact – and forget that your swing needs to continue after that point of contact – there could be trouble. Yes, you want to lean the shaft forward when you strike the ball, but that's not where it ends. You'll want to keep on swinging up into a balanced, full finish. If your weight is on your left side and your right heel is up off the ground when your swing is over, that's a great sign that you have done your job nicely.
Stay away from the mistakes listed above and you'll be on the right path. Avoiding these errors doesn't guarantee that you will be able to lean the shaft toward the target at impact, but your chances will be improved.
A Snapshot of Impact

It's a bit surprising how little the average golfer thinks about the impact position. This is truly the 'moment of truth' in golf, yet it is often overlooked as players will choose to work on other things instead. The problem with working on your impact position, of course, is that it happens so quickly. It comes and goes in an instant, so it can be hard to evaluate your performance. The answer here is to use video to your advantage. When you record your swing on video, you can pause at impact to see how things look. This is a great way to find any errors that you may be making, so you can then get down to the business of correcting them.
When you are ready to record a swing on video for the purposes of evaluating your impact position, check for the following keys.
Hands in front of the ball! You had to know this one would be at the top of the list, since this is the subject at hand in our article. If you are hitting an iron, you will want to see your hands positioned slightly beyond the ball when you make contact. If your hands are even with the ball, or perhaps a little behind, some adjustments need to be made.
Eyes on the ball. Another one that you will not be surprised to see included on this list. When you strike your shots, your eyes should be looking down at the ball, not up at where the ball is about to go. It's common for amateur golfers to look up early, but don't let yourself fall into that trap. As a quick tip, try drawing something unique on your ball that you can use to hold your attention. As long as you watch that drawing until the ball flies away, you'll know you have done a good job with your eye control.
Hips open to the target. This is a great checkpoint, because it speaks to the quality of your lower body rotation. As you swing down toward impact, your entire body should be turning toward the target, with your lower body leading the way. If that is not happening, you'll likely struggle to get the shaft leaning toward the target at impact. As you view your impact position, look specifically at your hips to determine whether or not they have been turning through the shot correctly. This is a point which will not only let you get your hands in front of the ball, but it will also help you to produce significant swing speed.
A good impact position is nearly a prerequisite for playing this game at a high level. You may occasionally be able to hit good shots without finding a fundamentally sound impact position, but those shots will be few and far between. Solidify the way you are positioned over the ball at impact and your game will be better for the effort.
Shaft Lean in the Short Game

To wrap up this article, we'd like to talk about shaft lean in the short game. While the shots you hit in the short game might not require the same kind of swing dynamics that are seen in the long game, you'll still want to have the club in the right position when it contacts the ball.
For a standard chip shot, the right position is going to be much the same as it is with a full iron shot. You'll want to have your hands just beyond the ball at impact, so you can hit down and cause the ball to pop up into the air. This is a pretty basic technique, and one that is a cornerstone of what you do in the short game. Work on chipping with your hands just past the ball and you will have a reliable short game shot you can turn to in a variety of situations.
With that said, not every chip or pitch shot should be played with your hands past the ball. If you need to elevate the ball quite quickly for a given shot, as would be the case with a flop shot, your hands will need to be behind the ball slightly to achieve reverse shaft lean. That adds loft to the club at impact, and it helps the ball get up as quickly as possible. Be warned, however – these are tricky shots to play, and you'll need to practice them consistently before putting them to the test out on the course.
Up until this point, shaft lean might be something that you haven't thought of much previously. That's okay – now that you understand the importance of forward shaft lean with your irons, you can get to work on improving your technique in this area. We hope the information in this article will help set you on the right path. Remember, nothing comes easy in golf, so prepare to work hard on the range if you hope to see good results. Good luck!
Then when we talk about being a good ball striker, it is really important that we understand how the club strikes the ball and what you do to affect that golf club will affect what happens to the ball down at this end. So when we strike a golf ball; if the ball is sitting on the floor and not on a tee peg but if it is sitting on the ground, the club could only hit that ball nicely if the club is travelling downwards as it hits the ball. It can't possibly travel upwards from below unless it would hit the ground first, which result in a fat shot. So it has to be hitting down on the ball. Now, it could only really hit down on the ball if the handle is in front of the head at impact. Assumes the head gets in front of the handle that club starts to trace its way back up again, and anything that is hitting up through the gold ball as we just discussed would give you a bad contact.
So let us look at how you can affect this when you set up the golf club. We would like to see that your hands are slightly in front of the golf ball at setup, particularly with your mid and short irons. Now, if we think about how the ball position change as well, keep the ball in the center of your stance with a pitching wedge and point the handle of the pitching wedge at your left hip pocket here, and you can see that produces an angle where the shaft is quite a long way in front of the head. If I can maintain that position through to impact, hands in front of club pad, I would be striking down on the ball, taking a nice divot. As the club gets slightly longer, the ball position would move slightly more towards my left side; the hands still point at the left hip, producing hands that are only now marginally ahead. So I am not striking down quite similar as when I get to my sort of 5 and 4 and 3 irons. Well that is a nice thing; I don't want to hit down too much that would deloft the golf club too much. Then as I go to my woods, my driver particularly; the ball would sit right up against my left instep, the hands is still pointing at my left hip here. Now, it produces a shaft angle where the club is slightly in front of the hand that would produce a shallow angle of attack and maybe slightly increasing upwards angle of attack as well, but that works for the driver because it is on a tee peg so I can afford to come from below and hit it up but make sure to be a good ball striker with your iron. You have correct ball position, correct hand position in relation to the golf ball, and then try to maintain this shaft leaning in front down to the impact position, taking nice divots, making sure you take the ball and turf, and striking down through the golf ball. I hope that helps you.