The Basics Of A Good Golf Swing
(Video)
- by Pete Styles
---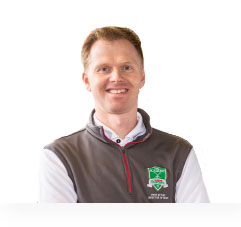 Pete Styles – PGA Teaching Pro
In terms of making simple golf swings there are quite a few other elements we want to try and bring into this idea of making things simple, which might sound a bit of a contradiction; but we're going to try our best to keep it succinct, but also give you an idea of the thing that you could focus on to make good solid golf swings as simple as possible. One of the key elements is we need to keep looking at the golf ball. It sounds obvious, but that ball doesn't move and no one is going to tackle you or take it off you, but at the same time if your eyes inadvertently wonder off and not looking at the golf ball you're going to make your golf swing very, very complicated to find hit back down to the ball and find the ball again.
So, to keep it simple, keep looking at the golf ball the whole time. If you have to pick a little spot maybe a letter in the writing or something like that exactly on the ball, keep really good focus on that golf ball all the way through the golf swing and that should help you with your eyes on the golf ball to keep it nice and simple for good strikes. Another area that we want to try and ingrain to be a simple thing right at the start of your practice sessions or your time playing golf is a relaxed grip.
So, we might talk a lot in detail about how to make the correct grip then one of the things that we forget is how that grip pressure needs to be quite relaxed, quite loose, quite light; so we don't strangle the golf club and that's particularly relevant for golfers when they go in the golf course. They end up thinking too many things, get confused, get complicated and then they get tensed and the grip pressure will increase.
Another area is try and keep your golf swing nice and simple right from the start is a solid foundation, solid footing if you like. So, when we setup to the golf ball we want to make sure that we've got a nice wide pretty straightforward stance and then during this swing the feet don't do a lot say for this right foot coming up on to the tip toe. What we wouldn't want to see in the golf swing is too narrow a stance, offline with the stance, too much foot action coming down and through and the feet dancing around it all, it just doesn't make for the simple looking and feeling golf swing that we're trying to achieve.
One last thing to think about on the golf course to keep things simple is actually just to think smarter. So, rather than trying to play the difficult shots with the difficult clubs to difficult pin positions just play your way around the golf course thinking smart about your club selection on your target lines. That's a great way making the game as simple as possible. Using more loft when you need to, so the lower lofted clubs are generally harder to use, so you use loft as and when you need to. Aim for big targets, the biggest widest part of the fairway, the biggest widest part of the green and then when you're playing your chip or you picture your recovery shots aim for big targets.
So not aim for tiny little gaps in the trees and think I can get it through that gap, big wide open targets on the fairway, on the green or when you're playing your recovery shots as well and hopefully by thinking smarter with those other elements we've discussed in this video your golf swing will start to look and feel a lot simpler and your scores will start to reduce.