Mastering The Basics Of Golf Pitching
(Video)
- by Pete Styles
---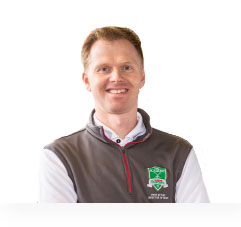 Pete Styles – PGA Teaching Pro
Now in order to make sure that you can get the best quality of contact and strike on the golf ball and certainly to avoid hitting it fat when you're hitting these chip and pitch shots, we need to make sure that you're using the right technique as much as possible. One of the first considerations would be your ball position. If you have the ball too far forwards in your stance or set up, you're pretty much setting yourself up to fail because what will generally happen is the club will have a low point. The club will hit the ground in the same point. If your ball is ahead of that low point, the club will come down then it will hit the ball after it has made contact with the ground which is clearly going to be a fault.
So what we'd like to have is the ball in the low point or actually slightly behind the low point, so if we play the ball in the center of our stance then during the swing we keep moving forwards and downwards to the left, we'll take a low point more to the left with us. If we can have the low point past the ball, we're going to hit ball and then turf. Now the ball and turf contact is a good strike. Hitting the ground itself is not the fault. That's certainly not a fat shot. It's hitting the turf before the ball is fat. So ball and then turf is going to be considered the right way to be. So take the golf ball then take the turf after it then have that nice follow through.
So by having the ball in the middle of your stance you're doing a good job by keeping moving to your left as well you're going to do okay. One of the consideration is swaying back. So if you're setting up to the ball and you got the ball nicely in the middle, everything is looking good and then you sway this way. Once you've swayed here, you bring the club down, you hit the ground. There is your problem because you moved that way and you didn't go back. So we want to stay really sort of 50/50 in the set up, 50/50 in the backswing and then move to the left hand side for the downswing. The low point then comes after the ball. We hit the ball, then we hit the turf and the ball flies off nice and high.
So hitting the turf is not the bad thing, it's hitting the turf before the ball. Centralize the ball position, don't sway back, keep moving to your left hand side, that's a great way of making sure you get better contact on the ball to stop fatting your wedge shots.