Start Holing More Golf Putts Now
(Video)
- by Rick Shiels
---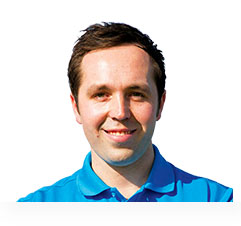 Rick Shiels – PGA Teaching Pro
Right, you want to instantly hole more putts. I'm going to give you a pre-shot routine that's going to help you hole more putts right now. And it's really important that you have a pre shot routine every time you putt so that when you get a bit nervous or a bit tense you call fall back into that pre-shot routine and get it absolutely perfect. So we are going to give a couple of little, a — bits of advice here for a perfect pre-shot routine. I've got my golf ball here. I'm going for the target, it's towards the camera. Now first off I'm going to weigh off my options how much break is that, what the speed is up and down. Once I have calculated all those areas, I can then pin point where I want the ball to travel to. So if it's a left or right, where I'm going to aim a little bit to the left, it will all depend on the slope, and if it's a right to left probably I'm going to aim a little bit more on the right or lower, or pull it down hill, I'm going to take all the factors into consideration when I set up this putt.
From that point, I'm going to stand behind the golf ball and actually practice my stroke smart bang behind the golf ball, giving me enough room but I'm not going to hit it. So I'm actually stood directly on the line I want this ball to go on. I'm going t go dead straight towards the camera is here, so I'm going to stand directly behind it, and as I'm looking down towards the hole, I'm going — as I said it's to putt back and putt through — I'm not just practicing anymore, I'm visualizing this golf ball that is in front of me. It's the ball I have just hit and it's travelling and it's rolling and it drops in the hole.
Straight away that gives you a burst of excitement and confidence that you are going to hole this ball that you are going to hole it there is no doubt about it. So you settle behind it, you are looking down the hole a couple of practice putts to make sure that you know what, this is going in. There is no messing about it, I'm going to hole this ball. Instantly settle to it, have that image rolling over your head, this is going in, this is going in, this is going in. Have one last look and knock it straight in. And that is the way of holing more putts. Try it next time you play.