Backswing How Far Back Should a Golfer Take the Club Back Senior Golf Tip
(Video)
- by Dean Butler
---
It's easy to overanalyze the golf swing.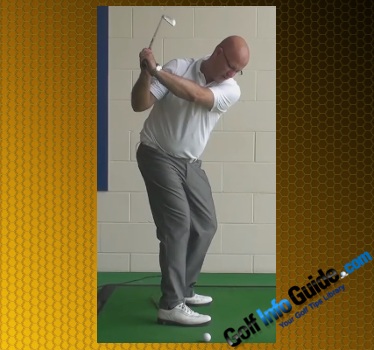 Making a golf swing is supposed to be a smooth motion, free from too much thought as the club moves back and through. Unfortunately, that isn't how it plays out for most golfers. Instead, the average golfer thinks about every little move along the way, and the results are quite disappointing in the end. To play at your best, you are going to have to figure out how to leave many of those thoughts behind, so your true talent and ability can shine through.
In this article, we are going to cover a topic which is often overanalyzed by the average golfer – how far to take the club back during the backswing. If you are thinking about this point actively while you are hitting your shots, it's going to be extremely difficult to live up to your potential. So, if it isn't something you should think about, why are we writing a long article on this topic? Good question – it's not that you shouldn't think about it at all, but rather than you shouldn't think about it on the course. Spend time during practice working out the ideal length for your backswing and then let your preparation carry you through once on the links.
Before we get into the discussion of how you can figure out how long your backswing should be, we first need to identify why the length of your backswing is important. It is crucial to make a full backswing because this is a big part of where your power will come from. You need to give the club plenty of room between the top of the backswing and the moment of impact to accelerate aggressively. If you cut your backswing short, the distance between the club head and the ball on the ground will be reduced, and you won't have as much time to accelerate. In the end, that means lower swing speed and reduced overall distance.
So, you should swing back as far as possible, right? Not necessarily. At some point, you are going to experience diminishing returns. Sure, you might be able to wind the club way around your back in order to generate huge amounts of speed, but you'll lose balance and struggle to make clean contact. The goal is to strike a balance where your backswing is long enough to generate power but not so long that you can't find the sweet spot at impact. It will take some practice to find just the right amount of backswing for your game but stick with it and you'll get there.
All of the content below is based on a right-handed golfer. If you happen to play left-handed, please take a moment to reverse the directions as necessary.
Let Balance Be Your Guide

As a golfer, your balance is one of the most valuable assets you can have in your possession. If you are able to stay balanced while making a swing, you will have a much easier time striking the ball cleanly. And, of course, clean ball striking is essential as you work toward shooting lower scores. Too many golfers ignore the importance of balance, and the results speak for themselves.
For the most part, you should work on your balance because of what it can do for the quality of your swing. In other words, balance is important because it can help you produce more swing speed, make better contact, be more consistent under pressure, and more. However, balance is also important because it serves as a warning that something else in your swing has gone wrong. Basically, if you are struggling with your balance, that may be a sign that you are making a technical mistake somewhere along the way. Instead of ignoring this warning sign, take note of it and work on figuring out where the underlying problem can actually be found.
This line of thinking brings us back to the topic at hand in this article. When trying to figure out how far back to swing the club, pay attention to your balance as an indicator. When you swing back too far, you are sure to lose balance. Most likely, that will mean that your weight is pulled onto your right foot, and you'll have a hard time getting back to the left on the way down. If that doesn't happen, the other possibility is that you will tilt your upper body to the left while at the top of the swing, in something known as a reverse pivot. Either way, you'll be in trouble and it's unlikely that you will wind up hitting a quality shot when all is said and done.
So, the takeaway from this part of the article is this – if you feel like you are being pulled off balance at the top of your swing, consider the possibility that you are swinging back too far. This is likely to be the case, especially if you are managing to maintain good balance earlier in your swing, only to lose it at the top. You may be able to feel the fact that you are losing your balance, or you may need to record your swing on video, so you can see it for yourself.
While monitoring your balance is a great way to determine whether or not you are swinging back too far, it isn't going to help you spot the problem of not swinging back far enough. That's a separate issue, and one that probably won't affect your balance in a negative way. In fact, those who use backswings which are excessively short usually have no trouble at all maintaining balance. Since they aren't making much of a turn, there are no problems with body weight swaying from one side to the other. Later in the article, we'll talk more about how you can determine if your backswing is too short.
Promoting a Big Turn

It should be clear by this point that a full backswing is important. Yes, it's possible to go too far, and you'll want to avoid that outcome if at all possible. However, you want to make sure not to sell yourself short in this area, as doing so will mean you are always playing the game with something less than your full distance potential being realized. In a game where just a few extra yards can make a big difference, it would be a shame to leave power on the table.
So, what can you do to improve your turn? Fortunately, there are some steps you can take. As your turn improves, you should find that you are able to make it farther into the backswing without encountering balance problems.
Use a wide stance. Those who play golf with a narrow stance will always have trouble producing a big shoulder turn. Well, to say that more accurately, players with a narrow stance will have a hard time making a good shoulder turn while remaining on balance. You might be able to turn your shoulders well away from the target when your feet are close together, but it's likely you'll lose balance in the process. As you work on making a good turn while staying balances, it's likely that you will find some success by keeping your feet in a relatively wide position. For a driver, that will probably mean just outside of shoulder width, while your iron shots may be played with your feet precisely at shoulder width. Experiment with various stance widths during practice until you settle on something that feels comfortable and seems to promote an excellent turn.
Flex your knees properly. Keeping with the theme of building a proper stance, you also need to make sure that you are flexing your knees properly at address. The right amount of knee flex is going to vary from player to player, so again, some experimentation will be necessary. One of the keys to keep in mind when thinking about knee flex is that you need to maintain your knee flex throughout the backswing and into the downswing. It is common for players to give up their knee flex by straightening their legs as the backswing develops. That is a big mistake, and one that can be costly in terms of both the power and accuracy of your swing.
Keep your chin up. You might be surprised to see a piece of advice that centers on your chin when reading an article about how far to take the club back in your golf swing. However, your chin actually has quite an important role to play here. At address, make sure your chin is comfortably up and away from your chest. By keeping your chin up at the start of the swing, you'll be sure to provide your left shoulder with room to move in the backswing. Players who keep their chin pushed down into their chest will quickly run into a problem in the backswing when their left shoulder contacts their chin and their head is pushed out of position as a result. You want to provide a clear path for your shoulder rotation, which means keeping your chin up.
Give yourself space. When taking your stance, don't forget to monitor how far you are standing from the ball. This is a point that many golfers tend to overlook, but it plays an important role in the kinds of shots you are able to produce. As far as shoulder turn is concerned, you need to make sure you are standing far enough from the ball to give yourself room for a full turn. If you crowd yourself at address, it will be difficult to make a full turn and still get back into position at impact. It's not impossible to correctly complete a full backswing when standing close to the ball, but most golfers will feel more comfortable when they have enough space to turn back and through freely without getting crowded through the hitting area.
None of the four points listed above is going to guarantee that you are able to make a big turn, but they will move you in the right direction. Everything in golf is relative, so the only way to make actual improvements in your game is to get out and work on it for yourself. For example, the right distance from the ball for your swing may not be the same as another player, and that's okay. Spend some time dialing in your game on these various points and you should hopefully see your backswing improve as a result.
A Matter of Timing

So much of golf comes down to timing. When you think about it for a moment, it is rather incredible that any golfers are able to hit accurate shots. The club is moving through the ball at a high rate of speed, and the ball is resting on the ground (or on a small tee). The act of bringing a dynamic swing together just right in order to send the ball accurately on its way is quite an achievement. This game has a reputation as being one of the most difficult in the world, and that is for good reason. Golf is hard, and you have to teach yourself a variety of skills if you are going to play it successfully.
As you might be able to guess, timing is going to have a lot to do with your ability to swing back the right distance. In the amateur game, the main problem here is rushing the tempo of the swing while the club moves back, causing the turn to be cut short. If you are rushing your swing, your shoulders simply won't have enough time to turn away from the target before they are asked to turn back to the left. You might find yourself rushing because you are trying to hit the ball as hard as possible, or maybe because you just want to get the shot over with. Whatever the reason, a rushed backswing is rarely going to lead to a successful shot. You'll need to find a way to give yourself the necessary time on the way back if you are ever going to master the shoulder turn.
To help you work your way into a nice backswing rhythm, we would like to suggest a very simple drill. This is a great drill to use during practice because it requires no extra equipment beyond what you should already have in your golf bag. If you'd like to try it out for yourself, follow the steps below.
For the setup, you are going to need a golf club, a spot on the range to hit some shots, and at least a few practice balls. While this is a drill you can use with any club in your bag (other than the putter), we recommend getting started with one of your mid-irons. A mid-iron is a good choice because it is a long enough swing to let you get into a rhythm, but not so long that it is difficult to time. Try starting with a mid-iron and moving into longer clubs as you start to get comfortable with the drill.
The next step in the process is to pick out a target. It is important to have a target for all of the shots you hit in practice, even if you are working on something other than your accuracy. Golf is a target-based game, so any opportunity you have to work on your ability to hit a target should not be passed up. Select your target and take care to aim precisely before actually starting your swing.
With your stance set and your club aimed appropriately, you are ready to go ahead and hit your first shot. The swing you make isn't going to look any different than the swings you usually make on the range – you are just hitting a shot. However, what makes this drill different than a normal practice shot is the fact that you are going to be counting your rhythm out loud. When you start to move the club away from the ball, you will say the number 'one'. When the club reaches halfway back – parallel to the ground – you'll say the number 'two. At the top of the swing, when the club is transitioning to the downswing, you'll say the number 'three'. Finally, at impact, you'll call out number 'four'.
Hit a few shots this way without thinking too much about it. As you gain experience, you'll start to notice if there are any issues with your timing. For instance, if you feel rushed between numbers two and three, you may be rushing the top of your backswing. The spacing between the numbers should feel pretty much steady and consistent, so any feeling of having to rush to call out a number is a sign of trouble.
Use this drill as many times as you like before going back to hitting shots without counting out your rhythm.
If you use this drill consistently on the range, you should gradually get more and more comfortable with how your rhythm works and what impact it has on the quality of your backswing turn. When you are out on the course, consider using this drill during a practice swing if you feel like your rhythm has gotten a little bit off track. It's a quick and easy way to remind yourself to maintain an even tempo all the way through your motion.
Getting Help

By putting in plenty of hard work on the driving range, you should be able to determine how far back to take the club for all of your various shots. But what if your hard work doesn't seem to quite be paying off as you would like? If that is the case, consider getting help in the form of a golf lesson from a local teaching professional.
If you have never taken a golf lesson before, the idea might be a little intimidating at first. Many amateur golfers are a bit embarrassed by their game, and they don't want to hit shots in front of someone who is an accomplished player and teacher. With that said, the best thing you can do is simply set aside these kinds of feelings and decide to do what is best for your game. Golf teachers have seen it all before, and they aren't going to be judging you for your performance. Remember, you are bringing them business! They will be happy to have you and will strive to help you unlock your potential on the links.
If you decide to take a lesson from a local pro, be sure to communicate the fact that you would like to work on the length of your backswing. The pro can then monitor the length of your swing while you hit shots, offering tips along the way to help you either shorten things up or stretch it out. Of course, it's very likely that you'll end up talking with the pro about more than just the length of your backswing, which means you may be able to improve your swing technique in other areas, as well. Yes, you will have to invest a little bit of time and money in a golf lesson, but many players find that going this route is able to do wonders for their game.
While you don't want to overthink details like the length of your backswing, you do need to work on this point during practice to get it right. We hope the discussion in this article will point you in the right direction during upcoming visits to the range. Be patient with yourself during practice and don't rush out to the course until you feel confident in your new and improved swing. With a backswing that is the right length for the way your swing works, another piece of the puzzle should be in place. Good luck!
I want to talk about the backswing. The length of the backswing. How long, how short? Well, most backswings are around here somewhere trying to get that club on a horizontal line, aiming the clubface at the target and then from there if we try and concentrate on that sort of long backswing then we tend to lose control and once we've lost control we tend to throw the club from the top of the backswing and from that all the power is gone, all the control is gone, all the accuracy is gone. What a waste of time that was. So, how long should this backswing be? This is absolutely music to my ears. I love teaching this, especially to you senior golfers and I'm one of them. When you get over the ball, I want you to concentrate on a three-quarter backswing, three quarters. What is a three-quarter backswing?
Very simple tip. Hold your head nicely in a position. Don't keep your head down, just hold the head nice and still and swing the club back so the shoulder just touches the chin. So, let's just have a look at that. That wasn't hard, wasn't it? Very easy. The shoulder hits the chin. You feel the shoulder. You don't need to be in the mirror looking at yourself, which would be a good thing to actually see where you're going, but just feeling it, just feeling the shoulder hit the chin. By going to that position, now we've got all the energy stored where we want to be. The energy is not stored here and wasted there at the top, all the energy now is stored in this position here, we've got a good shoulder turn, a nice hip turn, we don't even have to think about that.
We just naturally got ourselves back, as you would normally do, but we've controlled the backswing, we've kept it nice and impact and from here, all your club head speed is now centered on hitting down and through, so that's where your energy should be. That's where you want to hit the ball, at the bottom, not at the top. So, again, just over that ball, keep your head still, swing the club back, shoulder hits the chin, that's the end of the backswing and from that the power is into the ball, so let's just demonstrate on the ball. From here, shoulder to chin and there's all the power and energy straight into that hitting area. Everything is there, lots of control. This has to improve your game. Go out and work on this.