Top Five Women Putting Thoughts
(Video)
- by Natalie Adams
---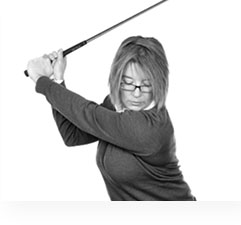 Natalie Adams – PGA Teaching Pro
Here we are going to look at five quick tips to how you get a better Putting Stroke so that you'll hold more Putts and take less shots around the green. The first thing I'd say to improve your Putting is make sure your hands are nice and soft as you're holding the Putter and keep your shoulders nice and soft and relaxed as you make the stroke. The more relaxed your hands, the softer your hands, the more feel you've got, and you're going to get a much better consistent connection with the ball. So if you set up ready to hit the Putt, just notice the pressure in your hands, notice the tension in your shoulders and just allow that to be nice and relaxed, nice and soft. If you think about holding the Putter as tightly as you can and we call that a Ten, you don't want to hold any more; tighter than a four or a five the maximum. So squeeze as tight as you can with your hand, that's a ten now half it to a five and then just a little bit softer and keep that pressure in your hands, keep that pressure in your shoulders throughout the stroke. So that's the first tip to help you improve the Putting Stroke.
The next thing I would work on doing is making sure that you visualize your target line, so before you hit the Putt stand back behind the Putt, look directly from the ball to the hole, crouch down so you can read the green and then start to imagine the line that you want the ball to follow so it's going to follow that line and finish in the hole. And what you'll find better Putters do is they really make that line a very vivid color, so make it stand out something like bright red or bright yellow, maybe what your favorite color is but really make it vivid and focus on hitting the ball down that line at the speed that you want when you play the shot.
Also to improve your putting stroke we want to work on keeping your eyes nice and still as you hit the ball. So rather than letting your eyes follow the ball which would create a lot of turn in your body, as you hit the Putt, keep your eyes directly on the floor so that you're maintaining your head position. Rather than allowing your body to rotate, your shoulders will maintain their alignment and you'll find that the Putter Head will travel much more directly down the target line so that you hit a much straighter Putt. Okay, so it's three really good tips there, if we now look at tempo that would be my fourth tip to get you to improve your Putting Stroke.
When we're looking at tempo, you want to work on always having the same tempo to your stroke. So if you think about maybe saying tick-tock to yourself the way a clock would make a ticking noise, it's very rhythmical, it's done every second. It doesn't matter whether your tempo is a little bit quicker than that, it's the fact that it's constant and repetitive. So what you want to do is go tick-tock, tick-tock and then you're not speeding that up so that sometimes it's tick-tock and then the next minute it's tick-tock, okay? So keep that tempo nice and consistent, if you want a bigger stroke just swing with a bigger stroke rather than speeding the stroke up. So keep a constant tempo, make the swing bigger or smaller so that it fits with that Putt. So soften the hands, make sure that you keep your eyes still when you hit the Putt so that your eyes don't follow the ball, visualize in a really vivid color, and then also work on your tempo.
The final thing that we talk about is keeping the clubface square. Once you've set up and you've got that good tempo, the soft hands, as you swing the Putter back and swing the Putter through, you really want to work on keeping the clubface aiming down the target line. You keep the clubface aiming down the target line and you've got that swing pack that's straight back and straight through, you're going to hit really straight shots. If you follow those five tips your Putting will improve.