The Strength Needed During The Golf Set-Up For A Core Driven Swing
(Video)
- by Peter Finch
---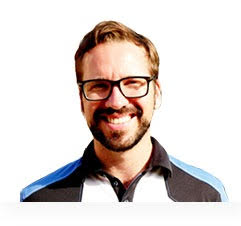 Pete Finch – PGA Teaching Pro
Getting yourself setup correctly to help enhance the core moments and to help control the core movements is very, very important. When you're getting set up if you have a very weak posture the body can turn into certain positions where you have no control over those movements. It becomes a very floppy and a very loose technique. For some golfers this works, if you have a look at Colin Montgomerie probably the most rubbery golf swing you ever seen. Very lax, very soft, very lazy, but it works for him. Most golfers really do require the strength to be there to support that core rotating.
Now to do that, having a strong set up isn't that difficult to do. First of all you got to make sure that your body is able to get into these positions. If not please consult a medical professional. But what you want to be doing to get into a nice strong posture is to get those feet separated. I've got a seven iron here, so my feet are just going to be about shoulder width apart. I'm going to stand up nice and tall to begin with, puffing out my chest a little bit, and just feeling like I'm in a strong, erect, upright position here. Then what I'm going to do is I'm going to place the grip end of my club on my nose and I'm just going to hold the bottom of the club to my belt buckle.
I'm going to add a little bit of knee flex, not bend just flex just enough to keep my knees active. And then I'm going to tilt over keeping the grip on my nose and the belt buckle still attached to the shaft. And then once I'm in this position, I've got the spine tilt I've got the flex in my knees and I know I'm in a strong position. If you think about it that position where the knees are flexed, the weight's on the balls of the feet and you're ready to hit; this is something you see with a lot of athletics sports. If I was to take this position and all of a sudden start playing baseball, it's not going to be an unusual position to see athletes in.
Now when you're in this position, you're also in a much stronger position to turn. If you keep your lower half nice and stable, you keep your right knees quiet still and you rotate the body, you'll notice here that I've turned my core away from the ball, but I've kept my lower half nice and stable and I have maintained my spine angle. These things together allow me to turn my core with power, but it also allows me to control those movements. And that's what a good strong posture and set up does; it allows you to use your core effectively but it allows you to maintain control over those movements. And control over movements which add speed is very, very important to consistency within golf.