The Set Up Adaptions Of The Putting Stroke For Golf Chipping
(Video)
- by Peter Finch
---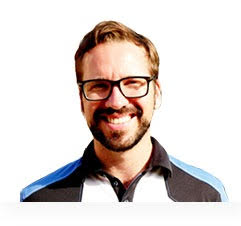 Pete Finch – PGA Teaching Pro
So, we now know how the putting stroke generally works and the fact if you take it straight from the putter to a club, you may now have to decide effect. But what are the small adaptions that you can make to help improve where you are at when you are using your putting stroke with a chipping club?
Now, first of all, you have to understand that when you are moving the club down through the point of impact with a chip, you are striking down on the shot. Now with a put, you are generally hitting up on the ball. So, something has to change in that respect. Now, the easiest thing to do is to move the ball position slightly back in the stance. So, when you are getting set up, you've normally got this nice square stance ball position just forward or center.
Now, what we are going to do is we're going to move that ball position further back. So, it's back center. Now, automatically the hands are going to move slightly further ahead of the ball here. And if I'm to use that same shoulders back, shoulders through motion that you would for putting, automatically that's going to start to improve the strike on the ball. But we are not going to stop that. We are going to make some little adaption from that as well.
So, we got that ball position that little bit further back. We got those hands. We should now automatically move a little bit ahead. Now, what we are going to do is just pass 60% of right on to our front foot. Now, very simply that's going to steepen the angle of attack coming down into the ball and it's hopefully going to ensure that ball first contact and then turf. We are going to get set up to a target here, ball position just slightly further back to normal, 60% away on the front foot.
Those hands go ahead as a consequence. I'm just going to move the shoulders back and through and just hit that little bit more of a chip, so I held back. Simple adaptation from a chipping technique to a putting stroke mechanics if you want to look at it like that and it's just very easy to get the ball moving down towards the target. This is a real type of hybrid shot between one technique and the other. But it can work for many people, so give those adaptions a go and see how it works around the greens when you go practice.