Practicing The Golf Transition Move
(Video)
- by Pete Styles
---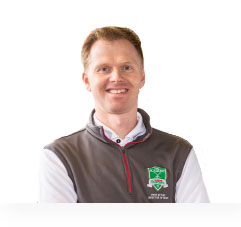 Pete Styles – PGA Teaching Pro
Practicing the concept of starting your down swing before you finished your back swing is difficult for a lot of golfers to do. They simply can't break that movement down in the heads and they certainly can't see it physically when they are making the swing. So, we can see in a mirror, we can see on camera, but it can often change when the golfer actually comes to actually hitting the golf ball. So, here is a little practice exercise to see whether you can work out when your back swing is gearing up, how you should start your down swing coming down.
And the basic practice here is just to do everything at super slow motion, so you can do practice in front of the mirror. But acutally I've got a ball teed up here. I'm going to try and hit this ball really no further than 25 yards with my 7-iron and it's designed to help me focus on my swing rather than the resulting shot. So, taking my normal address position and setup, now I've teed this up, so I don't have to worry about the strike too much.
I'm going to start the club coming up to the top here. And as I start to load up to the top, I'm going to feel that as it gets near the top, I'm going to start my down swing, I'm going to start turning my hips and then bring the club down and really feel it to bring the club down, I'm not using my hands and arms, but I'm just continuing that rotation of the hips. So, I set myself up nicely to turn all the way up to the top. As I get near the top, I stop my hips coming down and I turn all the way through. And it's really my hip action coming around that delivers the club.
So, it's nice and gently up to the top, then the hips, and then hit the tee peg. Now, what you might find here is if you're continually hitting the ball fat, even at that level during that slow speed drill, chances are you are not shifting your hips enough. You might be turning back to the top and then being too slow with your hips and hitting the ground. But if you are turning to the top nicely and starting your hips quickly, you should find that you get decent contact on the ball and get the ball lifted up into the air.
Once you are quite confident and comfortable to do it at that speed, you can start to increase the speed, start taking the ball out a little bit further, 50, 75, 100 yards, then back up to your full speed swings. And I think by building that drill left from short range up to longer swings, really helps that idea of initiating the down swing with the hips as the shoulders are still taking the club back up. Bring that into your full speed swing. You should start to feel that you are more consistent, more powerful in hitting longer straighter golf shots.