How To Slide The Club Underneath The Ball To Avoid Bunker Shank Shots
(Video)
- by Peter Finch
---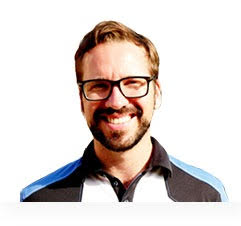 Pete Finch – PGA Teaching Pro
One of the first key things that you need to understand is if you are hitting it from the heel in the bunker, generally speaking, there are exceptions, but it's the club head which is going to be contacting the ball first. Now, that is something that you don't want to see in a greenside bunker shot. You want the ball to be lifting up and out of the sand on a lovely layer, a lovely carpet of sand as well. That is going to generate the most consistency, is going to generate a nice amount of backspin, and it will also give you the most control. Now, if you are contacting the ball first, there's quite a few different drills that you can use to help slide that club underneath the ball, hitting the sand first, traveling through impact, and then lifting the ball out on that nice carpet that we've just mentioned.
Now, first of all, we need to get a general understanding of a little bit of setup, and a little bit of technique. So to your target, you want your body to be a little bit open. This is going to encourage an out to in swing path in relation to target line, and then we open up that club just so it's pointing to the right of the target. And that combination of paths traveling to the left, an open club face is going to maximize the amount of loft. And because the club face is open in relation to path, it should set out on the target line. But the drill that you can use – and it's a fantastic drill to use as well – is when you' re getting setup, just on your practice sessions, do not do this during a competition round, you will be pulled up and, as they say, persecuted, that's a strong word, you're going to be pulled up on it.
All you want to be doing is drawing in the sand a nice rectangle. Now, this needs to be about the size of a $10 bill, $20 bill, something which is not going to be overly huge. You don't want to be taking masses and masses of sand. So if it's about the size of a $10 bill, that's absolutely fine. Place the ball bank in the middle of that rectangle. Now, your job is very, very simple. You need to be setting up, you need to be trying to contact the ball – contact the sand, should I say, just at the start of the dollar bill, getting the club traveling down and trough the sand, and then exiting on the other side of that bill. If you can manage to do that, then you would have contacted the sand, get the club traveling through the sand, the ball will be lifted out on that carpet, and we should be able to get out and onto the green.
So it's getting in that setup we just mentioned. It's focusing on the square. I'm not looking at the ball, I'm just looking at where I want the club to enter the sand. Sliding the club down and underneath – hit that one well – and all you want to be doing is taking out that sand, traveling through, lifting out on that carpet, and hopefully get it nestling next to the pit, not straight over the top of it. That would have spun back, I'm sure.