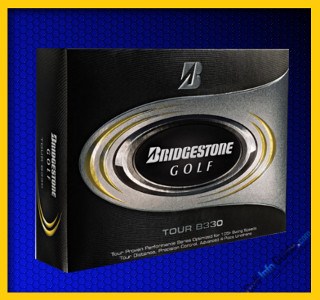 © Bridgestone Golf
Bridgestone Tour B330: A Golf Ball that Does It All
---
Ball tested: Bridgestone Tour B330
Category: Tour/Advanced/Performance
Feel: Soft
Tested for golfers with average driving distance of: 246 to 300+ yards (carry + roll)
Specs: Construction – Four-piece; Cover – Urethane; Core – Gradational compression; Dimples / Pattern – 330 "dual" dimples in seamless pattern
Compression: High
Price as tested (new): $44.99 per dozen
Ball notes: While it has barely dented Titleists dominant position, Bridgestone has certainly established itself as a contender in the golf ball market. As the companys flagship "tour" ball, the Tour B330 has done a fine job representing the brand.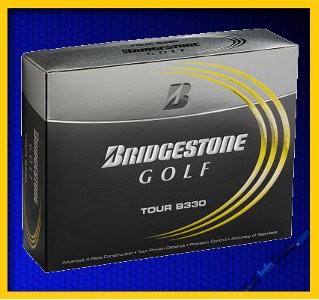 © Bridgestone Golf
The Tour B330 anchors Bridgestones tour lineup, with the B330-S, B330-RX and B330-RXS designed to optimize performance for players of different swing speeds and performance preferences. As of this writing, Brandt Snedeker, Fred Couples and Davis Love III are a few of the high-profile pros playing the Tour B330.
This particular ball is engineered for golfers who swing the driver at 105 mph or faster – in other words, quite fast. (The average male tour pro, for comparisons sake, is around 110 – 115 mph.) Its relatively high overall compression of about 100 makes the Tour B330 somewhat difficult for slower swingers to, you guessed it, compress the ball against the clubface with enough force to generate maximum distance.
The Bridgestone Tour B330, along with its siblings, earned a gold medal in Golf Digests 2013 Hot List equipment test issue. Lets see how it fared when we put it through the paces.
On the clubface: While its always been the firmest ball in the family, the Tour B330 has been softened up for 2013. Of course, the faster your swing speed, the softer it feels off the driver, woods, hybrids and longer irons. Players who want marshmallow-like feel on greenside shots will likely prefer the Tour B330-S, but the standard version is soft enough to suit most tastes.
Off the tee: The Tour B330 ranks in the upper echelon for tour model length. Its a very long ball that flies with minimal spin and rolls out nicely after landing. Flight is mid-trajectory and stable, allowing for a modest amount of intentional shot-shaping, in keeping with expectations for the category.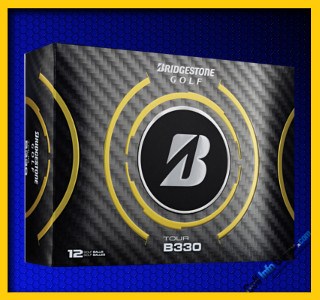 © Bridgestone Golf
From the fairway / rough: Its a tour ball. You don't have to worry about it bounding over the green on a well-struck iron shot. You can get away with hitting it a tiny bit thin, too (but only a tiny bit). For our purposes, the Tour B330 proved spot on – not too spinny, easy to control for trajectory and shape, confidence-aiding feel. Like its mates, this ball displayed excellent stability in the wind.
Around the green: The Tour B330s newfound softness is welcomed in the short game. While performance doesn't seem much different from previous models, the feel gave us a bit more confidence when playing difficult shots. That confidence was justified by the balls behavior. It responded well to a range of situations, from short-side pitches to long chips to mid-length bunker blasts.
Bottom line: Bridgestone really cant miss with the B330 line. There's just enough differentiation between models to tell them apart, with each having a specific and compelling selling point (i.e., more length, less spin, softer feel). While we wouldn't recommend the Tour B330 to middle or high handicappers, skilled players will appreciate its distance, control and spin qualities.

Golf Ball Videos:
- Compression Video

- Spin Video

- Dimples Video

- Golf Ball Brands Video

- Titleist Video

- Understanding Spin Video
Value/Recreational/Distance – Designed for mid- to high-handicap golfers with swing speeds below 90 mph; typically feature two-piece construction and firm covers; promote greater distance over high spin rates. Examples: Pinnacle Gold, Slazenger RAW Distance
Premium – Designed for low- to mid-handicap golfers with swing speeds of 90-99 mph; typically feature multi-layer construction and medium-soft covers; happy medium between Value/Recreational and Tour categories for distance and spin qualities. Examples: Titleist NXT Tour, Callaway HEX Diablo
Tour/Advanced/Performance – Designed for low-handicap and professional golfers with swing speeds in excess of 100 mph; typically feature multi-layer construction and soft covers; promote greater spin rates and enhanced feel over distance. Examples: Titleist ProV1, Bridgestone Tour B330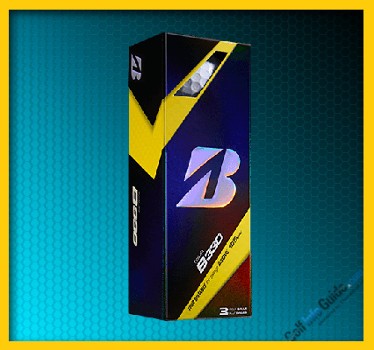 © Bridgestone Golf
Bridgestone Tour B330 2016 Golf Ball Review
---
The latest Bridgestone Tour B330, released in 2016, is aimed at golfers looking for the ultimate speed. I mean, this baby is advertised as being the perfect choice for players with swing speeds of more than 105 miles per hour folks! So, what we're dealing with here is a high-end golf ball engineered by and for Tour professionals which are seeking the maximum distance for their game. The new Tour B330, the 2016 edition is a new and improved version, featuring a firmer Tour-core, which was designed for improving the ball speed, thus providing longer distance. There's also a new proprietary technology incorporated into its built, namely the SlipRes coating (the ball cover) which is aimed at maximizing green-side performance. Speaking about performance, the Bridgestone Tour B330 2016 comes with a new engine, i.e. the new Tour-Core which is now six percent bigger and built with some sort of a composite material, which is softer on the outside and firmer on the inside, and the end result is very impressive. I mean, the Bridgestone Tour B330 2016 offers more speed and less spin right off the driver than ever before.
Bridgestone uses a proprietary technology for the core which allows them to get the job done in one layer, as opposed to other companies who require two or three for the same thing, thus offering an improved energy transfer from the driver to the ball, leading to more power and more distance. The new and improved coating featuring the SlipRes technology is maybe the best Bridgestone has ever invented and built, and the end result is a ball with an impressive friction coefficient, one of the highest on the market, which is capable of achieving things almost impossible just a few years ago: full-throttle green-side spin, but without losing any from the rough. Also, the Bridgestone Tour B330 2016 provides less spin off the driver, thus increased distance. I must recommend the B330 to all players looking for consistent flight in any weather, more spin, more distance and more playability.

Golf Ball Videos:
- Compression Video

- Spin Video

- Dimples Video

- Golf Ball Brands Video

- Titleist Video

- Understanding Spin Video
Value/Recreational/Distance – Designed for mid- to high-handicap golfers with swing speeds below 90 mph; typically feature two-piece construction and firm covers; promote greater distance over high spin rates. Examples: Pinnacle Gold, Slazenger RAW Distance
Premium – Designed for low- to mid-handicap golfers with swing speeds of 90-99 mph; typically feature multi-layer construction and medium-soft covers; happy medium between Value/Recreational and Tour categories for distance and spin qualities. Examples: Titleist NXT Tour, Callaway HEX Diablo
Tour/Advanced/Performance – Designed for low-handicap and professional golfers with swing speeds in excess of 100 mph; typically feature multi-layer construction and soft covers; promote greater spin rates and enhanced feel over distance. Examples: Titleist ProV1, Bridgestone Tour B330