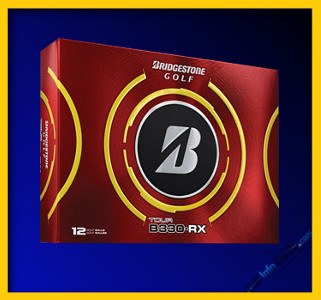 © Bridgestone Golf
Bridgestone B330-RX: Revolutionary Golf Ball Still Top-Notch
---
Ball tested: Bridgestone B330-RX
Category: Tour
Specs: Construction – Three-piece; Cover – Urethane; Core – Gradational compression; Dimples / Pattern – 330 "dual" dimples in seamless pattern
Compression: Mid
Price as tested (new): $44.99 per dozen
Ball notes: Talk about spheres of influence. Bridgestone raised a lot of eyebrows when it introduced the B330-RX in 2008, touting it as "the first ever Tour-level golf ball designed specifically to work for average amateur swing speeds." The big idea: Boost driving distance for golfers with swing speeds below 105 mph while providing the spin and soft feel of balls played by the pros.
Skeptics assumed it was little more than a marketing ploy, and that amateurs would find minimal if any difference between the RX and its big brother, the Tour B330. Bridgestone got the last laugh, however, as the new model became a best-seller, an award-winner and – in the companys accurate words – "created a new category of golf ball."

© Bridgestone Golf
Five years later, every major manufacturer offers at least one ball that mimics the benefits of the B330-RX. Bridgestone itself has added a similar but softer model, the B330-RXS, to flesh out its lineup. Both balls, along with the B330 and B330-S, earned 2013 Hot List gold medals from Golf Digest.
We took the newest version of the revolutionary B330-RX for a test on the course. Lets see how it fared.
Sound and feel: In this department, wed compare the B330-RX to a firm version of a tour ball. In other words, softer than a standard "premium" model, not as soft as the typical tour ball. As always, sound and feel are a matter of personal preference.
Off the tee: No question, the RX delivers on its promise of maximum length for swings in the 85 – 104 mph range. Our drives took off with a mid-level launch and carried with minimal sidespin, providing extra yardage with a nice bit of roll-out. Its a great ball for golfers who eschew working their tee shots left or right in favor of a grip-it-and-rip it approach.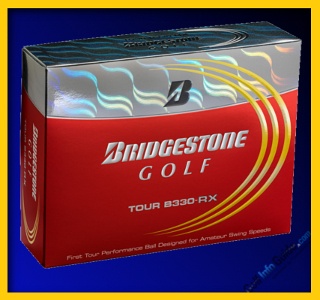 © Bridgestone Golf
From the fairway / rough: The B330-RX generates relatively low spin off the irons, so wedges wont zip backif the greens are soft. It proved quite effective from farther afield, especially on layup plays and run-ups with long irons and hybrids.
Around the green: Golfers who demand tons of greenside spin may be disappointed with the B330-RX. It simply lacks the sticking power of the RXS and other tour models. But that's OK. Wed still place it slightly above most premium balls for chipping and bunker shot control.
Bottom line: Its easy to take the B330-RX for granted these days, what with so many competing balls offering the same qualities. But the original "tour ball for amateurs" still ranks among the best, especially if your priorities lean toward improved driving distance and accuracy. Whether you choose to play this ball or not, at least tip your cap to Bridgestone for developing the B330-RX and opening a new world of choice. Golfers have never enjoyed a bigger or better range of options.

Golf Ball Videos:
- Compression Video

- Spin Video

- Dimples Video

- Golf Ball Brands Video

- Titleist Video

- Understanding Spin Video
Value/Recreational/Distance – Designed for mid- to high-handicap golfers with swing speeds below 90 mph; typically feature two-piece construction and firm covers; promote greater distance over high spin rates. Examples: Pinnacle Gold, Slazenger RAW Distance
Premium – Designed for low- to mid-handicap golfers with swing speeds of 90-99 mph; typically feature multi-layer construction and medium-soft covers; happy medium between Value/Recreational and Tour categories for distance and spin qualities. Examples: Titleist NXT Tour, Callaway HEX Diablo
Tour/Advanced/Performance – Designed for low-handicap and professional golfers with swing speeds in excess of 100 mph; typically feature multi-layer construction and soft covers; promote greater spin rates and enhanced feel over distance. Examples: Titleist ProV1, Bridgestone Tour B330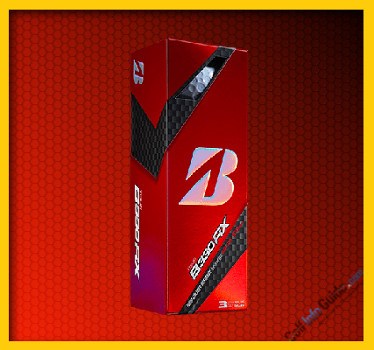 © Bridgestone Golf
Bridgestone Tour B330 RX 2016 Golf Ball Review
---
The Bridgestone Tour B330 RX is a golf ball aimed at players with swings lower than 105 miles per hour which are seeking the most distance possible. Given the Tour particle in its name, you can expect Tour distance performance, right? And indeed, the Bridgestone Tour B330 RX really delivers, being built from 300,000+ ball fittings and featuring a specially designed AMATOURcore, which is very soft indeed, which is designed for maximizing compression, translating into longer distance. Bridgestone used their best technologies into this golf ball, like the proprietary SlipRes coating, which provides impressive green-side performance, less spin off the driver and increased spin from the rough, all these features working together for increasing distance. As you probably realized from these tech specs, this ball is very, very long.
Bridgestone Tour B330 RX comes with a totally new engine, i.e. the AMATOUR core, which is now 28 percent softer than the one in your average Tour ball and it's built from a composite material that's softer on the inside and increasingly harder on the periphery. In this way, Bridgestone created a state of the art golf ball featuring increased speed and less spin off the driver, an amazing achievement if you ask me. Due to their special composite material used in the core, Bridgestone achieved a high level of performance using just one layer, while other companies use two or three, thus providing you, the player, with a smooth energy transfer upon driver impact and thus more power. The new SlipRes coating is the best ball-cover Bridgestone ever made and it offers an amazing friction coefficient rating, thus achieving more spin, more playability and more distance than ever before. Another quality of the latest SlipRes coating is full-throttle green-side spin, but without losing any from the rough. Incredible, right? On top of that, the coating repairs itself, for longer durability/playability. Finally, the Bridgestone Tour B330 RX has excellent wind performance and a consistent flight regardless of the weather conditions, due to the proprietary Seamless Cover Technology incorporated into its build.

Golf Ball Videos:
- Compression Video

- Spin Video

- Dimples Video

- Golf Ball Brands Video

- Titleist Video

- Understanding Spin Video
Value/Recreational/Distance – Designed for mid- to high-handicap golfers with swing speeds below 90 mph; typically feature two-piece construction and firm covers; promote greater distance over high spin rates. Examples: Pinnacle Gold, Slazenger RAW Distance
Premium – Designed for low- to mid-handicap golfers with swing speeds of 90-99 mph; typically feature multi-layer construction and medium-soft covers; happy medium between Value/Recreational and Tour categories for distance and spin qualities. Examples: Titleist NXT Tour, Callaway HEX Diablo
Tour/Advanced/Performance – Designed for low-handicap and professional golfers with swing speeds in excess of 100 mph; typically feature multi-layer construction and soft covers; promote greater spin rates and enhanced feel over distance. Examples: Titleist ProV1, Bridgestone Tour B330