Bridgestone xFIXx: Unique Golf Ball for this Brand
---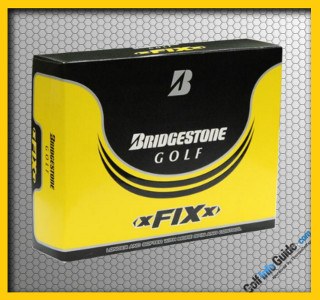 © Bridgestone Golf
Ball tested: Bridgestone xFIXx
Category: Value/Recreational/Distance
Feel: Firm
Tested for golfers with average driving distance of: 125 yards or less (carry + roll) / 126 to 195 yards (carry + roll) / 196 to 245 (carry + roll)
Specs: Construction – Two-piece; Cover – Ionomer; Core – Gradational Compression; Dimples / Pattern – 330 in seamless design
Compression: Low
Price as tested (new): $19.95 per dozen
Ball notes: Here's something different from Bridgestone: A stand-alone golf ball model. There's just one xFIXx – no soft version, no extra-straight or higher-spin offshoot. Just the standard xFIXx.
Thus, there's no confusion about this ball's purpose or target market. It's a "value/distance" ball aimed at mid- to high-handicap golfers seeking all the yards they can get for the smallest price possible, with a hint of softness and spin designed to appeal to avid players.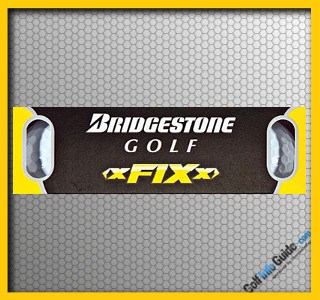 © Bridgestone Golf
To deliver on this promise, Bridgestone uses a now-familiar formula: a low-compression core plus a thin, soft cover. Voila! Introduced in 2010, the xFIXx won gold in Golf Digest's Hot List testing for both 2011 and 2012.
Accolades aside, the xFIXx doesn't garner the same media or consumer attention as Bridgestone's highly touted e-series or Tour B330 models. We took it for a test drive, approach, chip and putt to give you our two cents on this one-of-a-kind ball.
On the clubface: We were prepared to place the Bridgestone xFIXx in the "hard" category, but went with "firm" after trying it out. While it won't be confused with, say, Bridgestone's Tour B330-S, it generates a relatively soft bounce off the driver and putter.
Off the tee: Don't worry about matching your clubhead speed to this ball's specs. No matter how fast you swing, the xFIXx is long – quite possibly longer than the ball you're currently playing. The low spin rate gives it an exceptional carry-and-roll combo. As a bonus, reduced sidespin makes it deadly accurate, too. While it's not a fairway-seeking arrow on par with the Bridgestone e6 (quite possibly the straightest ball in golf), the xFIXx could be just what the doctor ordered for chronic slicers.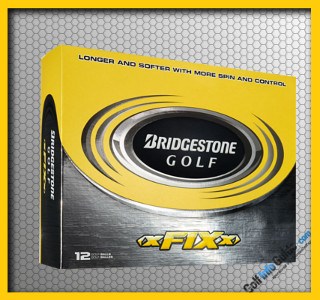 © Bridgestone Golf
From the fairway / rough: Good news – yards gained off the tee equal shorter clubs to the green. Better news – the xFIXx performs pretty darn well on the approach. We got a high launch and a flight with little curve (for the most part). There's just enough spin to reliably hold the green with a well-struck middle iron, and more juice than the typical distance ball provides with the wedges.
Around the green: Likewise, xFIXx produced a modicum of feel and spin to stand out from the crowd. (Though we'd add that nearly all modern distance balls beat their predecessors in this area.) If your skills are sufficient, you'll see a little checking up on some pitch shots; just don't expect the xFIXx to stop on a dime.
Bottom line: The xFIXx is in. We're thrilled to discover that Bridgestone delivers the distance-ball goods despite its intense focus on innovating in the "tour" and "premium" categories. This ball is slightly pricier than some competitors, but it's definitely a top performer in its field.

Golf Ball Videos:
- Compression Video

- Spin Video

- Dimples Video

- Golf Ball Brands Video

- Titleist Video

- Understanding Spin Video
Value/Recreational/Distance – Designed for mid- to high-handicap golfers with swing speeds below 90 mph; typically feature two-piece construction and firm covers; promote greater distance over high spin rates. Examples: Pinnacle Gold, Slazenger RAW Distance
Premium – Designed for low- to mid-handicap golfers with swing speeds of 90-99 mph; typically feature multi-layer construction and medium-soft covers; happy medium between Value/Recreational and Tour categories for distance and spin qualities. Examples: Titleist NXT Tour, Callaway HEX Diablo
Tour/Advanced/Performance – Designed for low-handicap and professional golfers with swing speeds in excess of 100 mph; typically feature multi-layer construction and soft covers; promote greater spin rates and enhanced feel over distance. Examples: Titleist ProV1, Bridgestone Tour B330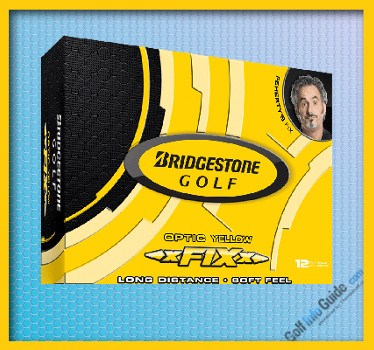 © Bridgestone Golf
Bridgestone xFIXx 2016 Golf Ball Review
---
The Bridgestone xFIXx retails for $19,99 a dozen (MSRP) and it's a very interesting combination of a soft coating/cover and a very soft core, working together for delivering an outstanding mix of control and touch performance. If you're looking for a long golf ball which offers increased amounts spin and control, the Bridgestone xFIXx 2016 really delivers, thanks to its patented low-compression core featuring their proprietary gradational technology, that delivers ideal deformation upon impact, promoting a high-launch trajectory, with low side and back spin.
The coating is also new, being built using a soft ionomer that promotes increased feel around the greens together with more spin control than ever before. Unlike other models, the Bridgestone xFIXx 2016 is a standalone one, I mean there's no extra straight/soft/higher spin offshoot, only the standard version. And that means the Bridgestone xFIXx 2016 plays in its own league, being targeted at mid to high handicap golf players seeking a mix of distance and value, at the smallest price possible. And, in this regard, the Bridgestone xFIXx 2016 really delivers folks. This ball is designed and engineered to appeal avid players looking for a hint of spin and softness, features specific to a Tour ball, but at an affordable price. And the Bridgestone xFIXx 2016 really shines in these areas, due to the state of the art technologies incorporated into its built. Bridgestone's familiar signature, i.e. the soft thin cover and the low compression core delivers a soft bounce off the putter and driver. Off the tee, the Bridgestone xFIXx 2016 is a quite long, with low spin, being deadly accurate and featuring an impressive carry and roll combination. Truth be told, this ball performs great in all situations, having enough spin to hold the green, with a high launch and a flat flight trajectory, being a top performer in its price bracket.

Golf Ball Videos:
- Compression Video

- Spin Video

- Dimples Video

- Golf Ball Brands Video

- Titleist Video

- Understanding Spin Video
Value/Recreational/Distance – Designed for mid- to high-handicap golfers with swing speeds below 90 mph; typically feature two-piece construction and firm covers; promote greater distance over high spin rates. Examples: Pinnacle Gold, Slazenger RAW Distance
Premium – Designed for low- to mid-handicap golfers with swing speeds of 90-99 mph; typically feature multi-layer construction and medium-soft covers; happy medium between Value/Recreational and Tour categories for distance and spin qualities. Examples: Titleist NXT Tour, Callaway HEX Diablo
Tour/Advanced/Performance – Designed for low-handicap and professional golfers with swing speeds in excess of 100 mph; typically feature multi-layer construction and soft covers; promote greater spin rates and enhanced feel over distance. Examples: Titleist ProV1, Bridgestone Tour B330