When To Hit Golf Punch Shots
(Video)
- by Pete Styles
---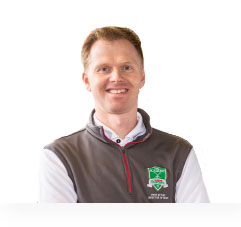 Pete Styles – PGA Teaching Pro
If you've now worked hard on mastering these punch shot skills on the driving range and on the practice ground, you desperately want to go out on the golf course and show off to your mate this newfound skill where you have the ball back and you punch it down and it shoots forward lower with this new punch shot. But now we've got to find a time and a place to play on the golf course. We don't really want to replace all of our normal iron shots with punch shots, but there are going to be plenty of reasons why we can play the shot. And the first one will be when you're playing into or against a cross wind. So we know the punch shot flies a little bit lower and by nature of flying lower, it's less high in the air; it's not going to get blown around by the wind. And particularly if you're playing a Treeline Golf Course; if you can hit the ball below tree level, the wind is not going to have such an effect, if it flies too high the wind has more of an issue.
So punch shots work brilliantly into the wind. Another time you might work on your punch shots is when it's raining; now the nature of this shot is when you're making your full speed fast swings, you have to put quite a lot of pressure into your grip, because in the rain when you're making full swings the club can sort of almost feel like it wants to slip out of your hand and you don't have a great deal of control. But a punch shot can be a little bit different; we know that punch shot is a sure to backswing and sure to follow-through. So particularly in the rain where grip issues could cause problems where you're not holding on to it very well; you hold down the club a little bit, you take a bigger club, maybe a 6-iron instead of an 8-iron and you punch the 6 with more control rather than making a full swing with the 8 where the club feels like it's going to fly out of your hands.
Other times where you might hit this punch shots on the golf course is when you can't decide between two different clubs. So maybe you're looking at a 6 or a 7 and you're not quite sure which is the one. Maybe 7-iron now you have to hit flat out as hard as you can to get it up there, 6-iron sign the feeling is, maybe it's going to go too far. Or how about you just punch the 6; so you take it back into your stance, grip down a little bit that takes power off, shorten the back swing; shorten the follow-through, that's going to take the power off a little bit as well. So between clubs, punching the bigger club might be a good option.
When you're playing golf and you're under pressure, it's another great reason to hit a punch shot; we generally find because the punch shot is sort of more controlled in terms of the length back and the length through, you're not going to be flashing at it full power where it could go high in the air and get blown off course left or right. Just keeping the ball down, keeping the ball in play with a bit of a punch shot under pressure might work. So let's say you're hitting a lay up shot where you're laying upon through a fairway, hazard right, hazard left; just punch one down the middle to keep it under control, particularly when you're under pressure you might feel like that's going to work better for you.
Another time when punching the ball might just be a bit more suitable is when you're having an off day. As golfers, we all have these days where we go out on the golf course, we don't play great; we sometimes just don't feel good about our game. But the hope is that you kind of hang in there; you can steer the ball round the golf course and hopefully start to trigger a little more momentum, maybe go into the back nine. But if on that front nine you just can't get it together, just try punching the ball around the golf course particularly when you're feeling under pressure a little bit where there's maybe hazards in the way, you're not swinging particularly well. If you go in something flat out, you could really mess it up, but if you just stay one down with a bit more of a punch, you might be able to control it better. So you can always club up, punch the ball down to use it in those scenarios I've outlined previously to have a bit more control with your punch shots on the golf course.