Punch Shots Can Be A Golfers Best Friend
(Video)
- by Pete Styles
---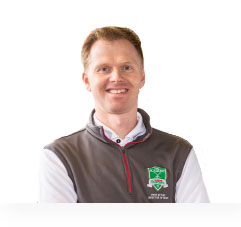 Pete Styles – PGA Teaching Pro
These nice little series of videos we're going to be looking at the golf punch shot. What a punch shot it is, why we play it, how we play it and how we can plat it with different clubs; but the importance of a punch shot is really only evident when you actually watch the world's best players and you'll see them hit shots as they go around the golf course that don't necessarily look or feel like a normal shot. We're so used to seeing these players make these big full follow thorough and the little piece of turf flies off into the air and up the ball goes and the ball goes tearing and soaring through the sky, but then occasionally on the golf course, probably more than occasionally actually for a lot of the players dependent on the conditions they'll hit these sort of abbreviated, little knockdown shots. And you think what was that all about, why was that so different to what we normally used to seeing them do.
He had a shorter backswing, he had a shorter follow through, the ball came out really low and then go soaring, tearing up into the air and when the ball landed on the green it kind of took a skip forward and then [indiscernible] [0:01:04] didn't landed and spin back off the front of the green. Why are they doing this, what are they doing this for and which clubs are they using; but a punch shot if it's not already in your game it can be a very useful addition.
Generally we find punch shots fly a little bit lower, so they're super useful if you're playing into a very heavy winds, or cross wind or very heavy headwind so the punch shot can work well in the wind. Punch shots can also be really useful when you're playing out about lie. So, if you're playing on very tight fairways or if you're playing from long heavy grass the punch shot, the quite steep angle of attack can be nice and useful as well.
Also golfers tend to get a bit too handy in their swing, a bit too floppy where they can hit one way out right, one way out left changing that to more of a punch type feeling where the hands don't get quite so involved, it can be quite useful. So, there is always different additions to your game that if you don't understand how and when to hit a punch shot you could be missing out, out on the advantage; you're bringing a punch shot into your game.