Upright Golf Swing Plane
(Video)
- by Pete Styles
---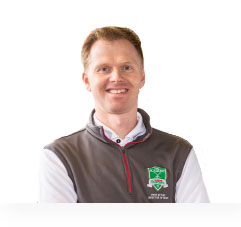 Pete Styles – PGA Teaching Pro
Johnny Miller's golf swing viewed from down the line would often look a little bit steeper than the standard golf swing. He was quite high with his hands and arms, top of the back swing, and a little bit steeper coming down into the golf ball. Now, the benefit of that in terms of ball striking was that it was quite a steep angle of attack that often meant you got a good compressed ball flight. Ball flight started off quite low with a decent amount of back spin.
One of the risks of having a flatter than average golf swing is that your ball strike can often quite suffer. If the swing path is coming in flatter as a lower down angle, there is more stuff to go wrong in the way. If you imagine how the club comes in lower on the some long grass before the ball as the club comes in, there is more chances of the club hitting that long grass. So, from this position up to the top, drop the club in quite shallow, turn it in from here, there is a bit of stuff that could get in the way. And often golfers when they are trying to learn to shallow the angle and draw the ball, will acutally suffer in terms of the ball striking that will hit the ball more heavy.
So, a Johnny Miller style steeper, steeper down swing impact the golf ball was often a much better way of getting a crisp ball strike. Now, often the difference in ball flight was it might be a little bit more cutting. It would be very difficult to have a really steep angle of attack and get in here and then draw the golf ball. The two really don't go hand in hand.
So, if you are struggling with your ball strike and you've got a nice straight flight to your shot, it might be a consideration that you switch to a slightly stick to more Johnny Miller style back swing and down swing and acutally just expect a little bit of fade, then that would be okay as long as you're allowed for that in terms of your setup and your alignment, so you might be considering aiming a bit more down the left-hand side, swinging a little bit steeper in the back swing, just hitting a slight fade sets off left or right, but it might give you a Johnny Miller style better ball strike.