Two Common Mistakes Relating To Wrist Hinge In Your Golf Swing
(Video)
- by Pete Styles
---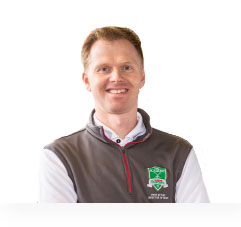 Pete Styles – PGA Teaching Pro
So, wrist set is the idea of hinging the wrist around about 90 degrees during the backswing. But the backswing is only so long in length and this good place is to hinge your wrist but also there are bad places to hinge your wrist. Initially, we are going to look at the bad places, two bad places where you don't want to be hinging or setting your wrist. The first one is in the takeaway and the second one is in the transition.
As I set up to the golf ball, everything should move away from the ball dominated by the shoulders. What I really want to avoid here is doing this in the takeaway. This is purely hands and arms action. So, setting the club back like this just with the wrist, although the club gets into the correct position for later on in the swing, it's done in the wrong place. It is too difficult to control and it's not controlled enough from the left shoulder.
The second place where we are going to struggle if we are setting the wrist is in transition. So, we see some golfers go up, up, up, no wrist hinge, no wrist hinge and then at the top of the change direction the wrist is set here and really it's not so much of set, it's more of a collapse. The wrist come up, collapse under weight of the golf club as we start the transition downwards.
And because the club is going back and its changing directions come down, it loads with a massive amount of force and if you don't control that amount of force in that change of direction, you really get quite weak through here. It's very difficult to time the release back through the ball. So it's important we use the correct location for setting the wrists but it is not in the takeaway and it is not in the transition at the top.