The Causes Of A Fat Golf Shot
(Video)
- by Peter Finch
---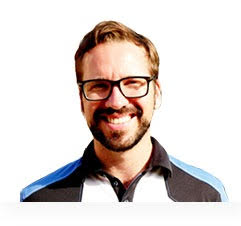 Pete Finch – PGA Teaching Pro
One of the most frustrating shots that a golfer can hit is the fat golf shot. That is because no one ever hits a good fat golf shot. You can hear a good thin golf shot. You can get away with that type of shot. The fat shot, there is no hiding from it at all. But a lot of people who get frustrated about hitting the fat shot don't really understand why it happens. For example if we have a golf ball which is set on the top of this alignment stick which is representing a nice flat line. If you hit a fat shot that club is moving down towards the ball represented just by my fingers here, towards the ball and it's bottoming out before the ball in its angle of attack and its arc. Now that means that the club is hitting the ground before the ball is coming up.
It's either hitting the ball with the ground that is just dug up or it's coming up and it's just flopping it over and just rolling over a couple of yards along the fairway. Now that is why you hit the fat, when that club bottoms out just before the ball. But what does that mean? Well generally speaking in most shots you will have quite a circular arc around the body. So the club will take a path which is pretty much a circle shape around the whole body during this technique. Now if you want to hit a successful shot, you need the arc to bottom out after the ball. So you need that club to be traveling through, and hitting the ground about this point here.
That's going to ensure a ball first contact, then the turf afterwards. And that's what you see with the very best ball strikers, the ability to hit the ball first and then the turf. And that's what we're going to do within this video series, just explaining a little bit more about why you would be bottoming out the club before the ball, exactly what you can do to help rectify that. And also one of the big things a lot of people struggle with is how you can stop fatting the short game shots as well. We're going to go through all of that, and just hope to give you some tips to get away from this very nasty and very annoying type of shot.