New Techniques To Stop A Fat Golf Shot
(Video)
- by PGA Instructor Peter Finch
---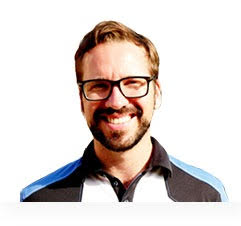 Pete Finch – PGA Teaching Pro
If you are struggling with the fat shot, it's time to start introducing some new techniques into your game which will help you strike that ball first, and then the turf. Now these are all going to be focused on again shifting your angle of attack further forward, getting that club arc bottoming out after the golf ball. Now the most important one of all this really is making sure that your sternum position is in a correct position as you strike the shot. Your sternum position really does give an indication of where the center of your swing arc is. If your swing arc is bottoming out at the ball your sternum position will generally be over the ball.
If your swing arc is bottoming out further on, generally your sternum position will be moving further off to the left-hand side. So a great way to make sure that your sternum position is over the ball or slightly ahead of the ball it's just to use a drill where your get setup is normal. The ball position just ahead of center here, but I'm going to put a lot more weights on my left side. And just make sure my sternum position is ahead of the ball. Then I am just going to take a ball, on to the driving range, setup, move it ahead, standing a long way ahead. And I am just going to keep it there as I hit this shot away. Now the ball flight will be much, much lower. It will be much more penetrating because my sternum position is a long way ahead.
Focusing on the aspects will allow you to get ahead of the ball, and should hopefully stop you flicking up. Now that's the second thing we're going to be focusing on. Because generally if someone is going to hit that fat shot their wrists will use this type of motion through impact, trying to get the ball up in the air that actually is just causing the club to bottom out a long way before the ball. So getting the arms and the hands into a consistent impact position where the left wrist is nice and firm, the arm is nice and straight is going to be very, very important. A great way to practice this is to take an alignment stick. You can pop it down the end of your grip if you want to, which is actually more beneficial because it's a little bit easier on the hands.
We can also just hold the alignment stick down the side of the grip, take your normal grip, get setup and just have a bit of a practice of coming through and just trying to keep this alignment stick away from the body as you hit. If you are using that flicked position that alignment stick is going to start making contact with the side of the body. So another great new technique to try is getting set up, swinging it back, and then just practicing and trying to get that alignment stick away from the body as you move through the ball. If you can do that you will know that that flicking motion isn't there. So try those two techniques. Try and implement them into your game sternum position I had no flick and again you should start to find that the ball strike does improve.