How To Practice Committing Through Golf Impact
(Video)
- by Peter Finch
---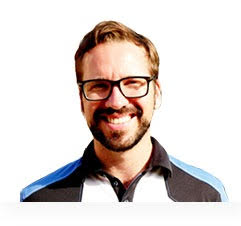 Pete Finch – PGA Teaching Pro
If you want to practice the commitment phase of striking down through with the irons, there are a number of different drills that you can use. This one is probably one of my favorites because it works on a couple of aspects of why you may not be committing all in one go. There are some classic examples of when people don't commit, is as they swing through, they hang back on to that backflow, try and lift the ball up into the air and then decelerate as they hit and the other one is as they swing through they stay very, very static and just use the hands and the arms to move through the shot.
Now what we're going to do and what we're going to talk about is a great drill that you can use to really extend the arms down towards the target, but also to transfer the weight as you hit. Now all you need to be doing is getting settled as normal to your shot; but as you take it on to the top of the backswing I want you to move your weight to the left hand side a lot more aggressively than you ordinarily moved it. Now what this will do it will transfer your weight aggressively left and it will get you in the motion of travelling toward your target. Then as you move through the points of impact it's really extending those arms down towards the target very, very excessively.
The weight transfer and the extension of the arms down towards the target should be so aggressive that as you move through impact you should take almost a little bit of a step forward because your weight is transferring so much. So when you're getting setup to the shot, it's exactly the same setup, but then as you move through an aggressive weight transfer and then a big extension through, which forces you to step forwards down towards the ranch and that was that good of a strike; can I start using that on the course. Do that and get more committed, easy go.