Golf Drill Tip: Stop pulling - Focus on high finish
(Video)
- Lesson by PGA Pro Pete Styles
---
Every shot that misses your target is frustrating.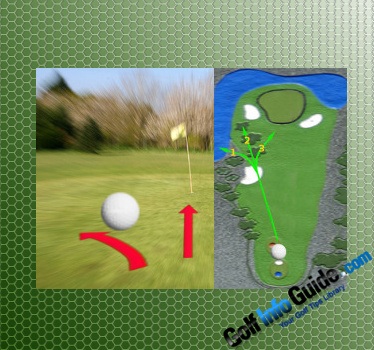 In a perfect golf world, you would look up from your swing and see the ball flying directly toward the target, time after time. That isn't how it works, of course, and you are sure to hit bad shots along the way. Those bad shots are nothing to be ashamed of – they are simply part of the game. It is your job as a golfer to work toward hitting fewer and fewer poor shots moving forward. If you can correct the various errors you tend to make in your swing, you'll naturally play better golf over the long run. Sure, you'll never be successful with 100% of your swings, but you can certainly work on moving closer to that mark.
A pulled shot is particularly frustrating as this type of mistake often feels like it was a good swing at impact. When you strike the ball, you might feel like the shot has come off the club perfectly – so you expect to look up and see it flying toward the target. Unfortunately, you are in for a nasty surprise when you look up, as the ball will actually be headed well to the left of your selected target (for a right-handed golfer). Most pulled shots actually fly through the air pretty straight, but they still wind up way off the mark because of the errant launch direction. If you are going to get your pulled shots back on track, you'll need to find a way to clean up your technique successfully.
In this article, we are going to talk about a surprisingly simple fix that might be able to help you get on track. By thinking about swinging up to a high finish, it may be possible to straighten out your shots without making any other notable changes. The things you think about during the golf swing tend to have significant influence over the kinds of shots you wind up producing. Try thinking about a high finish on the driving range and see if this one thought can actually help you to stay away from the pulls.
With the rest of this article, we are going to break down the issue of pulled golf shots, including why they happen and what you might be able to do to avoid them (including swinging up to a high finish). All of the content below is based on a right-handed golfer. If you happen to play left-handed, please take a moment to reverse the directions as necessary.
What is a Pulled Golf Shot?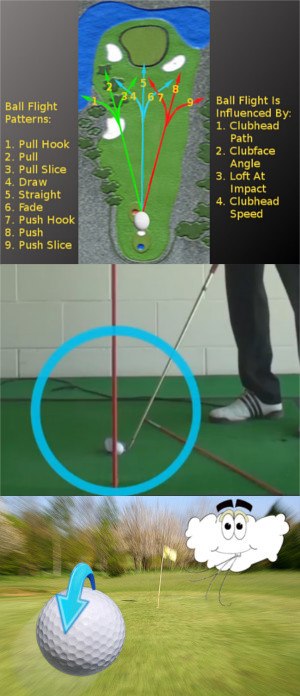 As mentioned earlier, a pulled golf shot is one which misses the target to the left, for a right-handed golfer. Of course, a pull is not the only way to miss to the left, so it is important to sort out what is going on when your ball does head to the left side of the hole. Did you actually pull the ball, or did you simply aim incorrectly? Or maybe you hit a draw, or even a hook? One of the most important skills you can develop in this game is the ability to figure out what is going wrong with your swing. Once you've got that figured out, it will be much easier to make the necessary corrections.
So, let's get started by talking about what a pulled golf shot is not. By working backwards and eliminating mistakes that should not be included in this category, you can be sure to properly identify the error you are making as a pull.
A hook does not count as a pulled shot. When you see the ball curving dramatically from right to left as it flies through the air, you should not be including that type of shot as a pull. Sure, it's possible to hit a pull-hook, which is a combination of those two mistakes, but a shot that ends up left of the target due to the way it curves in the air does not meet the definition of a pull. The ball hooks when you put too much right-to-left spin on it at impact. On the other hand, a shot is pulled to the left as a result of your swing path through the hitting area. If you swing across the ball from outside-in, and your club face is square to that swing path, it's almost certain you'll be left with a pull. If you are dealing with a hook, that is an issue which needs to be addressed – but the corrections that will need to be made do not have much at all to do with the changes that you would need to make if you were hitting a true pull.
Poor alignment does not count as a pull. This is a big one. Countless amateur golfers fail to aim their shots properly at address, and then those same players go on to blame their golf swing when the ball winds up to the left of the target. If you are consistently hitting shots that miss left while flying mostly straight, it's possible that your aim has been the culprit all along. When you think about it, there is a good chance you never really stop to practice your aim during your visits to the range. You probably practice your swing technique, and you may work on producing a few different ball flights. But do you ever take the time to practice the skill of aiming correctly? If not, you are missing a big opportunity to improve your play. Before you think about making any changes to your physical technique, be sure to check on your alignment to eliminate this point as a possible cause of trouble. Once you are sure that your alignment is not at the root of your misses to the left, you can move on to considering other possibilities.
External factors do not add up to a pull. We admit that this last point is not going to be as significant as the first two, but it should be mentioned anyway. As you are assessing your performance on the course, be sure to understand that an outside influence acting on your ball to move it to the left does not mean you've hit a pull. For example, if the ball lands on a slope and bounces to the left before it comes to rest, that isn't a pull – it's just a shot that bounced away from the target. By the same token, a shot which is pushed to the left by the wind as it flies is not a pull either. Nor is a shot that winds up left because you were playing it from a sloped lie in the fairway. When thinking about whether or not you have hit a pull, you need to eliminate all external factors to confirm that the cause of missing left was nothing more than your own poor technique.
The accurate assessment of the mistakes you are making on the golf course is one of the biggest steps toward lower scores. It is extremely common for amateur players to incorrectly assume they are making one mistake – when it is actually another error that is getting in their way. Before you even spend one minute trying to fix your pull, make sure it is a pull that is giving you trouble in the first place.
Why Golfers Hit Pulls

We hope that you take some time to pay attention to the types of misses you are hitting on the course, and that you will only move forward if you determine you actually are hitting a pull. Should that be the case, the content in this section is going to offer some insight into the act of hitting a pull. Why is this miss taking place in your game? The 'why' is always important in golf, since understanding what is going wrong will permit you to take the last step of making a proper correction.
Without further delay, let's get into our list of some of the likely causes of a pulled golf shot.
Poor takeaway. The takeaway is a phase of the golf swing which is often overlooked by the average player. If you fail to recognize the importance of the takeaway, you will frequently put yourself in a difficult position later on in the swing. You can think of the takeaway as the part of the swing which sets the table for what is to follow. Without setting the table properly, the golf swing is going to be harder than it needs to be – and the swing is already difficult to begin with. A good takeaway is one which keeps the hands and wrists quiet while the shoulders turn away from the target. If you can make this move properly, you'll be able to position the club nicely to strike the ball aggressively later on in the swinging action. Those players who are struggling with a pull often allow their hands to become too active in the takeaway, forcing the club to the inside as a result. When that happens, the swing gets crowded at the top – and the player has to move the club over the top in order to make a downswing. That leads to an outside-in swing path, and the potential for a pull. When swinging across the ball like this, there are really only two potential outcomes – and neither of them are good ones. You can hit a pull if the club face is square to the swing path, and you can hit a slice if the face is open. Needless to say, you'll want to correct this swing path error as soon as possible, so you can straighten out your shots and find your targets more frequently.
Lazy lower body in the downswing. By and large, the average amateur golfer does a rather poor job of using his or her lower body in the downswing. Ideally, your lower body will be leading the way in the downswing, creating a powerful rotational force that can help you carry the club through the hitting area. Unfortunately, if you fail to use your lower body correctly, a variety of problems can result. For one thing, you will not be able to produce the power that you may have been capable of producing otherwise. Also, and perhaps more importantly, it's going to be difficult to deliver the club on the right path to achieve an accurate strike. Most likely, failing to use your lower body well on the way through the ball is going to lead to an outside-in swing path, and we have already discussed why that is a problem in the previous point. For the benefit of your entire game as a whole, it would be wise to work on learning how to turn through the ball correctly on the way down.
Early release in the downswing. This is a tough one, as correcting an early downswing release is one of the biggest challenges you can take on in the game of golf. If you do manage to get over this hurdle and eliminate the early release from your game, you may be amazed to find how much your results can improve. Of course, there is going to be a lot of work required between here and there, and you may struggle to see the process all the way through to a successful conclusion. If you are currently releasing the club prematurely on the way down, you'll be forcing the club head to the outside of the proper path, and yet again you'll wind up with an outside-in swing path. By doing your best to hold the angle between the club shaft and your left arm for as long as possible, you can avoid this outcome – and pick up a significant amount of power in the process.
It's easy to overcomplicate the game of golf, but in the end this point can be quite simple – if you swing from outside-in, and the club face is square to that path, you'll hit a pull. There are a variety of potential causes for that mistake, but your goal at the end of the day is to take the outside-in swing path out of your game once and for all. Take a moment to decide if any of the errors above are getting in your way and then get down to work on finding a solution.
Finding the Target
In the title of this article, we mentioned that finishing high can help you get rid of your pulled shots. In this section, we are going to talk a little bit more about why that is the case, and what you can do to work toward a full, high finish. Of course, finishing with your hands and the club high in the air is no guarantee of success, but it is a nice step in the right direction.
There are a few things which are likely to happen when you finish with your hands high, and they are as follows –
Improved turn through the ball. Simply by thinking about your finish position, you should feel that you do a better job of rotating your body through the hitting area. The problem here is that many golfers view the impact position as the finish line of the golf swing, when that really should not be the case. You should be swinging all the way up to a full finish, while just letting the ball get in the way of your swing. If you carry this line of thinking into your swing, you'll be able to more effectively turn through the shot – and as we've already discussed, improving your turn is going to go a long way toward avoiding pulls. As you practice, keep the thought of swinging to a high finish near the front of your mind and you may see your results improve quickly.
Improved path. The idea of swinging through to a high finish is one which should help you swing down on a better path. Simply put, swinging from outside-in is going to make it nearly impossible to reach a high finish, just because of the direction that the club will be traveling through the ball. If you are swinging across the ball at impact, your hands will end up down around your left shoulder in a relatively low position. If you can make the adjustment necessary to swing down on a good plane, you should be able to find your hands in a higher position when the swing is complete. Of course, you'll still need to fix the underlying technical problem in your swing to make this happen.
Acceleration through the ball. It's possible to wind up producing a pull as the result of nothing more than giving up on your downswing prematurely. You need to swing all the way through the ball in order to make your hard work up until the moment of impact pay off. Again, the simple thought of trying to reach a high finish should help you in this regard. Work toward that high finish and the issue of decelerating through impact should be a thing of the past.
If you are currently hitting a lot of pulled shots, it's highly likely that you are failing to reach a high finish position with your hands. Give this helpful tip a try during your next visit to the driving range and you may be pleasantly surprised with the results.
Pulled Short Game Shots

Hitting a pulled shot in the short game is a different discussion than hitting a pulled shot with a full swing. Sure, both of these kinds of shots miss to the left of the target, but you can't really compare one to the other in terms of how you are going to correct the error. The dynamics of your full swing are a completely different discussion than the dynamics of your chipping and putting motions.
When you find that you're frequently missing left in the short game, you'll want to take a close look at your technique to see where you may be going wrong. Excessive body movement is one likely cause of trouble with regard to the pulls. If you are allowing your upper body to turn toward the target a bit as you swing through, the club may close down, and you may miss to the left. Since you aren't swinging hard enough to hit a hook or a slice, the misses that you deal with in the short game can almost always be categorized as pulls or pushes. Whether you miss the target as a result of your path or your club face position, the end result is a shot that is disappointing. Be sure to keep your body nicely still as you swing the club in order to get closer to the results you desire.
In addition to keeping your body as still as possible while swinging through the hitting area, you also need to make sure your body is aligned properly in order to stay away from the pulls. If you start with your shoulders open to the target line, for example, it's highly likely that you'll swing across the ball and hit a pull. Take the time in practice to build a square stance and it will become much easier to hit the ball at the target time after time. Working on your short game alignment in practice might not be particularly exciting, but it can pay off in a big way once you are back out on the course.
It's frustrating to continually pull the ball to the left of your target. With that said, you shouldn't let yourself get too down about the current state of your game – getting on track in golf is simply a matter of working on your fundamentals and addressing one problem at a time. We hope the information in this article will help you play at a higher level moving forward. Good luck!
If you have still noticed a tendency to pull the golf ball which would be for the right-handed golfer, the left going left shot, not flying with too much curve but straight left going left, we want to actually focus a little bit more on the follow through and not to try and get the golf club up in a way on a good path. So generally a pull shot is going to be caused by a path that is coming leftwards of the target line, left and often quite a flat rounded finish, it might be quite a nice thought for yourself to think about getting the club upward a little bit more in the finish, a higher finish, that would almost encourage the club to come more from behind you on a flatter down swing plane, then swinging more out to the right of target and a big high finish. So you could practice this with a mirror where the camera is here, so looking into a mirror or obviously you are not going to hit the golf ball here but I am going to try and swing the club up and out, so the club comes out in front of my head when I look in the mirror, not behind my shoulder this way.
If I am swinging leftwards its too flat, if I am swinging rightwards, its up and over my head a little bit more and it should feel like I can get up to a nice high balanced finish rather than being pulled off with a low flat finish. So it's a good setup, bring the club a little bit more down from behind you and then out to a nice big high finish in front of you, when you go on to the golf course, try that same thing on the practice ground or on the golf course swinging out to a high balanced finish, rather than the lower round your body which would have dragged the ball down the left hand side, focus on a high finish to reduce the pull shots.