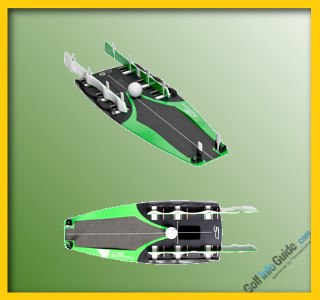 Think golf training aids are strictly for hackers? Not hardly.
Believe it or not, the pros use them too. There's a new contraption that's gained a big following on the PGA Tour: the CS2 Putting Aid.
According to the company, more than 40 pros requested and received a CS2 putting aid in the month prior to the 2013 Tour Championship. Their ranks included Henrik Stenson – winner of the FedEx Cup – and Zach Johnson, who won the BMW Championship.
So what, exactly, is the CS2?
Endorsed by Ian Baker-Finch, one of golf's best putters in his early-1990s prime, it's designed to instill the so-called "five key fundamentals" involved in rolling the rock: aim, alignment, stroke path, square putter face at impact, and speed/pace. Adjustability makes the CS2 unique from other putting aids. It can be set up to match any style of putter and any type of stroke – for instance, arc vs. straight-back-straight-through – helping you repeat the same motion time and again.
Retailing for $99.99, the CS2 is lightweight and compact enough to fit in your golf bag. It can be used at home or on the practice green as well.