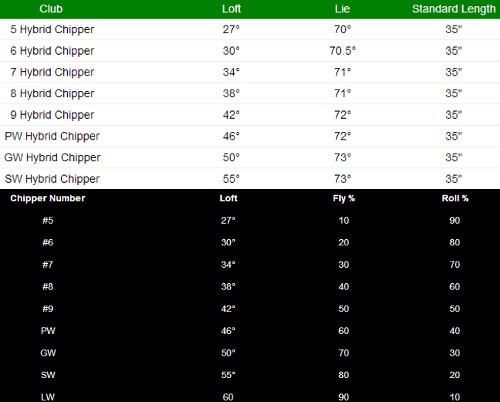 With the Thomas Golf Chippers, we've taken the hybrid concept to the next level.
Our regular hybrid golf clubs are a combination of irons and fairway woods, while our chippers are a combination of irons, fairway woods and putters.
If you've never used a chipper before, you may be missing out on a very useful tool. Thomas Golf chippers work great around the green. They are perfect for the times that you need the control of a putter, but there is just too much tall grass between you and the green. Therefore, using your chipper gets the ball up and over those obstacles, while keeping the ball low enough to the ground to get a good rolling finish up to the hole.
The key to Thomas Golf's superior chipper is the weighted hosel adapter that converts the lie of the club to be more upright, much like a putter. Since the chipper is designed with a lie and shaft length of a standard putter, you can use the stroke that you normally use with your putter.
The added weight and offset hosel of our chippers are crucial to hitting a consistently crisp shot. The chipper also features the snag-less hybrid head design with a 4-faced sole, to help lower the chances of hitting a fat or thin shot.
Thomas Golf offers a wide variety of chippers in eight different lofts ranging from 27-degrees to 60-degrees (#5 through LW). Whatever shot you are trying to achieve, you have the tools at your finger tips with the Thomas Golf chipper series.
To help you figure out which chipper is right for your game, we have a chart that shows you how the golf ball will react to the different loft angles of the various Thomas Golf chippers. The #9 chipper is what we call the 50/50 chipper, meaning that when hit, a golf ball will travel 50% of the time through the air and 50% on the ground; The ball will fly just as far as it will roll.
For example, if you are 15 feet off the green and the hole is 15 feet back from the edge of the green, you can fly the ball about 15 feet and expect about a 15 feet of roll out to the hole. A more lofted chipper, such as the SW, will spend more time in the air and roll less distance. While a less lofted chipper, such as our #5, will spend the least amount of time traveling through the air, but will produce the most roll.
Thomas Golf's chippers are taking the fear out of chipping around the green and placing confidence back in your hands. Give your golf game a boost around the green with the Thomas Golf Chipper.