© Bridgestone Golf
Bridgestone e5: A Golf Ball with a Feel for Distance
---
Ball tested: Bridgestone e5 Distance & Control
Category: Premium
Specs: Cover – Urethane; Construction – Two-piece; Core – Gradational; Dimples / Pattern – 326 "dual" dimples in Bridgestone's seamless pattern
Compression: High
Price as tested (new): $26.95
Ball notes: Formerly known as the e5 High Flight, this model has been rebranded Distance & Control to better reflect its playing characteristics. Simply put, Bridgestone markets the e5 as a ball that delivers excellent carry and roll distance with a softer feel and more spin due to the urethane cover. In fact, it's the only two-piece ball on the market featuring urethane (usually found on multi-layer tour balls).
Clearly, Bridgestone is doing something right. The e5, along with its siblings the e6 and e7, earned a gold medal in Golf Digest's equipment Hot List for 2013. The company that pioneered golf ball fitting for the masses has made major strides in recent years. In fact, you could say Bridgestone isn't just for tires anymore.
Sound and feel: Quite nice, thank you. The urethane cover certainly makes a difference in this department – unlike Surlyn-covered models, you can actually feel the ball compress against the clubface. Strike the e5 well and you'll hear/feel a pleasing "click" rather than a clunky "thunk."
Off the tee: Bridgestone expanded dimple size by 6% while keeping its innovative Dual Dimple Technology, with the goal of shallowing out the descent angle from the previous version (the e5 High Flight) to improve roll. Mission accomplished. The e5 still provides adequate height, but adds distance when hitting the ground.
From the fairway / rough: Iron control and stopping power are excellent from the short grass – nearly the equal of tour models. From thicker stuff, the e5 suffers by comparison to high-end balls, but is in line with competitors in the premium category.
Around the green: If you've shied away from playing premium balls because of a lack of greenside feel, the e5 is worth a try. The urethane cover does what it's supposed to do, providing a much softer sensation and better control on short shots. Definitely above average for the category.
Bottom line: For golfers with medium swing speeds (85-95 mph range) who want to maximize distance without totally sacrificing feel, Bridgestone's e5 is a worthy choice. We found it to perform at or above other premium balls in every aspect, tee to green.

Golf Ball Videos:
- Compression Video

- Spin Video

- Dimples Video

- Golf Ball Brands Video

- Titleist Video

- Understanding Spin Video
Value/Recreational/Distance – Designed for mid- to high-handicap golfers with swing speeds below 90 mph; typically feature two-piece construction and firm covers; promote greater distance over high spin rates. Examples: Pinnacle Gold, Slazenger RAW Distance
Premium – Designed for low- to mid-handicap golfers with swing speeds of 90-99 mph; typically feature multi-layer construction and medium-soft covers; happy medium between Value/Recreational and Tour categories for distance and spin qualities. Examples: Titleist NXT Tour, Callaway HEX Diablo
Tour/Advanced/Performance – Designed for low-handicap and professional golfers with swing speeds in excess of 100 mph; typically feature multi-layer construction and soft covers; promote greater spin rates and enhanced feel over distance. Examples: Titleist ProV1, Bridgestone Tour B330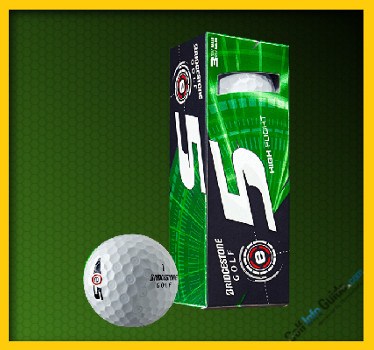 © Bridgestone Golf
Bridgestone e5 2016 Golf Ball Review
---
The Bridgestone e5 is a premium soft golf ball featuring a two piece construction, aimed at golfers looking to improve the low-ball flight issue.
For improving ball flight performance, the Bridgestone e5 is specially designed for providing additional lift for increased carry, thus improved distance, courtesy of the high-spinning Tour caliber coating. There's also a newly designed WEB Dimple which further improves the ball flight and increases distance by enhancing surface coverage with over ten percent. Basically, the Bridgestone e5 is a solid performer sold at a fair price, offering golf players their choice of spin. The e5 has a clear purpose: high flight. Together with this feature, the Bridgestone e5 comes with improved feel, which is essential for any aficionado, and also the reason why lots of players are ready to pay top dollars for a golf ball. Bridgestone's new e5 2016 doesn't disappoint in this regard, as they upgraded the feel significantly in their latest 2016 reiteration. The Bridgestone e5 feels solid and firm, offering a nice and crisp feedback off the putter. Also, this is a high spinning ball with a wedge, both on pitches or full shots. Actually, despite the fact that it features a two-piece built, the Bridgestone e5 is comparable with many premium tour caliber golf balls in terms of spin, and that's great in my book. Long story short, the Bridgestone e5 is an excellent choice if you're on a tight budget and you're after tons of wedge spin.

Golf Ball Videos:
- Compression Video

- Spin Video

- Dimples Video

- Golf Ball Brands Video

- Titleist Video

- Understanding Spin Video
Value/Recreational/Distance – Designed for mid- to high-handicap golfers with swing speeds below 90 mph; typically feature two-piece construction and firm covers; promote greater distance over high spin rates. Examples: Pinnacle Gold, Slazenger RAW Distance
Premium – Designed for low- to mid-handicap golfers with swing speeds of 90-99 mph; typically feature multi-layer construction and medium-soft covers; happy medium between Value/Recreational and Tour categories for distance and spin qualities. Examples: Titleist NXT Tour, Callaway HEX Diablo
Tour/Advanced/Performance – Designed for low-handicap and professional golfers with swing speeds in excess of 100 mph; typically feature multi-layer construction and soft covers; promote greater spin rates and enhanced feel over distance. Examples: Titleist ProV1, Bridgestone Tour B330