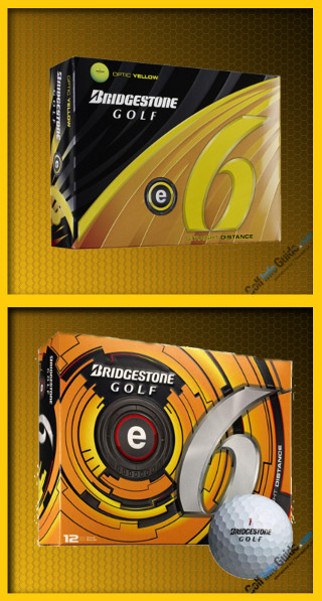 © Bridgestone Golf
Bridgestone e6: Is This the Straightest Ball in Golf?
---
Ball tested: Bridgestone e6 Straight Distance
Category: Premium
Specs: Construction – Three-piece; Cover – Surlyn; Core – Gradational compression; Dimples / Pattern – 326 "dual" dimples in Bridgestone's seamless pattern
Compression: Mid
Price as tested (new): $26.95
Ball notes: The best-selling ball in Bridgestone's popular "e" series, the e6 has proven mass appeal. The company markets this model as the straightest of the bunch, with distance to match its siblings, the Bridgestone e5 and e7.
What differentiates the e6? For starters, there's its core compression of about 50 – lowest of any three-piece ball on the market, according to Bridgestone. That not only makes it quite soft, it helps golfers with moderate swing speeds (90 mph or less) generate maximum driving distance. The e6 also features a surlyn cover, same as the e7 but different from the urethane e5.
The most recent e6 iteration (2013) is made with Bridgestone's "Dual Dimple" design, a dimple-within-a-dimple concept designed to produce greater speed, reduce drag and increase lift for more carry. Available in white, optic yellow, orange and pink, the e6 joined the e5 and e7 on Golf Digest's 2013 Hot List gold medal squad.
The e6's claim to fame is a mantle (layer between the cover and core) said to reduce sidespin and produce straighter shots throughout the bag. We put the e6 through the paces to find out first-hand if the claims are true.
Sound and feel: Hard to believe a ball this soft is covered with surlyn, but it's true. The e6 seems to melt against the clubface on drives and longer shots, with the buttery soft feel evident all the way to the green.
Off the tee: Having heard claims of golfers cutting their 40-yard slices in half simply by switching to the e6, we were itching to give it a rip. Darned if the stories aren't true. Not only did our standard swings produce very little curvature, our attempts to hit humongous cuts and hooks proved wonderfully futile. Sure, you can bend the e6 if you a) try really hard, or b) make a horrific swing. Otherwise, you'll find it in the fairway more often than not.
From the fairway / rough: The e6 showed its straight stuff here, too. Shots we thought for sure were headed for trouble ended up near the green, if not on it. As you might expect, this isn't the ball for the shot-shaping set. Yet it delivers ample backspin on landing, so most approaches stop promptly.
Around the green: If there's a tradeoff for the increased accuracy, it's in the short game. Mind you, the e6 isn't impossible to tame on chips and pitches, and it feels terrific. But spin is somewhat lacking compared with Bridgestone's other "e" models as well as competitors in the "premium" category.
Bottom line: The Bridgestone e6's target market, if you will, is a big one: everyday golfers who struggle with accuracy. If you happen to be one of them, this ball should be on your must-try list – especially if you prefer a ball that feels soft, but you don't demand tour-level greenside control.

Golf Ball Videos:
- Compression Video

- Spin Video

- Dimples Video

- Golf Ball Brands Video

- Titleist Video

- Understanding Spin Video
Value/Recreational/Distance – Designed for mid- to high-handicap golfers with swing speeds below 90 mph; typically feature two-piece construction and firm covers; promote greater distance over high spin rates. Examples: Pinnacle Gold, Slazenger RAW Distance
Premium – Designed for low- to mid-handicap golfers with swing speeds of 90-99 mph; typically feature multi-layer construction and medium-soft covers; happy medium between Value/Recreational and Tour categories for distance and spin qualities. Examples: Titleist NXT Tour, Callaway HEX Diablo
Tour/Advanced/Performance – Designed for low-handicap and professional golfers with swing speeds in excess of 100 mph; typically feature multi-layer construction and soft covers; promote greater spin rates and enhanced feel over distance. Examples: Titleist ProV1, Bridgestone Tour B330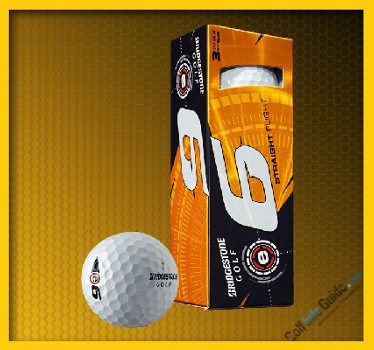 © Bridgestone Golf
Bridgestone e6 2016 Golf Ball Review
---
The Bridgestone e6 2016 is marketed as being the softest multi-layer ball on the market and it's designed and built for delivering increased levels of accuracy, together with straighter and longer shots than ever before for improving your game. In order to achieve these goals, the Bridgestone e6 2016 is built with the latest technologies available, such as the WEB Dimple coating (for improving ball flight and increased distance), the 326 Seamless dimple design (this one works in tandem with the WEB Dimple coating), a softer gradational core featuring an anti side spin layer and a very soft coating for improved feel (the Surlyn cover). The Bridgestone e6 2016 is available in white, optic orange and optic yellow and it makes for a solid performer at an affordable price.
Unlike the e5 which is a high-flight wonder, the Bridgestone e6 2016 is focused at providing straight flight, together with a significantly improved feel, just like every ball in the new e-series 2016 from Bridgestone. Disappointing feel is the main reason for which many players refuse to buy and play with mid level balls, but with the Bridgestone e6 2016 this issue is gone, dead and buried. The e6 is the softest one from the bunch and it comes with a low pitch sound both off the putter and/or the wedge, and with a hot and firm feel off the driver. With the Bridgestone e6 2016, a good swing will go straight down the middle and it also offers tons of stopping power if you consider that you're dealing with a mid grade golf ball. Basically, the Bridgestone e6 2016 is an all-rounder and a great choice if you're after very soft feel.

Golf Ball Videos:
- Compression Video

- Spin Video

- Dimples Video

- Golf Ball Brands Video

- Titleist Video

- Understanding Spin Video
Value/Recreational/Distance – Designed for mid- to high-handicap golfers with swing speeds below 90 mph; typically feature two-piece construction and firm covers; promote greater distance over high spin rates. Examples: Pinnacle Gold, Slazenger RAW Distance
Premium – Designed for low- to mid-handicap golfers with swing speeds of 90-99 mph; typically feature multi-layer construction and medium-soft covers; happy medium between Value/Recreational and Tour categories for distance and spin qualities. Examples: Titleist NXT Tour, Callaway HEX Diablo
Tour/Advanced/Performance – Designed for low-handicap and professional golfers with swing speeds in excess of 100 mph; typically feature multi-layer construction and soft covers; promote greater spin rates and enhanced feel over distance. Examples: Titleist ProV1, Bridgestone Tour B330