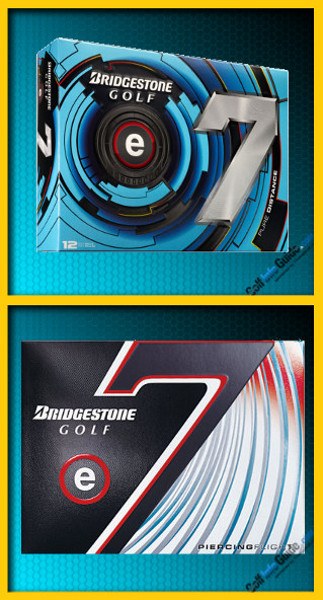 © Bridgestone Golf
Bridgestone e7: Great Ball for those Seeking Long and Low
---
Ball tested: Bridgestone e7
Category: Premium
Specs: Construction – Three-piece; Cover – Surlyn; Core – Gradational compression; Dimples / Pattern – 326 "dual" dimples in Bridgestone's seamless pattern
Price as tested (new): $26.95 per dozen
Ball notes: Its full name is the e7 Pure Distance, which differentiates this ball from its Bridgestone "e" series counterparts, the e5 Distance & Control and the e6 Straight Distance. In other words, the e7 is aimed at golfers who want to hit the ball farther, first and foremost.
Compression: High
With a higher compression than its mates, the e7 also promises a lower ball flight. It joined the e5 and e6 as a Golf Digest Hot List gold medal winner for 2013.
Sound and feel: After a shot or two, it's apparent that the e7 is the firmest of the three "e" series models. More clicky than muted, it pops off the club rather than conveying a sense of sticking to the face. With its three-piece construction, however, the e7 certainly feels softer than the two-piece, surlyn-covered "distance" balls of old.
Off the tee: If you've played the e6 and like its uncanny accuracy, you may be surprised at how the e7 carries. It's simply not as straight. Then again, it's not supposed to be. The e7, also by design, flies lower than its siblings as well. That makes it a great option when conditions are firm and fast – this baby will roll for days. Overall length is comparable to the e5 and e6, though golfers with sub-90mph swings may get better results with those lower-compression offerings.
From the fairway / rough: The e7 really rockets off the hybrids and irons. Once again, its trajectory is low by "premium" standards, and it lacks the e6's unerring accuracy. We found the e7 especially effective on run-up shots, and for keeping the ball down when punching out of trouble. Stopping power is average.
Around the green: Not to sound like a broken record, but the e7 offers a bit less spin and control in the short game. It grabs fairly well when struck cleanly from a good lie; otherwise, this ball responds better when asked to bounce and roll rather than check and stop.
Bottom line: We're inclined to call the Bridgestone e7 a "distance" ball in "premium" clothing, though it does supply a semblance of softness and spin. Overall, we agree with the company's assessment: The e7 is a great choice for straight hitters seeking extra yards, especially if you want a flatter trajectory, too.

Golf Ball Videos:
- Compression Video

- Spin Video

- Dimples Video

- Golf Ball Brands Video

- Titleist Video

- Understanding Spin Video
Value/Recreational/Distance – Designed for mid- to high-handicap golfers with swing speeds below 90 mph; typically feature two-piece construction and firm covers; promote greater distance over high spin rates. Examples: Pinnacle Gold, Slazenger RAW Distance
Premium – Designed for low- to mid-handicap golfers with swing speeds of 90-99 mph; typically feature multi-layer construction and medium-soft covers; happy medium between Value/Recreational and Tour categories for distance and spin qualities. Examples: Titleist NXT Tour, Callaway HEX Diablo
Tour/Advanced/Performance – Designed for low-handicap and professional golfers with swing speeds in excess of 100 mph; typically feature multi-layer construction and soft covers; promote greater spin rates and enhanced feel over distance. Examples: Titleist ProV1, Bridgestone Tour B330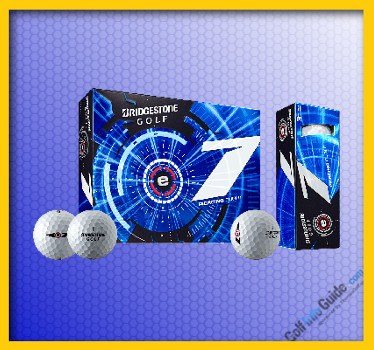 © Bridgestone Golf
Bridgestone e7 2016 Golf Ball Review
---
The Bridgestone e7 is the ideal golf ball for players looking for the ultimate speed and distance. Just like the e6 and the e5, the Bridgestone e7 2016 was updated with the latest and the greatest technologies from the company's portfolio, for delivering ideal launch conditions and to suit various types of golfers. The most interesting thing or feature in the Bridgestone e7 is the proprietary Web Dimple technology. Basically, this is a new coating that features an interlocking one hundred and ten dual-dimples with two hundred and sixteen hexagonal dimples, forming a web like pattern. This peculiar design manages to increase the surface coverage by more than ten percent, compared to the previous generation, contributing to longer and faster shots and maximum distance and speed. The Bridgestone e7 was built for providing a low flight trajectory and improved feel, it has a high pitch sound upon impact, and a nice and firm feel, both with a wedge/putter or off the driver.
As I already told you, the e7 is slightly different from the e6 and the e5, being designed to offer a low/penetrating trajectory, with a focus on better performance in windy weather, added roll for increased distance and excellent in-flight stability. Together with the special dimple pattern, the Bridgestone e7 has a modified alignment aid, for better visibility. The e7 is the firmest in the e 2016 series, though it's softer than others in its price bracket/ the distance category. The ball has a nice feel at impact, due to its 3 piece construction and it's the lowest spinning from the bunch. The Bridgestone e7 2016 feels like a bullet off the tee, featuring a penetrating carry and it hits the ground like a train on rails, being capable of rolling for miles. Basically, if you're an accurate golfer looking for more distance, the e7 will suit you like a glove. Around the green, the e7 stops very well and if you're having problems with shots that spin too much or fly too high, I must advise you to give the Bridgestone e7 2016 a chance, you'll be pleasantly surprised.

Golf Ball Videos:
- Compression Video

- Spin Video

- Dimples Video

- Golf Ball Brands Video

- Titleist Video

- Understanding Spin Video
Value/Recreational/Distance – Designed for mid- to high-handicap golfers with swing speeds below 90 mph; typically feature two-piece construction and firm covers; promote greater distance over high spin rates. Examples: Pinnacle Gold, Slazenger RAW Distance
Premium – Designed for low- to mid-handicap golfers with swing speeds of 90-99 mph; typically feature multi-layer construction and medium-soft covers; happy medium between Value/Recreational and Tour categories for distance and spin qualities. Examples: Titleist NXT Tour, Callaway HEX Diablo
Tour/Advanced/Performance – Designed for low-handicap and professional golfers with swing speeds in excess of 100 mph; typically feature multi-layer construction and soft covers; promote greater spin rates and enhanced feel over distance. Examples: Titleist ProV1, Bridgestone Tour B330