Widen Stance to Add Power & Accuracy in Golf
(Video)
- by Pete Styles
---
Power and accuracy is a formidable combination in the game of golf.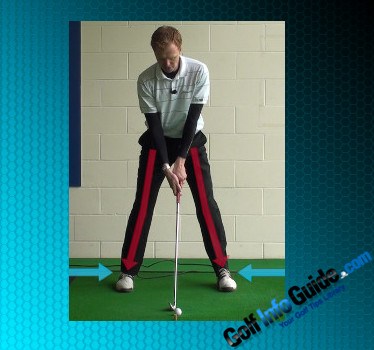 Of course, power refers to your ability to hit the ball long distances, while accuracy is the ability to hit your targets on a consistent basis. Plenty of players possess one of these two traits but bringing them both together in a single swing is quite the accomplishment. If you are able to do so, it's nearly certain that you will be able to play this game at a relatively high level.
In this article, we are going to discuss how using a wider stance may be able to help you move toward both of these goals. Simply by setting your feet a little bit farther apart, it may be possible to send the ball farther down the fairway while also maintaining a high degree of accuracy. Now, that makes it sounds pretty simple, and you should already know that nothing is simple in golf. The adjustment of moving your feet farther apart is easy, but making it pay off is going to require practice and attention to detail. Only those who can stick with it through some early struggles are going to see success in the end.
There are a few areas that we need to cover in this article before you can get down to work on your stance. First, we need to talk about why a wider stance may be able to help you hit the ball farther and more accurately. Also, there are some potential drawbacks here, so those will be covered as well. Finally, we'll offer up some advice on how you can get started, and what you'll need to watch out for as you practice.
All of the content below is based on a right-handed golfer. If you happen to play left-handed, please take a moment to reverse the directions as necessary.
How a Wider Stance Can Help
There would be no point in using a wider stance if it wasn't actually going to help you play at a higher level. Making any change to your swing is a bit risky, as you never quite know what the results will be. In order to take on that (small) risk, you need to be sure that there is the potential for a meaningful reward at the end of the process.
To help you understand what can be gained through the use of a wider stance, we are going to walk through some of the key points on this subject. Please review the list below for all the motivation you'll need to get started working on a wider stance in your game.
Improved balance. This is the main point that should serve as your motivation. Balance is hugely important in the game of golf, yet many amateur players seem to completely take it for granted. Don't make that mistake. If you want to be a quality player who is able to consistently strike solid shots over and over again, you need to be balanced throughout your swing. It's just that simple. Balance helps on the accuracy side of things because you should be able to deliver the club more consistently into the back of the ball in a square position. As far as power is concerned, remaining balanced in the downswing will help you to 'turn it loose' through impact, unleashing as much power as you can muster. Players who are off balance during the swing – even slightly – won't be able to let all of their power go through the ball, because at least part of their ability to rotate will be held back in an effort to stay somewhat balanced. Even if you get nothing else out of your wider stance other than improved balance, making this change will still be worth it in the long run.
Stability in difficult situations. As you know, golf is not played on a perfectly flat surface. Golf courses tend to have plenty of undulation throughout their layout, and even courses in relatively flat parts of the world typically include at least a little bit of slope here and there. The way you are able to perform when hitting from an uneven lie is going to say a lot about the quality of your game. By using a slightly wider stance, you may find that your swing is more adaptable to varying conditions. It is common for amateur golfers to struggle with uneven lies, since they typically only practice from flat lies on the driving range. If you can diversify your game a bit by learning how to handle awkward positions, you'll be at an advantage as compared to the competition.
A better turn. The rotation you are able to make during your golf swing – both away from the target and then back toward the target in the downswing – will go a long way toward determining the quality of your shots. If you make a great turn, you should have plenty of power to work with through the hitting area. If your turn is lacking, however, it's going to be tough to deliver a powerful blow. By widening your stance, you may feel better able to turn, especially in the backswing. You will have a firm and steady foundation in place that can be used as a platform on which your turn can happen. Players who use a narrower stance are prone to slide from side to side somewhat while they swing, and that is always trouble. A lateral slide can lead to many other problems in the golf swing, so you want to stay away from that mistake if at all possible. If you are a golfer who has long struggled with the challenge of completing a good turn, using a wide stance just may be the way to get on track.
Translate to the short game. Not only is it possible for a wider stance to lead to improved long shots, you may also find that making this adjustment in your short game pays dividends. Playing short shots is all about remaining steady and balanced, and a wide stance can help you do just that. Whether you are hitting a putt or trying to deal with a tricky chip or pitch shot, you should feel nice and steady over the ball with your wide stance. Sure, some adjustment will be required if you are used to hitting your short shots with a narrow stance, but just a little bit of time and effort on and around the practice green can go a long way.
To be fair, it should be said that using a wide stance is not going to be the right choice for all golfers. However, it will be a good fit for many players, thanks to the benefits we described above. In the next section, we are going to touch on some of the potential drawbacks of using a wide stance, so you can have a clear picture of both the pros and cons here. In the end, it will be up to you to take in all of the available information before deciding whether or not to work on widening your stance in an effort to pick up power and accuracy.
Potential Problems

So, what can go wrong when you use a wide stance? Well, a few things, but that is the case with pretty much any technique you can try out in this game. It's important to understand that there is no such thing as a perfect golf swing, and there is no perfect golf technique. One of the things that makes this game so great is the fact that there are many different ways to get the job done.
When watching professional golf, you will see that the players all have their own unique little quirks and tendencies that make their golf swings identifiable. If there was one right way to do it, wouldn't they all have learned to swing exactly the same way? They haven't, because there isn't. Don't be put off of the idea of using a wide stance just because there are some drawbacks to be mentioned. That is going to be true of every technique you consider. Simply weigh the good against the bad and decide how to proceed.
Let's take a look at some of the possible problems you may encounter when using a wider stance.
Trouble getting through the shot. This is likely to be the top complaint of players who experiment with a wider stance. For some, it will feel difficult to get all the way through the ball and onto their left side. While the backswing may go just fine, some players will struggle to get onto their left foot while rotating aggressively toward the target. If this is the case for you, it may be that your stance has simply gotten too wide. There is a point of no return here, so you want to make sure that you don't push it too far. It's essential that you get through your shots with plenty of speed at the bottom of the swing, so you can't let a wide stance stand in your way on that point.
A flat swing through the hitting area. When hitting your driver, having a relatively flat swing through the ball is a positive thing. This type of approach into impact will help you launch the ball at an appropriate angle with a reasonable amount of backspin. However, when you move from your woods down into your irons, you may run into trouble. You want to be able to hit down through your irons aggressively, taking a divot after impact. That is certainly not impossible when you use a wider stance, but you may find it more challenging. For some players, it will be necessary to adjust the stance as they move into the short irons, where it is particularly important to hit down. Using a wide stance for your long clubs but returning closer to what would be considered a 'normal' width stance for your short clubs is an option worth considering.
Limiting your turn. Wait a minute – didn't we already say that using a wide stance can help your turn? How could it be that this adjustment could limit your turn, as well? It all comes down to your own personal strengths and weaknesses. If you have plenty of upper body flexibility, you should be able to get by just fine when using a wide stance. However, if you aren't very flexible in your upper body, using a narrower stance would help you squeeze out a little bit extra rotation on the way back. Your lower body would be able to chip in and help your turn, since it wouldn't be so stable and set in position. You'll need to think about how well you can turn naturally before deciding if you want to continue on with a wide stance.
There is no guarantee that you will wind up finding any of these points to actually be drawbacks in your game. You may not see issues with any of these potential problems, or you might wind up running into problems that were not mentioned here. This is a game which is highly personal, meaning you never quite know how a given technique will impact one golfer as compared to another. Experimentation is your friend in golf, so feel free to work on using a wide stance during practice to see how things play out for you.
Getting Started

For the purposes of this next section, we are going to make the assumption that you have decided to go forward with a wider stance. How do you get started? It can be a little overwhelming to look at the big picture of making a significant alteration such as this to your address position. Don't allow yourself to become overwhelmed. Instead, take this one step at a time and work your way through it gradually. The tips listed below should help you in that effort.
Start with small clubs. It's always a good idea to start with your smallest clubs when making an alteration to your swing technique. During your first few trips to the range, consider hitting your wedges almost exclusively, with maybe a few longer shots thrown in from time to time. This is a good idea because it is not particularly difficult to hit your wedge shots solidly. You should be able to strike the back of the ball cleanly more often than not, even if you aren't comfortable with the wide stance just yet. Going in this direction will help you get off to a good start, which is important. If you were to reach immediately for your driver when you decide that you are going to use a wider stance, the results may be ugly. After hitting a few terrible drives down the range, it's possible that you'll just give up and go back to what is comfortable and familiar. Basically, you would be setting yourself up for failure. Rather than stacking the deck against you before even getting started, you can turn the tables by kicking things off with plenty of wedges to build confidence and see positive results. As you get more and more comfortable, feel free to work your way farther into your bag, until you ultimately reach the driver.
Make subtle changes at first. One sure way to struggle with this adjustment is to make a dramatic change in the width of your stance right from the start. That's a recipe for failure. Rather than moving your feet drastically farther apart right from the very first swing, take your time and make small changes as you go. At first, maybe move each foot out just an inch from where it would have been with your old stance. Hit a few shots and see how you feel. If it seems like you could make more gains from going further, go ahead and give it a try. The right stance width is different for every player, so you can't just follow a template and go on your way. You'll need to experiment to find a winning position for your feet, and the best way to experiment is to inch your way out, a little bit at a time.
Be patient! Simply put, things don't tend to come quickly in golf. If you happen to see rapid results with this change, consider yourself quite lucky. For most golfers, improvements will come rather slow, so do your best to embrace the process and watch for signs of progress as you go. Those who are always in a hurry to get dramatically better at golf rarely wind up reaching their goals. Why? Simple – they give up on the process before it has time to pay off. Don't put yourself in this category. See it through to the end, congratulate yourself along the way for the progress you are making, and most of all, be sure to enjoy the opportunity to play this game.
Getting started on a new technical adjustment is an exciting time in your game. It's exciting because of the many possibilities which are present. If the adjustment works and you are able to take strides in the right direction, who knows what you will be capable of achieving down the road.
Wide Stance in the Short Game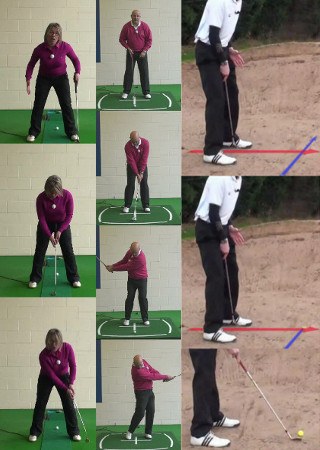 Finally, we want to talk about how you can use a wide stance effectively in the short game. We already mentioned that improvement in the short game could be a benefit of using a wider stance, and we want to touch on that concept again here before wrapping up our article.
When on the greens, it's a great idea to use a relatively wide stance while putting. In this case, the story is one of virtually all positives, with no real drawbacks to speak of. Since you aren't making a big turn with your body while putting – like you do when making a full swing – you don't have to worry about the rotational side of things. All you are trying to do is rock the putter back and through while you keep your lower body as stable and steady as possible. The wide stance is going to go a long way toward helping you in that regard. Set your feet a comfortable distance apart, at a point where you feel properly grounded but not stretched too far. Add plenty of knee flex to go along with your wide foot positioning and you will be ready to make a beautiful stroke.
Chipping from a wide stance can work nicely as well, although things are a little more complicated here. Most likely, you'll want to employ your wide stance while you are hitting bump-and-run style chip shots, while opting for a narrower stance when you need to hit down and spin the ball. Again here, just like with the full swing, it's easier to hit down with a narrow stance. Spend some time around the practice chipping green working on various shots and see how your stance plays a role in the way the ball reacts off the club.
When you need to play a greenside bunker shot to loft the ball out of the sand and onto the green, a wide stance is almost sure to be the right option. Setting your feet wide apart in a bunker provides a number of benefits, including getting your body down closer to the ball, and providing you with firm footing in what can be a slippery setting. Learn to play your explosion shots with a wide stance and you will be happy with the progress you can make.
We hope that the discussion of using a wider stance to hit longer and straighter shots has been beneficial for you. As you work on this idea, always remember that it is your game and you need to make the decisions that you feel are in your best interest. It may take some time, but lower scores are waiting to be found out there. Good luck!
I think given the opportunities to do so, most golfers would like to be able to hit the ball a little bit further, if we could wave a magic wand over everyone and get them all 20 yards extra distance, most people would like to take that.
And if we can combine the extra distance with a bit of extra added accuracy on balance and therefore consistency, that's a real nice balance that we can do and also a trade-off.
So this time as you address the golf ball, set yourself up and then just have a quick look at how wide apart you're standing to the golf ball, and check just wide this should be.
Now, it can be different for different people because we're slightly different builds but as a general rule, you'd like to have the inside of your feet, at least the same with as the outside of your shoulders.
And the easiest way to check this rather than just looking down at your shoulders, that's very difficult to do; measure your shoulders. Take the golf club and place it on one shoulder here, swing it to round of a snippet on the opposite shoulder and then check if that is about the same width as your shoulder should be.
And drop that club down and make sure that that's the inside of your feet there so the inside of my feet is the outside of my shoulders and that's a really good stable platform to swing from, it gives me plenty of power.
If I was playing a little more delicate and more of a chip shot, I might bring my feet in a little bit narrower, control the ball and don't generate too much power but then my longest shots where power is really crucial and that's wide enough to act to at least do it from my shoulders and if I'm really going for that big bum where I'm trying to hit the ball as far as possible, maybe even just a little bit wider, setting my right foot back, allowing me to get my body weight on to my right side, particularly with my bigger club and really driving through the ball aggressively.
Now, if you are used to taking a narrow stance, having your feet this wide will feel a little bit awkward and moving your body weight all the way back behind the ball, so I've left the ball over there, I've really turned away from it, that can feel quite awkward but I'm going to drive back through the ball and that's where I get my power. The ability to move from back to front through the golf ball can really hit the ball a long way.
Now, if it feels like you are a bit uncomfortable with that, it's not something you're used to doing, start by making some shorter swings but from the wide stance position, so a big broad stance have the ball a long way forward but just bring the golf club back, short back to here and throw to here.
So we talk about maybe a 10 o'clock through to a 2 o'clock swing and just pitch the ball away a few times from there and just feel how you're body weight is starting to load up and release.
And the load up feeling is almost like coiling a spring. Winding the upper body against the lower half and then springing back through to the left-hand side to drive the ball a long way.
We'll start off with some short shots and then gradually build the power, coil up, wind up and through. And I can start to feel how my wind up–my coil builds resistance and then drive through the golf ball but the widest stance will really help encourage that and hopefully that will help you hit longer shots but keeping your balance to start with by doing the short shot and then extending all the way through and hopefully I will have longer shots, loads of balance and loads of consistency and accuracy as well.