Wide Takeaway Makes Your Golf Swing Simple
(Video)
- by Pete Styles
---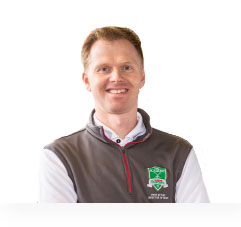 Pete Styles – PGA Teaching Pro
We would all like to buy a bit more simplicity for our golf game, wouldn't we? You know, the one thing that golf swing offs, and isn't it simple? There are so many different moving parts, so many different convoluted elements all rely on each of it to work, that if somebody offered as a bit more simplicity I think most golfers would take it.
And really that's one thing that width can provide us in a gold swing. It can provide us with that degree of simplicity. From a good address position setting up to the ball we should be feeling like we're standing wide and tall. That then allows us to create the wide backswing. This big turn and big stretch away is hopefully going to feel more simple than an area where the knees getting involved, the hips getting involved, the hands and arms pulled and loads of different things work in the backswing. Likewise from here lots of different elements working in the backswing, it's going to be pretty confusing and convoluted to make all those corrections to get back to the address position.
If my address position is super tall and wide, my backswing is super tall and wide, my impact position should feel tall, wide, same for my follow-through and all the way around to my follow-through position nicely balanced here. So by keeping a wider and straighter left arm and the backswing hitting this checkpoint just here, club on top of hands, hands on top of feet, every pointing in line, if I can keep this wide takeaways position my whole golf swing should be a lot simpler. And who does not want more simplicity in their golf swing?