What Does It Mean To Be Square In A Golf Swing
(Video)
- by Pete Styles
---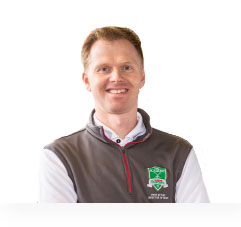 Pete Styles – PGA Teaching Pro
If we understand the principle that the hips should not be open at setup as they should be at impact, it's important to understand the hips should be square setup. Let me come back to this terminology of square. What does square mean? Well, square to what area? Well, let's understand how we can set ourselves up with the correct hip positon firstly by establishing a target line. So, I've got two alignment clubs – two alignment sticks here. But if you don't have these, just use golf clubs as normal.
But we are going to align the ball up and we are going to pick out a target line, which for me the distances of red flag. And I am going to lay a club down, or a cane down there. So, that's pointing out my intended target so that is my target line. I'm then going to stand level and parallel to that line, so here to here, my toe should be parallel to the line, quite important to understand that I'm not pointing at the same target. I'm not pointing out at that flag. I'm actually aiming this distance, two and a half feet maybe, two and a half feet left of that flag.
Then as I go ahead and take my setup here, my feet, my knees, and my hips should all be pointing parallel left of that flag. And if I had my hips slightly open, you could see quite a big difference in where this stick acutally points and likewise closed would be quite a problem. And I would like to make sure the feet are parallel to that stick and then aiming offline like this. But if the feet are parallel, let's also go ahead making sure the hips are parallel.
Once we've got the hips parallel to that, we can assess that they are square to the target. If the hips are square to the target every time in the setup position, it should give us a lot more consistency to build our setup around, then build our impact position into that open position. So, the hips are going close slightly in the back swing and open a lot in the down swing, but let's make sure that they were square at the start of the golf swing.