The Mental Side Of Improving Your Golf Chip Shots
(Video)
- by Pete Styles
---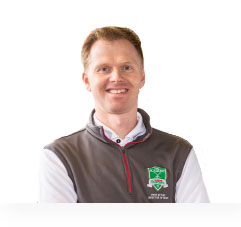 Pete Styles – PGA Teaching Pro
I often work on improving a golfer's chipping or pitching technique to help them avoid scooping the golf ball, so we get them in this good address position. Ball in the center setup on the left-hand side, bodyweight, hands ahead, legs a little bit open, chipping down on the ball, getting really good strikes on the ball. We've set them up to a golf ball, "Here you go, this is time to hit the shot" and everything goes wrong. And he starts scooping the golf ball again. And it just shows how the brain is hardwired to go back to its instinct of "I want to help the ball go up in the air" and it really doesn't trust the technique or it doesn't trust the club that there's going to be enough loft presented on the ball. And it's really that trust factor that you need when you go and play on the course.
If you're going to hit a pitch shot here with a bunker in the way on to a tight pin position you need to trust that the technique will hit the ball in the air and the club will have enough loft to do so as well. So we've got to work very hard on the address position, leaning left, striking down. And the good thing to do would be to actually use this as you're warming up at every practice session. So when you go to the driving range don't just grab a six iron or worse still, a driver out of your bag and start trying to pound balls straight off. Maybe take 25 balls out of your basket, put them on the mat in front of you, and think "I'm only going to chip these, and I'm only going to chip them 20-30 paces." Take your most lofted club, try and chip the ball well, but try and chip the ball low. Think about how can you hit this ball as low as possible. So not the lob wedge that's going to go high in the air with the flicky scoop, but how can you hit your lob wedge as low as possible?
You might have it middle or slightly back in your stance. You might have your hands left, your feet open, your shaft leaning left, your bodyweight left, and then hitting down. And that concept of hitting down to keep that wedge low is exactly the same concept that will work wonders for you on the golf course in terms of getting good, clean, accurate strikes. Utilize that in your practice session every time you practice, 25 balls chipped as low as you can. Next time you're on the golf course, that lob wedge chipped down rather than scooped up will really pay dividends, improve your chipping, and hopefully improve your golf scores.