Setting Up For A Successful Golf Swing
(Video)
- by Pete Styles
---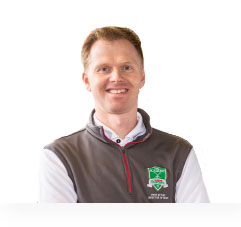 Pete Styles – PGA Teaching Pro
My experience as a teaching pro has taught me that for most golfers who are making hands-and-arms-only golf swings is not necessarily they're always trying to do, they just struggle to engage their body. And actually when you trace this fault back to its root cause most of the issues are actually in the setup position. A golfer sets up in such a poor way that they don't have an opportunity to use their hands and arms – sorry, you're their body correctly. They only have the opportunity to use their hands and arms. So when we see a correct setup we engage the hips nicely, engage the upper thighs as well so everything is powerful. And we find from here it's relatively easy to make big turn of the body. But we often see golfers on the lesson tee that are setup to the ball in a way that they can't use that body correctly, so they might setup too near to the golf ball.
Their hips then tuck under, the bodyweight goes back on to the heels, and the chin comes down. And we're in a position here, where the body simply does not want to turn. So from this position the golfer will be using their hands and arms because that's all they've got left to use. So they're not deliberately using their hands and arms really, they just don't feel like they've got anything left to give from the body. So there's a couple of key checkpoints I would like you to run through to make sure your body is engaged in the correct way and the setup that can then help you during the swing. First thing would be to address the golf ball at the right distance. Simplest technique here is to lower to golf club down so it lands just above your left knee on your front leg; a couple of inches above your thigh would be perfect. That's going to be the same for every club that sets you how far back away from the golf ball you need to be.
Next thing here would be to squeeze the hips back. So push the hips away so your tailbone goes back rather than forwards, and that should engage a slightly flexed knee. Keep the chin and the chest nicely up, and then chin up but not looking forwards, you need to be looking down and in here, so the chin is down and in. So we are here in the setup and the posture. A good feeling here is that someone's grabbed the crown of your head, and he's just lifting you up, and that creates a nice little bit of height, and avoids this position, which is going to ruin the posture, and then not activate the body enough. But from this taller, more agile address position, we should feel like the shoulders can turn, and we can generate a lot more power through the entire swing because we got the setup right.