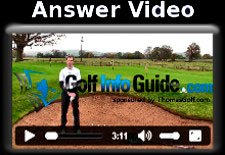 You're Correct!


Jack Nicklaus once said that golf is 90 percent mental. This statement is not totally true because at least some basic swing motion has to be in operation to be able to physically hit the golf ball around a golf course.
---
However, this statement is more accurate at the elite level of the game. At such a level, all golfers can hit the ball with roughly the same accuracy and distance. The only factor that separates them on a tournament by tournament basis is their psychological state.

How many times have we seen players crumble under pressure? A great example was Rory McIlroy in the 2011 masters. He led by four shots going into the final round but unfortunately collapsed to eventually finish eleven shots behind the winner Charl Schwartzel. Likewise, how many times have we seen players command a tournament and lead from the front on sheer confidence alone? An example here is Tiger Woods. When Tiger leads a tournament going into the final round, his presence and confidence has propelled him to win 53 of the 57 times he has been in this position.

With these examples we can see that psychology has a huge part to play in golf, which is the reason for some of those golfers to wear sun glasses. Sunglasses are worn by these players purely to aid their ability in blocking out any distractions and to narrow their focus and concentration for the task in hand. This can be likened to poker players who also wear sun glasses to hide their emotions, not show any nerves to their opponents and fully concentrate on the problem before them.

Players who are most famous for wearing sunglasses are:
David Duval
Lee Westwood
Ian Poulter
Adam Scott
Annika Sorenstam

All of these golfers are renowned for having an ice cold temperament and thriving under pressure. One of the reasons for this is the focus they get from hiding behind their sunglasses.

As an additional note, Tiger Woods also performs a similar action on important putts by holding his hands around his face and cap as a shield to block out everything else but the putt in front of him.

It may be worth trialling the wearing of a pair of sunglasses as an experiment to improve your focus on the golf course - as long as you play somewhere in the sun of course!

Sorry Try Again! - See Explanation Below
This may be true of a minority of professional golfers, however, a player at this level will never endanger their game in favour of the small amount of money on offer from wearing a pair of sunglasses.
Sorry Try Again! - See Explanation Below
Again, this may be true of a minority of professional golfers but the functionality of a pair of sunglasses distinctly overrides the idea of making a fashion statement when there is so much prize money on offer.
Sorry Try Again! - See Explanation Below
This is definitely one of the reasons for wearing sunglasses but not the prime reason. If this was the case every golfer would wear sunglasses all of the time.