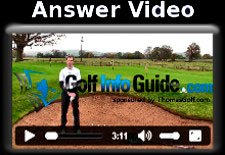 You're Correct!


Golf is a game that is played in all conditions and environments and is one of the sports that takes the longest to play a game to completion. In short, to play your favorite leisure activity, you could be outside in the wet and cold for an awfully long time. For this reason it is important to have a good set of waterproofs.
---
Let us look at the advantages and benefits of such an item of clothing:

Advantage:
Keeps you dry - especially by not letting water in at the zips.
Benefit:
Flexibility - When clothes get wet they cling to the body and reduce the range of movement of the body, thus inhibiting distance and flexibility.
Comfort - Staying dry in awful weather.

Advantage:
Keep you warm.
Benefit:
Distance - Being cold inhibits the muscles from working to full capability and a lack of power will result.
Concentration - Being cold distracts you from the task at hand.
Comfort - Being cold is very uncomfortable over a long period of time.

Advantage:
Windproof to keep the harsh, cold wind out.
Benefit:
See keeping warm

Advantage:
Breathable.
Benefit:
Comfort - Allows sweat to get out keeping you dry from the inside as well as the outside.

Advantage:
Lightweight.
Benefit:
Fatigue - They are not heavy to carry or wear so reducing tiredness or inconvenience.

Advantage:
Do not rustle.
Benefit:
Concentration - They are not annoying or distracting to yourself or your opponent by making no noise when walking or moving around a hole.

Advantage:
Made of quality material.
Benefit:
Distance - Material is flexible to allow the golfer to make a full range of movement and swing as normally and as powerfully as possible.

Sorry Try Again! - See Explanation Below
True but good waterproofs are durable and last a long time - much longer than cheaper ones. In essence the price averages out over the years that you own them.
Sorry Try Again! - See Explanation Below
Yes but you will be cold, wet and uncomfortable.
Sorry Try Again! - See Explanation Below
This is true but it is the practicality of the waterproofs that really matter. If you are buying them for their looks then you are seriously under-valuing their use, and have too much money to burn!