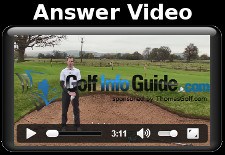 You're Correct!


As the summer wains and autumn surrenders, the winter will soon approach and the golf season for most players will be over.
---
Unless you are fortunate enough to escape the late year chill, the chances of practising and playing are greatly reduced. Factors such as the biting cold and limited day light are a major contributor to many people locking up their clubs for months on end.
The winter, however, can hold multiple opportunities to not only keep your golf game in check but also improve it in time for the following spring. The best way of doing this is to practise at the driving range and complete indoor drills. Driving ranges (and especially ones with heated bays) are a god send throughout the winter months. They allow players to groove new swing positions without being pelted with rain or wind or worse! Ensure you make the most of winter practise at the driving range by practising fundamentals. Ensuring your grip, posture, alignment, stance and ball positions are correct will have a huge impact on your early season scores. For information on these fundamental aspects of the swing see the huge collection of videos on Golf Info Guide.
Indoor practise can be another fantastic way of ensuring you are all set and ready for the new season. Putting is certainly one area which can be easily improved with a few simple drills. Follow this putting drill to improve you stroke.
Find some room in your house or apartment where you can stand unimpeded near a skirting board or flat, even wall.
Place your putter toe up against the skirting board and take your set up position.
You can either practise with a ball or without but try and complete your putting stroke moving the blade back and through, skimming just inside the skirting board or wall.
This drill will help any player who has a tendency to pick the putter up, on the outside of the line going back and anyone who pushes the putter through the ball.
During the winter, use your practice time wisely and you might not have to endure the biting cold.
Sorry Try Again! - See Explanation Below
Although the dedication of getting up early on a winters morning to practice on the driving range is to be admired, golfers should be aware of the extra strain it will put on the body. In many cases, golfers will be better using the early morning window to train and practice in the warmth of their home.
Sorry Try Again! - See Explanation Below
Whilst practicing putting indoors is to be actively encouraged, hitting putts on a bobbly and uneven winter green can cause an inconsistent stroke to be grooved. Practicing on a smooth carpet will not help too much when taking part in a December medal but will definitely help when the season comes round!
Sorry Try Again! - See Explanation Below
Practicing putting in the winter is hard but practicing out of bunkers can be even harder! The waterlogged (and sometimes frozen) nature of bunkers during the winter should be avoided as they will bear little resemblance to the spring and summer conditions.