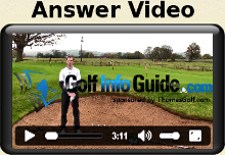 You're Correct!


When you have hit your ball from out of the bunker it is the etiquette of the game to rake any divots of sand and foot prints made.
---
Raking bunkers makes the game fairer for all players by giving each player the chance of finding a standard lie in the bunker. If nobody ever raked the bunker and your ball ended up lying in a previous players footprints then you could possibility have no chance to escape the bunker.
Bunkers are classed as hazards and many years ago nobody actually raked bunkers after their shot. As golf courses evolved and the games technology has become better, the required raking of bunkers gives the game more of a level playing field and makes the game more fun. It would be very cruel and extremely punishing and frustrating if your ball came to rest in a deep heel print.
You have all seen a bunker which hasnt been raked by its previous victim on many occasions. Sometimes the player has genuinely forgotten to do his garden duties, and sometimes the player has no etiquette or respect for the golf course and their fellow golfers.
Dont be the Green Keepers nightmare. Repair your divots, pitch marks and rake bunkers. The golf course will benefit from players doing their agricultural work by being in better condition for longer periods of the year and the players will only have their golf to blame.
Sorry Try Again! - See Explanation Below
By leaving the bunker unraked after playing a sand shot is a showcase of extremely poor etiquette. If your playing partner fails to rake a bunker, make sure you pull him up on this matter. Leaving the bunker unraked is disrespectful to the Golf Club and the other players out on the golf course.
Sorry Try Again! - See Explanation Below
Leaving the bunker as you found it could be some sound advice, only if the bunker was found in a raked state. You have all stumbled across a bunker where the previous visitor to the sand has failed to rake the bunker. Take a minute to stop and give the bunker a rake and maybe the golfing gods will reward you with some luck on the course.
Sorry Try Again! - See Explanation Below
Leaving footprints in the bunker for the group behind to come across is very poor golfing etiquette. This poor etiquette will lead to an argument with fellow golfers out on the golf course. You are playing golf to enjoy the game, have some competition, be out in the fresh air and get some exercise. Dont spoil someone elses day by demonstrating poor etiquette.