If you struggle to get a feel for distance on the greens or to strike the ball consistently on the putter's sweet spot, practicing with your eyes closed is a fun and effective drill. Many tour pros practice this way regularly, while LPGA star Suzann Pettersen actually putts with her eyes closed in competition.
---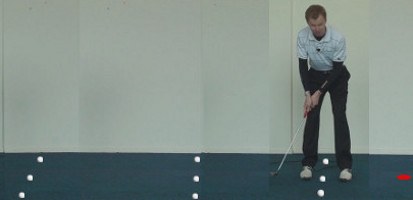 You may find it surprisingly difficult to make solid contact at first, but that just means you've got lots of room to improve – and you'll do so quickly. Start with the following series:
Take nine balls and place three sets of three at about 3 feet, 10 feet and 20 feet from the cup.
From 3 feet, set up and putt the ball normally, with your eyes open.

For the next two balls, go through your normal routine with eyes open, then close them just before making your stroke.
Repeat this sequence from 10 and 20 feet.
Once you've finished the initial series, continue practicing from different lengths, and keep your eyes closed on every stroke. Your distance control should improve steadily as you move from spot to spot. You'll be amazed how easy it is to roll the ball at the proper speed with eyes open.