Where does the science of putting end and the art begin? Probably on the face of the blade. The purest, most machine-like stroke in the world won't do you much good if the putter doesn't feel right to you.
---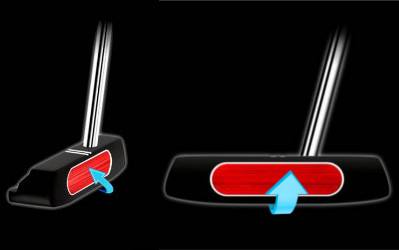 That's the basic idea behind putter inserts, flat pieces of plastic, metal, urethane or other materials built into the striking surface to enhance sound and feel. (Yes, inserts are legal under the Rules of Golf.) Some inserts are soft, others firm, but all are made to deliver a specific type of feedback. Inserts are typically a different color from the rest of the blade, which helps frame the ball and improve the golfer's focus.
Many equipment companies make putters with a variety of insert styles. Thomas Golf, for one, offers models with aluminum, urethane and polymer inserts.
The obvious question golfers often ask is, What kind of insert is best? The answer is just as obvious: There's no "best" or "worst" – an insert's performance is largely a matter of personal preference.
For example, a golfer who likes a soft impact sensation may prefer a softer insert made of lightweight plastic. One who wants a firmer feel might choose a putter with a steel insert. Some inserts even feature tiny markings or grooves, like those on your irons, purported to soften feel even further.
While the best way to choose an insert putter that best suits your game is to try out different types, here are a few general rules:
If you struggle to get putts to the hole from middle and long distances, the ball may come off the face of a firm insert slightly "hotter" and roll farther.
If you often hit the ball well past the hole, a softer insert could take a little pace off your roll.
On greens that are exceptionally fast (with a Stimpmeter reading of 10 or higher), a soft insert may help control the speed.
On slow greens (Stimpmeter reading of less than 8), a firm insert can give your putts some extra "oomph."
One other consideration is the ball you play. If you typically use a firm, two-piece "distance" ball (like the Top-Flite XL Distance), a soft insert may improve your feel on the greens. On the other hand, let's say you play a very soft "tour" model or low-compression ball (such as the Titleist ProV1 or Wilson Staff DUO); you may find the firmer sound and feel of a metal insert to your liking.
---
Some golfers own two or more putters, each with a different feel, and choose the one that best matches course conditions or even their mood that particular day. Remember, putting is an art – make sure you've got the right brush for the job.