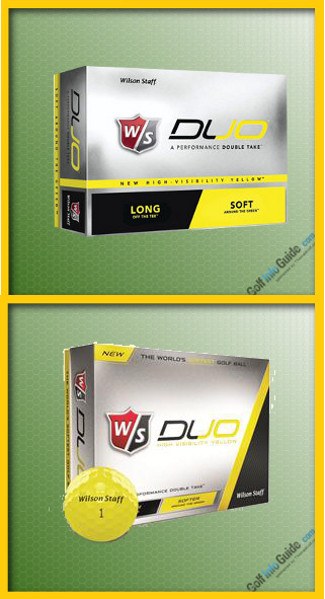 Wilson Staff DUO: Contender for Best Value among Golf Balls
---
---
Ball tested: Wilson Staff DUO
Category: Value/Recreational/Distance
Specs: Construction – Two-piece; Cover – Ionomer; Core – Rubber; Dimples / Pattern – 302 in seamless design
Compression: Low
Price as tested (new): $19.99 per dozen
Ball notes: This unique offering has quietly built a near cult-like following among golf equipment geeks. Credit Wilson, the former industry titan still trying to regain its former glory, with launching an innovative product at a head-turning price.
Wilson proclaims DUO to be the softest ball on the market thanks to a core compression rating of 40 – about half the average golf ball. The goal is two-fold: to give players with slower swing speeds a distance boost while pleasing picky golfers who prefer a soft feel.
The Wilson Staff DUO has won its share of fans, including the editors of Golf Digest. They awarded the ball a silver medal in 2013 Hot List testing.
Sound and feel: And we thought Srixon's Q-STAR was soft for a two-piece ball. It is, but the Wilson DUO is even softer. In fact, the closest comparison we can think of is not with a current competitor, but with the wound balata balls of old. DUO feels like that, from the driver to the irons to the putter. If it sounds a little too soft, it might be at first (especially if you never played balata). But after a handful of shots you'll probably get used to it. You'll probably love it, too.
Off the tee: If your priorities here are distance and accuracy – and whose aren't? – the DUO delivers. While golfers with driver swing speeds above 105 mph could conceivably lose a little distance, our slightly slower swinger got excellent results. The DUO never wobbled or wavered in mid-air, either, and exhibited precious little sidespin.
From the fairway / rough: The DUO won't zip backward like a tour ball, but it will hop and stop on solid contact with short irons and wedges. Longer irons fly with a lovely, penetrating trajectory and bite nicely, if not quite as quickly as higher-end models like Wilson's FG Tour. All in all, a very good performer in this range.
Around the green: This is where we separate tour models from premium offerings from value versions. Well, usually. The DUO's greenside spin and control far outpace others in its category (value/distance), and beats most of those in the premium realm as well. Of two-piece balls we've tried, only the Q-STAR boasts similar short game feel and action. The DUO isn't at tour-ball level here – we saw a bit more run-out on chips and bunker shots – but it certainly exceeded our expectations.
Bottom line: There's a lot to like about the Wilson Staff DUO. A whole lot. Start with the $20 price tag, proceed to its ultra-soft feel, move on to its excellent distance and accuracy and finish up with above-average performance around the greens and you've got a real contender for top-value honors.

Golf Ball Videos:
- Compression Video

- Spin Video

- Dimples Video

- Golf Ball Brands Video

- Titleist Video

- Understanding Spin Video
Value/Recreational/Distance – Designed for mid- to high-handicap golfers with swing speeds below 90 mph; typically feature two-piece construction and firm covers; promote greater distance over high spin rates. Examples: Pinnacle Gold, Slazenger RAW Distance
Premium – Designed for low- to mid-handicap golfers with swing speeds of 90-99 mph; typically feature multi-layer construction and medium-soft covers; happy medium between Value/Recreational and Tour categories for distance and spin qualities. Examples: Titleist NXT Tour, Callaway HEX Diablo
Tour/Advanced/Performance – Designed for low-handicap and professional golfers with swing speeds in excess of 100 mph; typically feature multi-layer construction and soft covers; promote greater spin rates and enhanced feel over distance. Examples: Titleist ProV1, Bridgestone Tour B330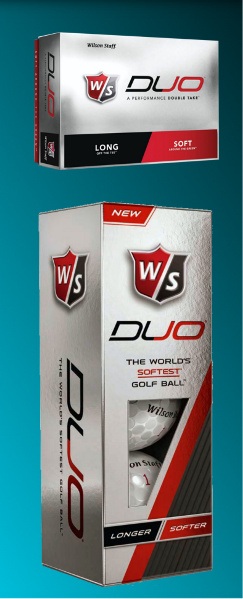 Wilson Staff DUO (2015): No Change in this Ball's High-Value Status
---
---
Ball tested: Wilson Staff DUO (2015)

Category: Value / Recreational / Distance

Feel: Soft

Tested for golfers with average driving distance of: 125 or less to 300+ yards (carry + roll)

Specs: Construction – Two-piece; Cover – Ionomer; Core – Rubber-rich, zero compression; Dimples / Pattern – 302 in seamless design

Compression: Low

Price as tested (new): $19.99 per dozen

Ball notes: You've surely heard the phrase, If it ain't broke, don't fix it. Funny, but golf equipment makers seem to have missed it.

Wilson joins the likes of Titleist (ProV1 and ProV1x) and Bridgestone (e5, e6 and e7) in altering one of its best-selling products. In this case, it's the Wilson Staff DUO, a ball we thought was nearly perfect already.

To be sure, the changes for 2015 are minor. Wilson softened the DUO's core and lowered overall compression from 40 to 29. The company also tweaked the cover composition and dimple design ever so slightly in an effort to improve the ball's feel and distance.

Wilson went a step further by giving the DUO a higher-spinning sibling, appropriately dubbed DUO Spin.

Revisions aside, the Wilson Staff DUO is still aimed to please golfers who want maximum driving distance, but prefer a soft thump to the harsh thwack of old-school distance balls. The new DUO (available in white and yellow) also promises drop-and-stop spin with the irons and above-average greenside control.

We know the Wilson Staff DUO is new for 2015. But is it improved? Only one way to find out.

On the clubface: The previous DUO model was ultra-soft, and so is the new one – downright balata-like, for those who remember the wound balls of yore. It feels as though this ball sticks to the clubface for seconds at a time, but it positively explodes once it lets go. That's a pretty cool sensation.

Off the tee: Long before, long now. We can't say the new DUO delivers more distance than the last version, but it's certainly not shorter. The ball launches high and stays aloft, free of rough-finding sidespin unless you really cut across it.

From the fairway / rough: The difference between modern distance balls and the old Rock Flites is striking in this shot range. DUO continues to rank with the category's top performers in feel, flight and stopping power. Working it left or right can be a chore; controlling trajectory is a bit easier. Most importantly, it responds great on landing. Well-struck short irons sit promptly within a few feet of their pitch marks.

Around the green: The 2015 DUO still comes up short of tour models for greenside spin and versatility, but it's hard to complain about a $20 ball that's this long and provides better-than-average short game performance. Feel is fantastic, and specialty shots – the bump-and-run, hop-and-stop – are doable if you've got the skill.

Bottom line: On the one hand, we couldn't tell much difference between the new DUO and its predecessor. The 2015 is perhaps a little longer with better stability in the wind. On the other hand, there wasn't much to improve on. There might be a better value on the golf ball market, but we haven't found it.


Golf Ball Videos:

- Compression Video

- Spin Video

- Dimples Video

- Golf Ball Brands Video

- Titleist Video

- Understanding Spin Video

Value/Recreational/Distance – Designed for mid- to high-handicap golfers with swing speeds below 90 mph; typically feature two-piece construction and firm covers; promote greater distance over high spin rates. Examples: Pinnacle Gold, Slazenger RAW Distance

Premium – Designed for low- to mid-handicap golfers with swing speeds of 90-99 mph; typically feature multi-layer construction and medium-soft covers; happy medium between Value/Recreational and Tour categories for distance and spin qualities. Examples: Titleist NXT Tour, Callaway HEX Diablo

Tour/Advanced/Performance – Designed for low-handicap and professional golfers with swing speeds in excess of 100 mph; typically feature multi-layer construction and soft covers; promote greater spin rates and enhanced feel over distance. Examples: Titleist ProV1, Bridgestone Tour B330