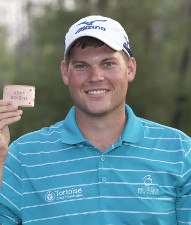 Height: 6 ft, 2 in (1.87 m)
Weight: 190 lbs (86 kg)
Birthday: January 26, 1992
College: Purdue University
Year Turned Pro: 2015
Birthplace: Vincennes, Indiana
Country: USA
Sponsor: Illiana Watermelon Association,
Adam Schenk is an American professional golf player born and raised in Vincennes, Indiana. Schenk turned pro in 2015 and during his golf career he managed to earn over $625,000. It's interesting to notice that Adam Schenk turned professional right after he finished college. He graduated in 2014 and in 2015 joined the PGA Tour Latinamerica. One year later, Adam entered the Web.com Tour, in 2016 respectively and in 2018 he finally entered the PGA Tour.
His most important achievement was the 2017 victory in the Web.com Tour at the Lincoln Land Charity Championship and he managed to secure his PGA Tour Card for the 2017-2018 season by finishing 26th in the final priority-ranking order of the Web.com Tour season. Adam Schenk's grew up on a farm (that's why one of his sponsors is Illiana Watermelon Association), and his hobbies include basketball and ping pong.