---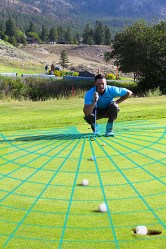 Hitting accurate long shots is going to put you in great position, but you need to finish the job by hitting accurate short game shots as well. The key to being accurate in the short game – in addition to having solid technique – is picking out very specific targets. You need to be as focused as possible on the target you have picked for each putt or chip. Instead of just aiming somewhere toward the hole and hoping for the best, you'll want to zero in on a very specific spot and then do your best to hit that spot.
Of course, accurately picking targets in the short game means reading the slope of the green. You need to read the green when you are putting, and also when you are chipping. Green reading is an important skill in this game, but many golfers never bother to refine their talents in this area. To practice your green reading skills, it is necessary to include this step in your practice putting and chipping sessions. Instead of simply hitting one putt after the next, take your time and read each putt before you send it on its way. You'll need a bit more practice time to include this step, but adding it to your routine should help you improve at reading greens out on the course. And, when you read greens properly, your accuracy in the short game is sure to take a step in the right direction.
If you have spent a lot of time in the past thinking about how you can hit the golf ball farther, consider taking a break from the pursuit of distance to instead work on your accuracy. Playing accurate golf is quite enjoyable, and you might find it to be even more fun than just trying to blast the ball up toward the green on every hole. We hope the tips offered in this article will help you hit more accurate shots. Progress on this point might not come easy, but it's possible to transform your game over the long run by focusing on accuracy as your top priority. Good luck!