How Can A Low And Slow Takeaway Help Me Improve My Golf?
(Video)
- by Peter Finch
---
The takeaway is one of the most important parts of the golf swing.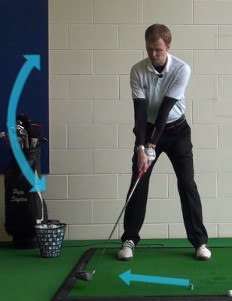 This fact surprises a lot of players, as it doesn't seem like the takeaway should have much to do with the shots you wind up producing. After all, the takeaway is the very first thing that happens in the swing, and there is still plenty of work to do before you actually strike the ball. However, since the takeaway sets the tone for the rest of the swing, it is important to get it right. Should the takeaway happen to go wrong, it will be very difficult to get things back on track in time to strike a successful shot.
In this article, we are going to be talking about the idea of a 'low and slow' takeaway. This type of takeaway is exactly as it sounds – the club is going to stay low to the ground during the early portion of the swing, while moving slowly. You'll eventually need to let the club come up away from the turf, of course, and the pace of the backswing will pick up at some point, as well. However, by starting off low and slow, you stand to gain a number of advantages, some of which will be laid out later in the article.
We would like to acknowledge before we get deeper into the article that working on your takeaway probably won't be too exciting. You may not get a thrill out of the range sessions where you work on your takeaway, but you'll be laying the groundwork for future success. If you are willing to work on your takeaway during some upcoming practice sessions, there is a good chance you will be able to enjoy the benefits of that work for years to come.
All of the content below is based on a right-handed golfer. If you happen to play left handed, please take a moment to reverse the directions as necessary.
The Many Benefits

In this section, we are going to dive right into the many benefits that using a low and slow takeaway can offer. You can think of this as the motivational section of the article – in other words, after reading through the points below, you should feel sufficiently motivated to get out and work on this move for yourself. Knowing what you stand to gain is a great way to give yourself a push towards making a meaningful improvement.
The list below highlights four ways in which your game may benefit when you work on a low and slow takeaway. Of course, there is no guarantee that each of these four benefits is actually going to appear in your game, but even hitting on one or two of them would make it worth your effort.
Improve the path of your swing. Perhaps the most notable reason to work on a low and slow takeaway is to improve the overall path of your golf swing. Many amateur golfers struggle with swing path, and those struggles show in their results. Part of the problem is that too many golfers think about swing path only in terms of what the club is doing when it comes down and moves through the ball. That is extremely important, of course, but the path you use through the ball is a direct reflection of what happened earlier in the swing. If you can get your swing off to a good start from a path perspective, it will be much easier to swing through the ball properly. That's why a low and slow takeaway is so important. With this type of takeaway, you are very likely to move the club directly back away from the ball. You shouldn't be dragging the club to the inside, and you shouldn't be forcing it to the outside, either. That is going to set you up for success later, as you'll be on a neutral path which will allow you to do just about whatever you want once it comes down to make a downswing. If you want to hit a fade, that should be possible after a neutral takeaway. The same goes for a draw. Put the club in a comfortable position early in the backswing and you'll be making life easier on yourself going forward.
Establish a good rhythm. If you are like most amateur golfers, you currently struggle to establish a good rhythm in your swing. Most players worry so much about building perfect technique that they basically ignore the important role that tempo and rhythm play in the swing. This is where the 'slow' part of low and slow comes into the picture. By starting your swing slowly, you give the big muscles in your body a chance to play their role. A quick takeaway, on the other hand, is going to use mostly hands and wrists to move the club, and that is not a plan that is likely to lead to successful outcomes. Simply by starting your swing out with a slow move away from the ball, it will be much easier to hold a nice tempo all the way through impact and into the finish. Not only will a good tempo help you to strike solid shots, it will also help you to repeat those good swings time after time.
Avoid the dreaded reverse pivot. If you aren't familiar, a reverse pivot is a move where the golf leans toward the target while making a backswing. Basically, the club moves to the right while the body moves left, which is not what you want to have happen in your swing. Fortunately, you can fight back against the reverse pivot by focusing on a low and slow takeaway. The key in this case is the 'low' part of the equation, since keeping the club head low to the ground is going to require that you stay nicely balanced. If you were to lean left at the start of the swing, the club would naturally be forced higher up into the air. Ideally, you will be able to remain beautifully balanced over the center of your stance throughout the takeaway and on up to the top of the backswing. This will mean you have avoided the reverse pivot and you will be ready for a powerful downswing.
Give your swing a focused start. Have you ever stood over the ball at address, unsure of how to actually get your swing started? If so, you aren't alone. Plenty of golfers find themselves feeling stuck at address, struggling to move the club back away from the ball. In most cases, the problem comes down to nothing more than a lack of intention. Without a clear plan for how the swing should start, the golfer just stares down at the ball and feels stuck. By focusing on a low and slow takeaway, you may be able to release yourself from this feeling. You'll know exactly what you want to do to get the swing started – swing back slowly, with the club head low to the ground – so your mind will be able to focus on that task. Thinking 'low and slow' may not work for every golfer that feels stuck at address, but it is at least something to try if you are dealing with this problem in your game.
After reading through the list above, we doubt you'll need any more encouragement to work on a low and slow takeaway in your own game. This is one of the best things you can do for your golf game, as you can see from the list of potential benefits we have provided.
Making the Change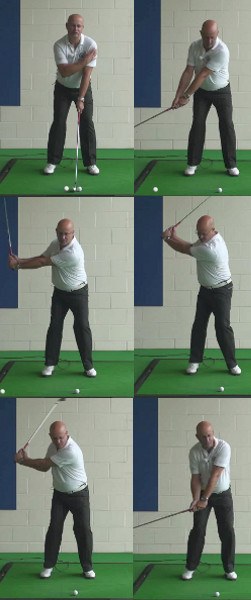 It's one thing to decide that you are going to change your swing in a certain way. It's another thing to actually make that change during your practice sessions on the range. Things in golf often prove to be much more difficult than you expect at first. In this section, we are going to talk about how you can go about making the change to a low and slow takeaway.
We are going to suggest you use a specific drill in order to learn how to take the club back low and slow. This drill is quite easy to use, it requires very little setup, and you can make it a regular part of your practice routine if you wish. To give the drill a try for yourself, follow the steps below.
The equipment needed for this drill is a mid-iron (such as a seven iron) and a single golf ball. That's it. You'll also need to have somewhere to practice where you can safely make full swings with your iron. You aren't actually going to be hitting any shots while using this drill, so you don't technically need to be at the driving range.
To get set up for the drill, pick out something that you can use as a target for this swing. Remember, you won't actually be hitting the ball, but you still want to pick a target which you can use to orient your stance. Build a standard stance such that you are aimed perfectly at your target and get ready to make a swing.
However, before you get started with your swing, you are going to make one key adjustment to your typical address position. Instead of setting the club head behind the ball at address, you are going to set the club head in front of the ball. As you look down from above, you should see the club head on the left side of the ball, rather than the right. This is going to look odd, of course, but it is crucial to the completion of this drill.
At this point, you are ready to make a swing. Of course, since we are talking about a low and slow takeaway in this article, that is exactly what you are going to aim to use here. Keep the club head low to the ground and move it slowly back away from your address position. How will you know if you are doing a good job of making a low and slow takeaway? That's where the golf ball comes into the picture. Since the ball was behind the club head at address, you are going to be rolling it back as the swing begins. The goal is to cause the ball to roll gently back along an extension of the target line. You want to keep the club head in contact with the ball for at least the first few inches of the backswing. If you swing back too quickly, the ball will jump off the club and scoot away. Or, if you lift the club head too quickly, the club head will rise up over the ball and be unable to push it back any further.
Once the ball rolls away from the club head and is out of the way, continue on up to the top of your swing before resetting and starting over. Feel free to repeat this simple drill as many times as you would like. When you are at the driving range to hit some shots, keep in mind what you have learned with this drill when making your swings.
We hope this drill is able to help you quickly understand how to execute a low and slow takeaway in your swing. When this drill is used correctly, you should be able to get the feel for it after just a few repetitions. It will take much longer to learn how to use this type of swing effectively, but you can at least get on the right track in short order thanks to this handy drill.
Making it Work on the Course

As every golfer knows, making the transition from the driving range to the course is one of the hardest things to do in this game. Sure, you can learn a new move and have it working beautifully on the range, but that doesn't mean it's going to work for you when you step onto the course. It's hard to explain to the non-golfer why it is so much harder to execute on a swing on the course as opposed to the range, but experienced golfers know this to be true.
With the tips below, we are going to attempt to help you get over this hurdle as quickly as possible.
Slow yourself down. The biggest threat to the quality of your takeaway when on the course is a loss of tempo. You may have figured out how to work with a slow tempo in practice but using that same slow tempo on the course is going to be much more difficult. You're likely to be at least a little bit nervous on the course, even if you aren't playing in a competition. Those nerves, even if they are basically nothing more than excitement, can get in the way of your smooth rhythm. Prior to walking up to the ball and taking your stance, try simply taking a couple deep breaths. This may be all it takes to slow yourself down a bit, regain control of your emotions, and focus on the task at hand.
Stay within yourself. Many amateur golfers get into trouble on the course because they attempt shots which are outside of their realistic abilities. Would it be great to hit a 250-yard three wood for your second shot on a par five to reach the green? Of course! Is that actually a shot you are capable of producing – maybe, maybe not. Do your best to avoid trying shots that aren't actually in your repertoire when on the course. When you do go outside of what you can realistically produce, you'll be tempted to swing extra hard – and extra fast – in an effort to pull it off. Making these kinds of shot selections can get you into all kinds of trouble with your swing mechanics. Specifically, you may find yourself rushing through the takeaway as you feel like you need to build as much speed as possible right from the start. Stay away from making this kind of course management mistake and you'll have an easier time sticking with the swing you built on the range.
Stay in your bubble. It is easy to get into trouble on the course by watching other players in your group make their swings. This is especially true when the others in your group don't play at a particularly high level. If you have been working hard to improve your takeaway, you don't want to watch closely as your player partners make poor takeaways to start their swings. Believe it or not, their mistakes can work their way into your game. You can still be a good playing partner and help them watch their shots as they fly, but don't pay too close of attention to their swing technique.
No matter what kind of improvement you are trying to make to your game, there is always going to be at least a bit of a learning curve on the course. Be patient with yourself, understand that it is going to take some time, and enjoy it when the results start to come through.
Translating to the Short Game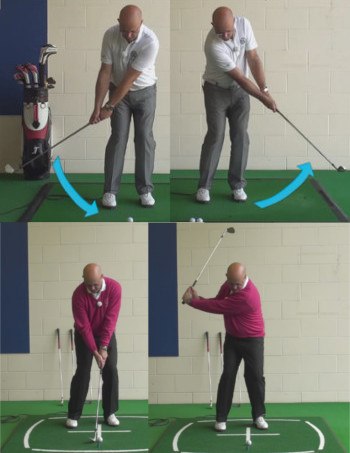 To wrap up this article, we are going to shift topics slightly and talk about the short game. Why the short game? Well, although it tends to be overlooked by many amateurs, the short game is incredibly important if you are going to make progress with your performance on the course. And, since you need a takeaway in the short game just like you do in the full swing, this conversation is still relevant.
Of course, since you aren't making a full swing when hitting short game shots, the technique you'll want to use in the takeaway is a bit different. For starters, let's talk about putting. When on the greens, you still want to take the putter back low and slow, just like in your full swing. You should be keeping your hands out of the action, allowing a simple rocking motion with your shoulders to do the work. If you would like, you can even use the same drill from earlier when on the practice green to work on your technique.
Things get a little more complicated when you step off of the green in order to hit a chip shot. The 'slow' part of the method we've been explaining in this article still applies, but low might not work as well. That is particularly true when chipping from the rough. It's okay to use a low takeaway when playing from the fairway cut, but chip shots from the rough require a steeper swing path. Use your wrists a bit during the takeaway to elevate the club head and then hit down aggressively through impact.
And what about greenside bunker shots? They are going to depend completely on the lie of the ball and the condition of the sand. If your ball is sitting down in the sand a bit, or if you need to work the club into some firm sand, you'll want to elevate the club head going back as if you were chipping from the rough. On the other hand, when you have a great lie and the sand is relatively fluffy, go ahead and use a low takeaway so you can swing through on a shallow plane.
The takeaway seems like a relatively basic part of the swing, but it means a great deal in terms of the shots you are able to produce. We hope the information in this article is able to help you improve the quality of your takeaway in the near future. Plan on putting in some work on the range and be patient while waiting for results to show up on the course and on your scorecard. Good luck!
How can a low and slow takeaway improve my golf? Now the actual start of the backswing is a crucial area of the golfing technique because it sets the swing off in the correct manner and to do actually achieve a correct backswing and to get the golf swing moving in the way you want, is a lot easier to start low and slow. Now what that means is that the club head travels away from the ball very low to the ground and also very slow, and from that point you can build up the momentum to the top and then keep that slow and gradual speed building up through the ball and through impact and then carrying out to a flowing full swing. It's amazing that just that slight alteration in keeping the club low, keeping it slow can affect the whole rhythm of your swing.
A mistake that many people actually make is to take the ball – take the club away from the ball very fast and that actually has a knock-on effect because if you start fast it's very hard to then slow down. Because if that first initial part of your take away is quick, the rest of the swing tends to be quick as well. If you can take that takeaway away nice and low, nice and slow, then the rest of the swing does tend to follow, so it really sets you off in the right manner. So over that ball, get the club moving very low to the ground and obviously as slow as you dare to begin with.
And the rest of the golf swing should follow in a lovely rhythmical manner as well. So you give that a go, when you're over the ball, take it away low and slow, get the swing off to the right manner and hopefully the rest of the swing will follow suit as well.