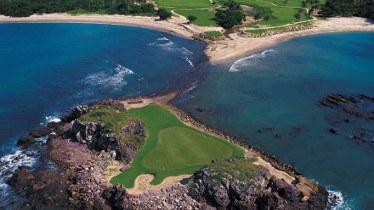 If you're looking for an awesome place to spend a few days and play a couple of rounds of golf, try a little taste of Punta Mita's golf club. Located in Mexico in a gated community, the Punta Mita golf club is a small piece of heaven for both outdoors aficionados and golf enthusiasts.
Considering Winston Churchill's famous quote that there's no better way to spoil a good walk than playing golf, rest assured as Punta Mita also makes for one of the world's top tourist resorts, as it's located in the close proximity of the picturesque Pacific Ocean, which means you'll be able to enjoy Punta Mita's Beach Clubs, after you've finished with playing golf, of course.
And speaking of golf, you probably know about Punta Mita's Oceanside Jack Nicklaus Signature Golf Courses, not to mention its fiery sunsets.Life in Punta Mita means you'll never experience a dull moment, unless you're really looking for one. The golf club at Punta Mita boasts 2 of Jack Nicklaus' most spectacular courses. The legendary golf architect made the most of the amazing ocean views of Punta Mita, and delivered world class play to an already world class scenery. The Pacifico golf course takes its name from the fact that it plays alongside the ocean, with 7 of its holes facing the Pacific directly.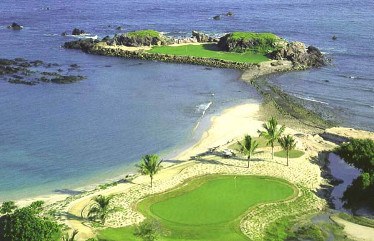 The Pacifico course features generous greens and fairways, not to mention the world's only natural island golf-green, and I am talking about the Tail of the Whale, which is a legend among golf enthusiasts and golf magazines alike. For example, the Four Seasons Punta Mita golf resort was selected by Condé Nast Traveler readers as the world's number one in 2006 and 2008.
The second golf course created by Nicklaus at Punta Mita is Bahia, a championship course boasting no less than 5 ocean view holes, along with undulating greens and fairways, kept in check by deep greenside bunkers. If you're a guest or member of Punta Mita's numerous resorts, you'll have exclusive access to both courses.
Pacifico was opened 20 years ago, in December 1999.
Course Information: Number of holes: 18 (Plus an optional par 3) | Par: 72 | Rating: 72.7 or 72.9 (Optional hole) | Slope: 131