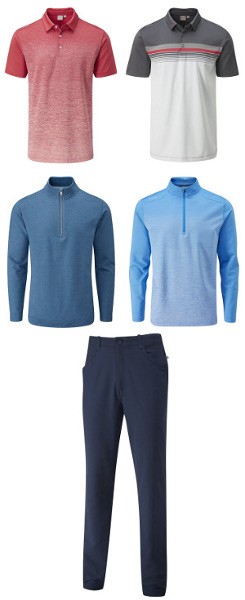 Ping is a big name in the golf-world, and many associate the brand with impeccable workmanship and high quality; the good news for our fellow golfers is that Ping just launched their new SS19 Spring Summer Men and Ladies Apparel. The golf equipment behemoth seems to be taking inspiration from Ping's so-called Arizona heritage, and the new collection boasts a new technology/feature of sorts, namely a revolutionary Sensor Cool Cotton thingy.
In case you were wondering, this is basically a Coolmax fabric, specifically designed to provide players with amazing comfort and perfect feel round after round, regardless of the ambient temperature.
Just like all Ping's high-end golf paraphernalia, the SS19 Men and Ladies collection is built with an almost obsessive-compulsive attention to detail, using impeccable craftsmanship and a premium choice of materials for delivering the ultimate set of golf-gear money can buy. The new SS19 family boasts rich and eye catching color ways, which appear to have been inspired by the company's hometown, and they feature a 'Sedona Sunrise' theme.
According to Ping, the main nuances/shades of Sky Azure and Snorkel Blue (that's a color, in case you were wondering) are aimed at creating, but let's quote the company itself, 'impactful statement pieces', whatever that means, while the respective shades represent Sedona (the Ping's hometown that is) landscape's deep blue skies, while the Iron red thing makes for a 'bold, warm tone', i.e. Sedona's sunrise horizon. Kudos to Ping's marketing team, we're already in tears. But now, poetry aside, let's take a look at Ping SS19 Mens Apparel Highlights, and we'll start with the brand new Ping SS19 Polo Shirts, improbably named Karsten III and Raymond, which are guaranteed to deliver lasting performance due to the patented Coolmax fiber, which is designed to wick moisture away from one's body during the game, hence helping keep skin temperature as low as possible, thus contributing to overall comfort and that cool feel we all know and love.
The materials used in Karsten III and Raymond polo shirts combine amazing stretch properties with a modern and perfect fit, along with amazing detailing throughout; the fine choice of materials and perfect craftsmanship are everything about delivering an amazing soft touch, specific to cotton-made high performance golf polo shirts, which can obviously be worn anywhere, both on and off the course.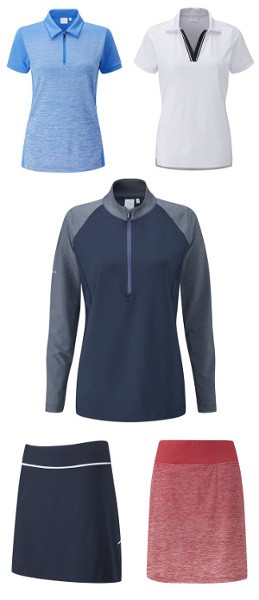 Then, we have another couple of visually striking polos from Ping's SS19 collection, the Gradient and Ridge respectively. These state of the art polos use the aforementioned Sensor Cool technology, and they're created with a yarn-dyed fabric in order to deliver amazing (as in performance driven) properties during the game, the likes of excellent stretch properties and quick drying. Next in line, we have the Ping SS19 Mid-Layers, which complement the polo-collection with flying colors, and we're talking about the Herman and Fracture performance mid-layers, which are designed to provide you with year round usability and style. The Herman mid layer is everything about durability and softness, combining old school styling with a modern fit, making for an outstanding layering piece, functional and versatile, that features a metal look zip puller, a quarter zip neck and, last but not least, raised metallic branding to the sleeve. The ultra-lightweight Fracture mid-layer would make for the ideal choice for cooler spring/summer days and evenings spent playing your favorite game, as they've been engineered and designed with an eye catching yarn dyed gradient effect, which is visually appealing, and makes for a new-look piece of clothing that also boasts moisture moving fabrics with amazing stretch qualities. Next, let's talk a little bit about the Ping SS19 Trousers, the Players Pant respectively, which completes the collection, making for a 5-pocket high performance trouser, designed with a slim fit leg and a 4 way stretch throughout, for delivering amazing comfort and total freedom of movement, thus making for the ideal mélange of performance and versatility round after round.
Now, let's see about Ping SS19 Ladies Apparel Highlights, and we'll start with the new Ping SS19 Ladies Polo Shirts, the Dusk and the Hummingbird respectively. The former boasts a yarn dyed gradient effect, featuring a stylish zip neck opening, while the latter makes for a textured polo shirt, featuring a v shaped placket and a tipped rib collar. Both models boast Ping's Sensor Cool technology, for delivering amazingly quick drying and excellent stretch properties, along with moisture moving properties and supreme comfort, due to the premium choice of soft touch fabrics, which are everything about feminine feel and style, thus making them the perfect choice both on and off the course.
There's also a ladies mid layer in Ping's SS19 collection, Constance respectively, which is basically a half zip technical mid-layer, boasting a solid and heathered fabric color block design. Moreover, we must notice the new Ping SS19 Ladies Skorts, which make for pull on performance visually striking high quality skorts, featuring a scorecard pocket, conveniently located, and a pleated back detail. The 4 way stretch and the fabric's moisture moving properties enhance performance, especially if we're talking about Virta, which is a yarn dyed visually appealing pull on, with 2 front pockets and an inner short. Bottom line, if you're looking to enrich your golf paraphernalia, Ping's SS19 men and ladies line of golf-centric clothing would make for the sensible choice, especially now that we're heading into the summer.