New Balance is a name synonym with athletic performance, and Striker is their latest lightweight, high performance, cleated athletic styled golf shoe.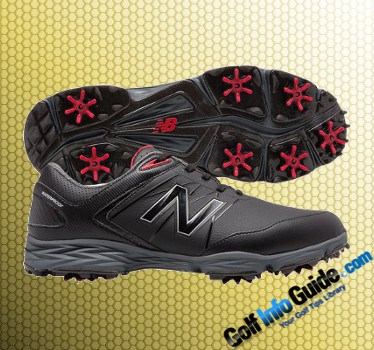 The Striker, as per its name, was engineered to deliver maximum performance for golf players of all skills and ages, together with perfect fit, being ready to wear right out of the box, just like any New Balance footwear. Ready to roll with no break-in period is great news for everybody nowadays, and New Balance is one of the best in the business in regard to providing great fit in golf footwear. The new Striker golf shoe stands true to New Balance's promise, as it's built on a PW-1 last, i.e. if you're a golfer with a wider forefoot, you'll feel perfect in these babies. There's also a lower instep height, designed to deliver better feedback with the ground during your swing, along with a shallow toe-box depth. These clever design features are aimed at delivering excellent feedback and supreme comfort during your swings and as you walk around on the fairways. The microfiber leather upper is waterproof, and boasts New Balance's patented FantomFit support, which makes for a state of the art skeletally engineered cage of sorts, designed to deliver the ultimate fit for your foot. Comfort is the name of the game when it comes to athletic footwear, with a special emphasis on golf. Here, the Striker really shines, in the comfort department that is, due to New Balance's legendary foam compounds used into its built. New Balance has a long history of creating supremely comfy footwear, and this is apparent in the company's entire line of athletic shoes and also in its golf paraphernalia.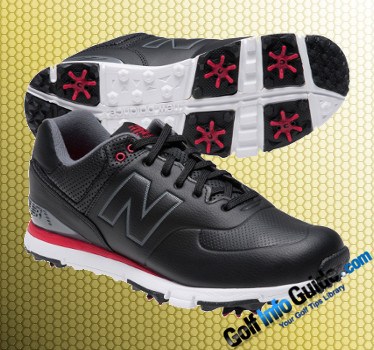 In order to deliver outstanding comfort, the new Striker is designed using New Balance's proprietary REVlite midsole. The REVlite was initially created to deliver lightweight cushioning for runners, but it does an awesome job in golf-shoes like the Striker too, providing amazing comfort while walking on the turf. The high-tech midsole works in tandem with the patented CUSH+ insole, another proprietary technology from New Balance's Research and Development department, to create a responsive and ultra soft cushioning system, that works on delivering even more comfort for your feet, without compromising in terms of stability nor durability. Obviously, when it comes to high performance golf-gear, the Striker has it where it counts, as it's designed to perform well in a variety of conditions. For golf aficionados, well made golf footwear must deliver superior performance in terms of traction, comfort and durability, and all these are to be found in the new Striker from New Balance. The outsole is made using a TPU compound, with flex grooves that are specially engineered to mimic the natural motion of your foot. The highly popular 7-cleat Champ Slim-Lok® Zarma Tour system is also present in the new Striker golf shoes, making for a low profile cleat-system designed to deliver superior traction along with durability. There's also an anti clogging system at work for those rainy days. Finally, the new Striker golf shoes retail for $99.95 (MSRP), and they're available world-wide since October 15th in White/Grey, Grey/Blue, and Black/Red colorways. New Balance offers a 2 year waterproof warranty for these 12.4 oz. babies, so keep that in mind when you go cruising for good deals on golf footwear.