New Balance is an American brand synonymous with performance, and today's news is that New Balance Golf recently introduced its 2019 Women's Footwear Collection.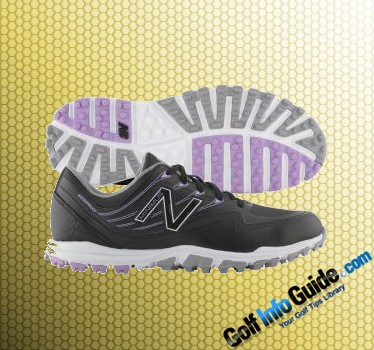 I.e. a new line of golf-shoes specifically designed to meet a woman golfer's needs, provided such a thing is possible to begin with. Joke aside, there are three brand new styles for women in the 2019 line-up: Minimus WP, Minimus SL and 574 SL. Regardless of the styling, all models in the women's footwear collection for 2019 feature athletic style spikeless designs, which are incredibly comfortable and lightweight, as they're crafted to deliver the ultimate performance and fit, along with maximum performance.
The New Balance Minimus WP can be described as a lightweight athletic style golf shoe in a spikeless design, weighing a mere 6.9 ounces and built on Ecco's hugely popular NL-1 last. The characteristics of the NL-1 include a deeper toe-box, a wider forefoot and lower instep height; all these features allow for excellent feedback (as in ground feel) during your swing.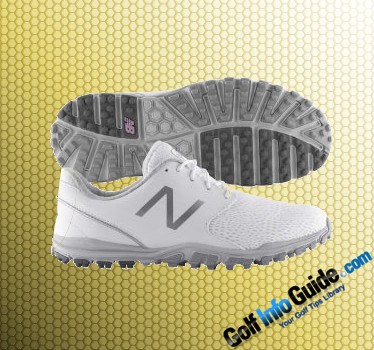 The shoe uses a synthetic material, a micro fiber leather upper respectively, which features New Balance's proprietary FantomFit™ technology, which is basically an ultra light skeletally engineered support, aimed at delivering perfect fit. The patented REVlite® midsole is designed to assure increased comfort while walking the turf, and on top of that, the Minimus WP comes with 2 years waterproof warranty from New Balance. The New Balance Minimus WP is available in retail stores since November 1st in white/black, black/purple colorways, in sizes 6 – 11 and widths B and D, for $89.95 (MSRP).
The Minimus SL golf shoe for women from New Balance is also built on the same "platform" as its WP sibling, the NL-1 last respectively. However, this time New Balance chose a breathable mesh upper instead of synthetic leather, for increased breathability and ultralight support. The outsole is also spikeless and features New Balance's patented REVlite® midsole, along with the Ortholite® insole, for delivering maximum (cool and dry) comfort while walking the course. By the way, this shoe weighs just 6.6 ounces, i.e. it's even lighter than the WP, and also cheaper, at $69.95 (MSRP). Finally, the Minimus SL is available in White, Black, Light Grey and Khaki colorways, in sizes 6 – 11 and widths B and D.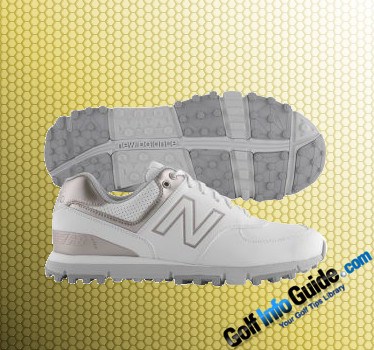 Last but not least, we have the New Balance Women's 574 SL, which also features a spikeless design and a microfiber water-resistant leather-upper. Just like its siblings, the 574 SL has a REVlite® midsole, that works together with the CUSH+® insole, to deliver amazing cushioning and lighting-fast response and feedback for your foot, without sacrificing stability nor durability in the process. Unlike the previous models, the 574 SL is built on the SL-2 last, which has a deeper toe box, a wider forefoot and higher instep. Available since November 1st, the 574 SL golf shoe for women can be ordered in white/rose golf colorways, in sizes 6 – 11/widths B and D for $79.95 (MSRP).
And I've saved the best for last: just like any other New Balance shoe, this new line of footwear for women doesn't require a break-in period, as in it's ready to wear right of the box.