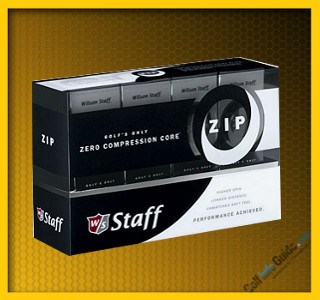 Ball tested: Wilson Staff Zip
Category: Value/Recreational/Distance
Feel: Soft
Tested for golfers with average driving distance of: 125 yards or less (carry + roll) / 126 to 195 yards (carry + roll) / 196 to 245 (carry + roll) / 246 to 300+ yards (carry + roll)
Specs: Construction – Two-piece; Cover – Ionomer; Core – Rubber; Dimples – 302 in PhD ("Panhead Dimple") design
Compression: Low
Price as tested (new): $24.99 for 24-ball package
VIEW THE LOWEST PRICE WE FOUND ONLINE
We'll get to our review momentarily, but suffice it to say you may never find a better golf ball bargain than the Wilson Zip at that price.
There is bad news, however. Rumor has it the company has shut down production of this ball. The good news is, its purported replacement, the C:25, is an excellent performer in its own right.
OK, on with the story of the Wilson Staff Zip.
Originally a three-piece ball, the current (final?) model is a two-piece version with the same "zero-compression" rubber core. Add an extremely pliable ionomer cover and you get remarkable softness for this type of ball.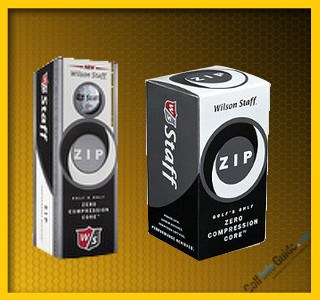 Zip also features Wilson's "PhD" design, as in "Panhead Dimples." They're flat-bottomed and 50% shallower than conventional dimples to produce a stable, penetrating trajectory.
The Zip has won a small but fiercely loyal following among a wide range of golfers. While most low-compression balls are aimed at players on the slow side for swing speed (less than 90 mph), a fair share of low-handicappers swear by Wilson's Zip.
We got our hands on a double-dozen and gave them a go. These are our thoughts.
On the clubface: As we've mentioned before, Wilson has this low-compression thing figured out. Like its counterparts, including the DUO, Fifty Elite and FG Tour, the Zip's feel is reminiscent of the balata balls of days gone by. It doesn't matter which club you pull, from driver to putter – you'll get the sensation of ball squashing against clubface. Somehow, Wilson managed this without making the Zip feel like a cotton ball. It's just firm enough to leave the impression that you've hit it solidly.
Off the tee: Mid-range swingers (90-105 mph) will be hard-pressed to find a longer ball. Our tester, who falls into this category, couldn't stop smiling at his newfound distance, a good 5-10 yards more than his usual ball generates. And don't worry about sacrificing accuracy – the Zip's low-spin tendencies keep it flying straight. Add high launch and a steady ball flight and it's a dream off the driver.
From the fairway / rough: On the one hand, you expect a ball called Zip to deliver some juice on the greens. On the other hand, balls at this price point simply don't spin like higher-end models. Or so we thought. Zip proved a terrific match with the tester's oversize, cavity-back irons, flying high without ballooning and landing softly with excellent stopping power.
Around the green: Surely the short game would prove Zip's Achilles heel. Nope. Other reviewers have surmised that if you could blindly test this ball against "tour" category models, few if any golfers could tell a difference in feel or – more importantly – performance. We agree, it blows away expectations for a value golf ball. Zip will check when you want it to and displays hop-and-stop action that usually comes with a premium price tag.
Bottom line: We sincerely hope reports of Zip's demise are greatly exaggerated. This unassuming ball can go shot-for shot with the best on the market at any price. Our only qualifier would be that some golfers may find it too soft, though we'd advise them to stick with it for at least nine holes. Even if the feel doesn't win them over, Zip's performance almost certainly will.

Golf Ball Videos:
– Compression Video

– Spin Video

– Dimples Video

– Golf Ball Brands Video

– Titleist Video

– Understanding Spin Video
Value/Recreational/Distance – Designed for mid- to high-handicap golfers with swing speeds below 90 mph; typically feature two-piece construction and firm covers; promote greater distance over high spin rates. Examples: Pinnacle Gold, Slazenger RAW Distance
Premium – Designed for low- to mid-handicap golfers with swing speeds of 90-99 mph; typically feature multi-layer construction and medium-soft covers; happy medium between Value/Recreational and Tour categories for distance and spin qualities. Examples: Titleist NXT Tour, Callaway HEX Diablo
Tour/Advanced/Performance – Designed for low-handicap and professional golfers with swing speeds in excess of 100 mph; typically feature multi-layer construction and soft covers; promote greater spin rates and enhanced feel over distance. Examples: Titleist ProV1, Bridgestone Tour B330