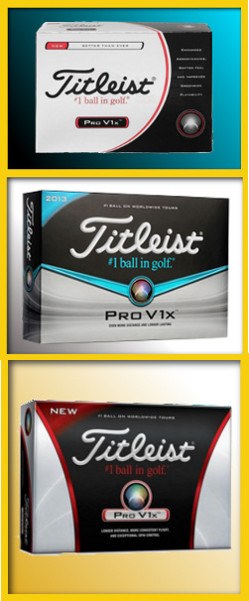 © TITLEIST Golf
Titleist ProV1x: Lower Golf Ball Flight, Same Great Performance
---
---
Ball tested: Titleist ProV1x
Category: Tour/Advanced/Performance
Specs: Construction – Four-piece; Cover – Urethane Elastomer (proprietary material); Core – High-velocity dual core; Dimples / Pattern – 328 dimples in what Titleist terms a spherically tiled tetrahedral design
Compression: High Pro V 1x high 90s compression
Price as tested (new): MSRP – $62 per dozen; widely available for less than $50
Ball notes: The sibling to Titleist's original ProV1, the ProV1x is designed to generate a little less spin and an uptick in distance off the tee, with a slightly firmer feel than its twin. Like the ProV1, the ProV1x is immensely popular among tour pros; as of May 2013, Luke Donald, Steve Stricker, Lee Westwood and Bubba Watson were just a handful of those using it.
Obviously, this ball is made for very good golfers with high swing speeds (100+ mph) and the skill to play a variety of shots from inside 100 yards. However, it is durable enough to withstand a fair amount of punishment via miss-hits, trees, cart paths and the like.
Sound and feel: Two words – typical Titleist. The ProV1x may be firmer than the ProV1, but we could scarcely tell a difference. It's about as soft as a modern ball gets, with the urethane cover delivering a distinctive squish on impact. The sublime sound and feel are especially noticeable – and gratifying – when putting.
Off the tee: While we don't have launch monitor data to confirm it, our eyes tell us the ProV1x does indeed fly a little lower than the ProV1. Paired with a lower spin rate, this makes the ProV1x a great ball for windy days and/or firm fairway conditions. It's also highly workable for golfers capable of shaping draws and fades.
From the fairway / rough: Not to sound like a broken record, but we detected a lower trajectory with the ProV1x with hybrids and irons, too. The difference is more marked in the short irons, which launch with a beautiful, penetrating flight. Spin is superb – if you hit a solid shot, the ProV1x will stop on a dime. Nip it just a touch thin and it'll still check up nicely.
Around the green: The short game is all about feel and confidence, and the ProV1x provides plenty of both. If you can envision and execute a shot – be it a low, checking chip or a butterfly-soft lob – this ball will respond.
Bottom line: Honestly, it probably takes a tour pro's touch and precision to tell a major difference between the ProV1x and its stable mate. That said, we noticed enough divergence in ball flight with the driver and short irons to recommend the ProV1x to golfers who prefer a lower flight, or who simply want to reduce the height of their shots. Better players can't go wrong with either ball.

Golf Ball Videos:
- Compression Video

- Spin Video

- Dimples Video

- Golf Ball Brands Video

- Titleist Video

- Understanding Spin Video
Value/Recreational/Distance – Designed for mid- to high-handicap golfers with swing speeds below 90 mph; typically feature two-piece construction and firm covers; promote greater distance over high spin rates. Examples: Pinnacle Gold, Slazenger RAW Distance
Premium – Designed for low- to mid-handicap golfers with swing speeds of 90-99 mph; typically feature multi-layer construction and medium-soft covers; happy medium between Value/Recreational and Tour categories for distance and spin qualities. Examples: Titleist NXT Tour, Callaway HEX Diablo
Tour/Advanced/Performance – Designed for low-handicap and professional golfers with swing speeds in excess of 100 mph; typically feature multi-layer construction and soft covers; promote greater spin rates and enhanced feel over distance. Examples: Titleist ProV1, Bridgestone Tour B330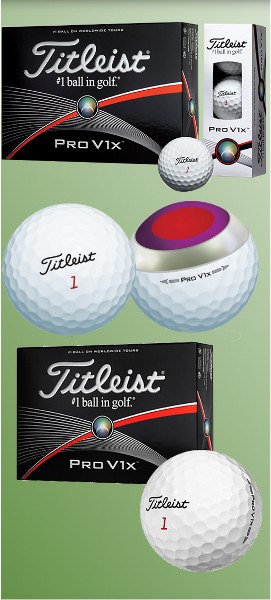 © TITLEIST Golf
Titleist ProV1x (2015 model): Softer Feel, More Spin, Same Great Performance
---
---
Ball tested: Titleist ProV1x (2015 model)

Category: Tour / Advanced / Performance

Feel: Soft

Tested for golfers with average driving distance of: 196 to 300+ yards (carry + roll)

Specs: Construction – Four-piece; Cover – Thermoset urethane elastomer; Core – ZG Process Technology; Dimples / Pattern – 328 in what Titleist terms a spherically tiled tetrahedral design

Compression: High

Price as tested (new): $62 per dozen, but widely available for $50 or less

Ball notes: What does the x stand for? Nothing specific. But Titleist's ProV1x does offer slight variations on its sibling, the ProV1.

In fact, the newest ProV1x, rolled out in 2015, has undergone a mild makeover itself. It's always been a touch firmer than the ProV1, while launching a little higher and spinning a little less. (Its intended audience is golfers with high swing speeds who create plenty of backspin on their own.) While it still meets those criteria, the redesigned ProV1x features a softer cover for a feel that's more in line with other balls in its category.

The new ProV1x has certainly made its mark on the PGA TOUR. Bubba Watson, Jordan Spieth and Bill Haas are among the pros playing and praising it.

Not content to take their word for it, we put the revamped Titleist ProV1x through the paces to judge for ourselves. Our impressions follow. (Note: We reviewed the 2015 ProV1, too.)

On the clubface: Titleist's lab rats tweaked the recipe for the ProV1x's thermoset urethane elastomer cover, with the goal of making it softer yet more durable. Mission: Accomplished. While it's still a relatively firm ball, the new ProV1x is definitely softer than previous versions.

Golfers who can swing the driver at 105-plus mph will likely notice – and approve of – the difference. They'll also be glad Titleist didn't go too far in softening up the ProV1x.

Off the tee: The new ProV1x retains the older model's high-launch qualities. If anything, it may fly a bit higher now. Sidespin remains dampened, making this a very straight ball. And it's just workable enough to hit draws and fades with the driver, if that's your game.

From the fairway / rough: We started to really notice the softer feel of the new ProV1x with the mid- and short irons. As always, this ball carries high and drops abruptly. It's a fantastic choice for courses with firm greens and/or tucked pins. Despite the high trajectory, the ProV1x showed solid stability in the wind.

Around the green: The true proof of the ProV1x's softer, spinnier cover came in short game testing. The gap in greenside spin between the ProV1 and ProV1x is narrower now, with the latter gaining considerable ground in 2015. Chips and pitches with the ProV1x still come off the club with a little more air under them, but there's never a concern about the ball checking up or behaving as expected.

Bottom line: The more things change, the more Titleist's ProV1x stays the same high-performance ball for skilled golfers. The same, that is, only better. Kudos to Titleist for the softened cover, which markedly enhances the ProV1x's feel and greenside spin. Changing this characteristic without altering the ball's overall profile is a feat worth celebrating.


Golf Ball Videos:

- Compression Video

- Spin Video

- Dimples Video

- Golf Ball Brands Video

- Titleist Video

- Understanding Spin Video

Value/Recreational/Distance – Designed for mid- to high-handicap golfers with swing speeds below 90 mph; typically feature two-piece construction and firm covers; promote greater distance over high spin rates. Examples: Pinnacle Gold, Slazenger RAW Distance

Premium – Designed for low- to mid-handicap golfers with swing speeds of 90-99 mph; typically feature multi-layer construction and medium-soft covers; happy medium between Value/Recreational and Tour categories for distance and spin qualities. Examples: Titleist NXT Tour, Callaway HEX Diablo

Tour/Advanced/Performance – Designed for low-handicap and professional golfers with swing speeds in excess of 100 mph; typically feature multi-layer construction and soft covers; promote greater spin rates and enhanced feel over distance. Examples: Titleist ProV1, Bridgestone Tour B330